Helix web tool guides prostate cancer genetic testing
News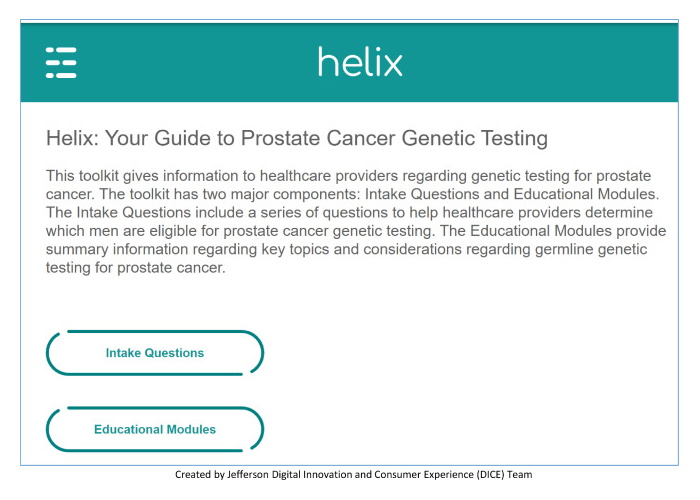 A web-based digital tool called Helix could help clinicians identify patients with prostate cancer who would benefit from genetic testing and counselling, according to researchers in the US.
The use of genetic testing has become the standard of care for men with prostate cancer in the US, as it can help direct the most appropriate therapy, but identifying those who can benefit can be a challenge, according to the researchers behind the web tool.
Helix takes the form of a series of education modules – coupled to forms for collecting clinical and family history information – designed to encourage discussion between clinicians and patients about genetic testing and referrals.
The digital tool was developed by a team led by scientists at Thomas Jefferson University in Philadelphia, who have published their initial findings in the journal Clinical Genitourinary Cancer.
The genetic profile of prostate cancer patients can guide important treatment decision, such as whether they should be treated with PARP inhibitors like AstraZeneca/Merck & Co's Lynparza (olaparib) or Clovis Oncology's Rubraca (rucaparib), or cancer immunotherapies like Merck's Keytruda (pembrolizumab).
The investigators designed Helix after conducting a survey of medical oncologists, radiation oncologists, and urologists, which exposed some shortcomings in clinical practice when dealing with prostate cancer cases.
Overall, 35% of respondents did not perform or refer for genetic testing at all, and only two third of respondents collected maternal as well as paternal family history in accordance with recommendations.
In addition, just 43% correctly identified that BRCA2 mutations – treated with PARP inhibitors – are associated with aggressive prostate cancers.
Interviews with the respondents revealed that access to detailed information and time constraints were the main reasons for not carrying out more detailed patient assessments, and 54% reported that a digital tool that allowed patents to input data at home would be an asset.
Helix was created to meet those requirements, and put through its spaces in a group of 10 clinicians, who showed improvements in recognising patients who may benefit from genetic screening.
All the test group said the tool was easy to use, and four said the education aspect was useful and could be beneficial to nurses during intake prior to consultation. One asked if they could keep using it after the two-week trial because they found it helpful for their 'grey area' patients.
"Our digital solution, Helix, demonstrated promising results for clinical use," write the researchers in the paper. "We plan to release Helix for professional use in the near future."