GW files cannabis-based epilepsy drug in EU and US
GW Pharmaceuticals ended 2017 by filing its childhood epilepsy drug Epidiolex with regulators in the US and EU, setting up a potential launch for a drug that could transform the company's fortunes.
Epidiolex (cannabidiol) is expected to become a blockbuster if it is approved in its three major indications.
GW specialises in drugs developed from cannabis plants, and already has Sativex (nabiximols) approved in markets including the UK for multiple sclerosis spasticity.
However Sativex failed in a phase 3 cancer pain trial two years ago, leaving the company's main hopes resting on Epidiolex.
The recent filings cover the most lucrative indication, the rare childhood epilepsy Lennox-Gastaut syndrome, and Dravet syndrome.
Analysts Edison have predicted peak annual sales of $601m in Lennox-Gastaut and $195m in Dravet, with the remaining indication of Tuberous Sclerosis Complex (TSC) worth an estimated $255m at peak.
The company is also developing the drug to treat infantile spasms, which could boost sales even further.
GW said the FDA aims to make a decision on Epidiolex before 27 June after granting it a six-month priority review, reserved for badly-needed drugs for serious diseases, instead of the standard 10-month review.
The UK-headquartered company had been filing data with the FDA on a rolling basis, and the regulator has now accepted the dossier of data that was completed in October.
As is often the case, the FDA will convene a meeting of its expert advisers to make a non-binding recommendation on the drug in the coming months.
In Europe the filing could lead to approval and launch early in 2019, assuming a review period of just over a year.
Zogenix could compete with Epidiolex with its ZX008, which has produced strong results in phase 3 trials in October 2017.
Takeda has forged a partnership with Ovid Therapeutics to develop TAK-935, which is in early to mid-stage trials and targets Dravet, Lennox-Gastaut and TSC.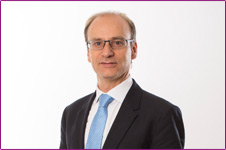 Justin Gover
GW's chief executive, Justin Gover, said: "We look forward to working with the FDA during the review process to support the case for approval of Epidiolex, so as to provide a much needed new treatment option for patients that suffer from these highly treatment-resistant conditions of childhood-onset epilepsy."
Onset of Lennox-Gastaut syndrome occurs between ages of three to five years and can be caused by conditions including brain malformations, severe head injuries and central nervous syndrome infections.
Patients have multiple seizure types include drop and convulsive seizures, frequently leading to falls and injuries, and non-convulsive seizures. Resistance to anti-epileptic drugs is common.
Dravet syndrome is a severe infantile-onset and highly treatment resistant form of epilepsy, frequently associated with genetic mutations in the SCN1A sodium channels.
Onset typically occurs during the first year of life in previously healthy and developmentally normal infants, leading to several different types of seizures, and often intellectual and development disabilities.
There are currently no FDA-approved treatments and nearly all patients continue to experience seizures and other medical needs throughout their lifetime.
Don't miss your daily pharmaphorum news.
SUBSCRIBE free here.