Gilead beats BMS to FDA okay for early lymphoma CAR-T therapy
News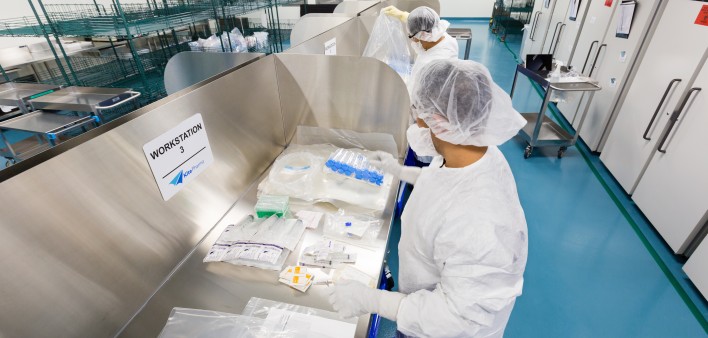 Gilead Sciences' Kite Pharma has become the first drugmaker to get FDA approval to use a CAR-T therapy after just one earlier systemic therapy, moving the approach up the treatment pathway.
The US regulator has cleared Kite's CD19-targeted CAR-T Yescarta (axicabtagene ciloleucel) for people with large B-cell lymphoma (LBCL) refractory to one earlier therapy, or who have relapsed within 12 moths of first-line chemo-immunotherapy.
The green light gives Gilead/Kite a first-mover advantage over Bristol-Myers Squibb's rival CD19 CAR-T Breyanzi (lisocabtagene maraleucel), which was filed for earlier-line lymphoma therapy last year and is due for an FDA decision by 24 June.
Yescarta first reached the US market in 2017 as a later-line therapy for LBCL patients who have failed multiple earlier lines of therapy, and after a slow start has grown steadily, bringing in $695 million last year, but the move into second-line use could see sales accelerate.
Kite chief executive Christi Shaw has said the new approval makes another 14,000 people in the US eligible for treatment compared to around 8,000 for later-line use, calling it a "milestone" that has been years in the making. Analysts meanwhile think the expansion will drive sales of the CAR-T well above the $1 billion threshold.
LBCL is the most common type of non-Hodgkin's lymphoma (NHL) in adults, accounting for around a third of the 77,000 new cases diagnosed in the US.
The new approval stems from the ZUMA-7 trial, which showed that second-line treatment of relapsed or refractory LBCL patients with Yescarta extended median event-free survival (EFS) to 8.3 months from 2 months for standard-of-care chemo followed by a stem cell transplant, after a follow-up period of more than two years.
Overall, 41% of those treated with Yescarta and 16% of those taking chemo survived for two years without needing additional cancer treatment or experiencing cancer progression.
Kite said that there are 112 authorised centres that can immediately start to deliver Yescarta to relapsed LBCL patients, with therapy "widely covered by commercial and government insurance programmes."
It can also point to a recommendation in National Comprehensive Cancer Network (NCCN) guidelines for the new use, awarded ahead of the FDA decision, that makes a strong case for reimbursement.
The company added that it has invested in expansion of manufacturing capacity in anticipation of the move into earlier treatment. Now, the challenge will be to encourage oncologists to refer eligible patients for therapy, in what is effectively a major change in treatment practice for LBCL.
CAR-T therapies are known to have the potential to cause serious side effects including potentially life-threatening cytokine release syndrome (CRS), although treatment centres are becoming increasingly adept at minimising them.