ESMO21: Enhertu brings it's A game to second-line breast cancer
News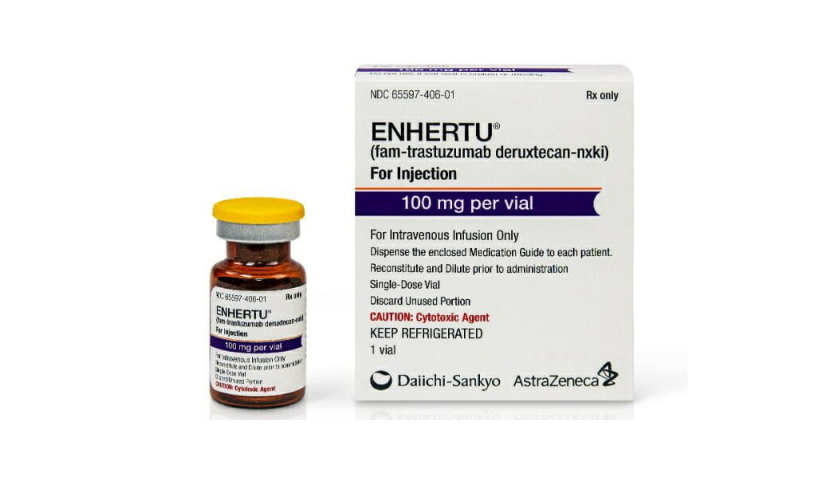 AstraZeneca and Daiichi Sankyo were clearly excited by data from a trial pitting their HER2 antibody-drug conjugate (ADC) Enhertu against Roche's rival Kadcyla when they reported top-line results last month – and a look at the full data set reveals why.
In the DESTINY-Breast03 trial, Enhertu (trastuzumab deruxtecan) reduced the risk of disease progression or death compared to Kadcyla (trastuzumab emtansine) by 72% in patients with HER2-positive, advanced breast cancer who had previously been treated with Roche's Herceptin (trastuzumab) and taxane chemotherapy.
The data – presented in a keynote at the ESMO cancer congress – also showed a three-fold improvement in progression-free survival – 25.1 months for Enhertu versus 7.2 months for Roche's drug – and a "strong trend" towards improved overall survival even though that data isn't yet mature, according to AZ.
More patients were alive after 12 months with Enhertu compared to Kadcyla as well – at 94.1% and 85.9%, respectively.
The company thinks its ADC – already approved as a third-line therapy for HER2-positive metastatic breast cancer and a second-line therapy for HER2-positive metastatic gastric cancer – is on track to become a standard, second-line therapy for HER2-positive breast cancer.
AZ and Daiichi Sankyo needed compelling data for Enhertu because the drug has been linked to an uncommon but potentially dangerous side effect – interstitial lung disease (ILD) – which may be linked to the conjugation technology used in the drug and features as a black box warning on the product's label.
The risk is said to be behind the somewhat slow take-up of Enhertu commercially, with AZ reporting that sales reached $89 million in the first half of this year from use in third-line HER2-positive breast and gastric cancers.
In DESTINY-Breast03, around 10% of patients treated with Enhertu developed ILD or pneumonitis, compared to less than 2% of the Kadcyla group, although most of the cases were grade 1 and 2 and none were severe or life-threatening (grade 4 or 5).
That's a lower rate than has been seen in some earlier trials, which could be a result of greater awareness of the risks among physicians, plus use of the drug in a less heavily pre-treated patient population.
Kadcyla was once tipped to become the go-to treatment for HER2-positive breast cancer when first line HER2 drugs like Herceptin and Roche's follow-up Perjeta (pertuzumab) fail, but it missed the mark in pivotal trials.
Regardless, sales have still topped $1 billion, buoyed recently by its approval as an adjuvant therapy for early breast cancer as well as later-stage use.
The results go a long way to firming up sentiment about Enhertu, which had been widely tipped to become a multibillion-dollar brand before the ILD issue dulled some of its lustre.
Much of that potential is tied to moving the drug into earlier lines of breast cancer therapy and other HER2-positive cancer types, while the DESTINY-Breast04 trial – due to generate results next year – is looking at the drug's potential in low HER2-expressing breast cancer.
The data is also a big relief for AZ, which paid a hefty $1.4 billion upfront to license rights to Enhertu in a deal that could be worth up to $6.9 billion to Daiichi Sankyo if all the ADC's development and sales objectives are achieved.
At ESMO, AZ and Daiichi Sankyo also reported encouraging new results from the DESTINY-Lung01 study in HER2-positive non-small cell lung cancer (NSCLC), including an overall response rate of 55% and disease control rate (DCR) of 92%.
The companies said Enhertu is the first HER2-directed therapy to show a strong tumour response in this population, which accounts for 2% to 4% of all NSCLC cases.