ESMO: Amgen reveals Lumakras data as rival looms in rear-view mirror
News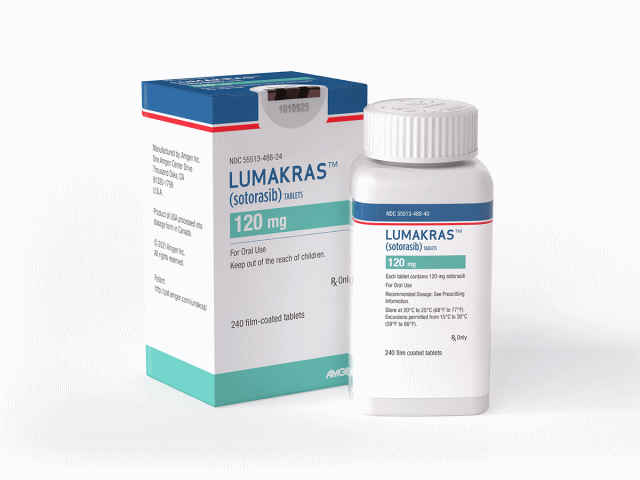 Two weeks after Amgen reported the top-line result of its CodeBreak-200 trial of Lumakras in lung cancer, the data has been presented in abstract form at ESMO, showing a 34% improvement in progression-free survival (PFS) compared to chemotherapy.
The full data will be presented as a late-breaker later today, so may be subject to change, and for now shows a solid reduction in disease progression or death in patients with the KRAS inhibitor in KRAS G12C-mutated non-small cell lung cancer (NSCLC) compared to docetaxel, but no improvement in overall survival.
Amgen points out that the study wasn't statistically powered to show a difference in survival, although it was a secondary endpoint in the study. So far, there's no indication whether there was a trend to improvement in OS with Lumakras that might firm up over time.
CodeBreak-200 will nevertheless likely serve as a confirmatory study for the approval of Lumakras (sotorasib) in this heavily pretreated patient population, which was granted by the FDA in May 2021.
That is important, as its closest rival Mirati is seeking approval for its KRAS inhibitor adagrasib, initially like Amgen via the accelerated pathway on the strength of mid-stage data in the same indication.
If Amgen can secure full approval for Lumakras ahead of the FDA's 14 December decision date for Mirati's drug, it could close off that route to market and force the company to wait for its own phase 3 trial, due to read out in August 2023.
Drilling into the numbers, one-year PFS was 24% for the Lumakras group and 10% with docetaxel, while the overall response rate for the two therapies was 28% and 13%, respectively. Overall, almost 83% of patients taking Amgen's drug saw their tumours shrink or stabilise, versus 60% of those on chemo.
There were fewer serious adverse events with the KRAS inhibitor, and overall a more favourable safety profile than docetaxel treatment, according to the abstract figures.
Liver enzyme elevations were seen with the drug in around 10% of patients, although that also seems to be an issue with adagrasib based on its phase 2 data. The FDA has asked Amgen to test a lower dose of Lumakras to see if its side effects can be mitigated, whilst retaining efficacy, and results from that study are due before the end of the year.
KRAS mutations are seen in around a quarter of NSCLC tumours, with KRAS G12C mutations in particular found in around 13% of cases, but the target defied drug developers for decades.
Amgen's first-mover advantage has led to strong sales expectations for Lumakras, known as Lumykras in some markets, with analysts predicting it should be able to easily cross the $1 billion threshold and achieve blockbuster status.
Amgen is also scheduled to report new data from the CodeBreak-101 study of the drug, in combination with its EGFR inhibitor Vectibix (panitumumab), in KRAS-mutated colorectal cancer at the ESMO congress.
The abstract for that study reveals an ORR of 30% with the combination in chemo-refractory colorectal cancer patients, and a median PFS of 5.7 months.