Digital health approach improves neurosurgery care, says study
News

Deployment of digital health technologies during the pandemic improved patient satisfaction, expanded the delivery of care and augmented training of staff at a leading neurosurgery provider in the US, according to a new study.
Faced with the disruption caused by the COVID-19 crisis, Cleveland Clinic's centres implemented a number of telehealth and audio-visual technologies to compensate for the difficulties in having face-to-face interactions with patients.
That included virtual, online consultations, which more than doubled between January 2020 and April 2021 and – according to patient satisfaction surveys – was "equal if not better in providing satisfactory patient care than in-person visitation".
"Sometimes it takes a crisis to inspire innovation," write the authors in a pre-press article published in the journal World Neurosurgery.
Demand for neurosurgical care is outstripping supply in the US, they note, which is contributing to burnout, stress and diminished job satisfaction among neurosurgeons. Neurosurgery residents work long hours and may have trouble meeting the 80-hour work week regulations.
Despite this, the field hasn't been a big adopter of digital health technologies, and the pandemic has been a real catalyst for change, helped by relaxation of regulations over the use of smartphone apps like Apple FaceTime, Google Duo and Zoom for consultations.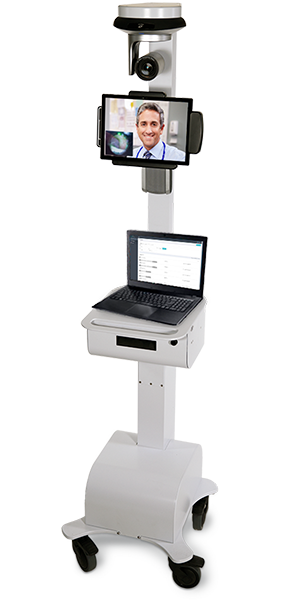 The consultations ranged from a simple video call to a remote visit using a dedicated telehealth platform, sometimes with the use of a robotic cart – InTouch Health's Vici – that is equipped with a camera, screen, and medical equipment and can be sent into a quarantined patient area and controlled remotely by healthcare professional.
A total of 10,772 total visits were assessed, including 5,541 in-person office-visits and 5,171 virtual appointments.
Patients were significantly more likely to indicate they were satisfied or better when they were seen virtually on various measures, including the availability of appointments, degree to which they felt care for, and the likelihood of recommending the service to others.
On other measures – ease of scheduling, inclusion in decision making, and understanding the explanation the provider gave – the virtual approach was not statistically more favoured, but was equivalent.
"Enough information could be elicited to make reliable clinical decisions," according to the authors. "Further, if any uncertainty remained, the patient could be directed to present in person to clinic or the emergency department for further evaluation."
Other benefits included an improved learning environment for neurosurgical trainees, with physicians able to monitor resident interactions more efficiently, more scope for interdisciplinary collaboration, and easier exchange of diagnostic images.
"Governing bodies within organized neurosurgery in the US should advocate for the continued financial and licensing support of theses service on a national fiscal and policy level," according to the researchers.