CRUK and Owlstone launch trial for cancer breath test
News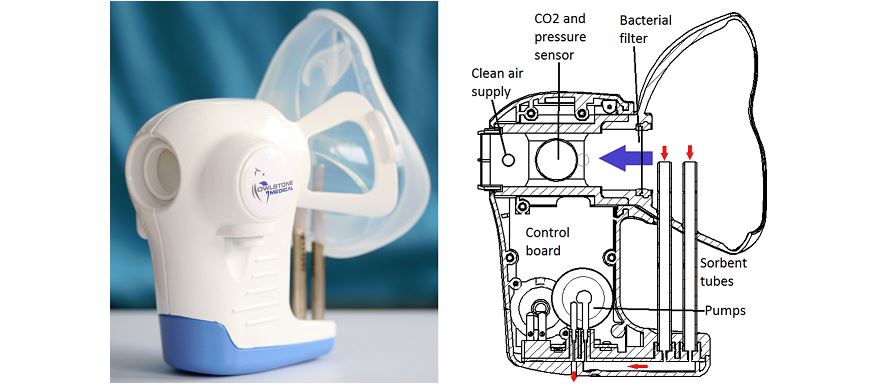 Cancer Research UK and Owlstone Medical have launched a clinical trial to develop a breath test that could detect cancer at an early stage – the first test of its kind to investigate multiple cancer types.
A cancer breath test has huge potential to provide a non-invasive look into what's happening in the body and could help to find cancer early, when treatment is more likely to be effective.  
The Cancer Research UK Cambridge Centre is running the PAN Cancer trial for Early Detection of Cancer in Breath in collaboration with Owlstone Medical, to test their Breath Biopsy technology.
Breath samples from people will be collected in the clinical trial to see if odorous molecules called volatile organic compounds (VOCs) can be detected. When cells carry out biochemical reactions as part of their metabolism they produce a range of VOCs. If their metabolism becomes altered, such as in cancer and various other conditions, cells can release a different pattern of VOCs.
Professor Rebecca Fitzgerald, lead trial investigator at the Cancer Research UK Cambridge Centre, said: "We urgently need to develop new tools, like this breath test, which could help to detect and diagnose cancer earlier, giving patients the best chance of surviving their disease."
The trial will start with patients with suspected oesophageal and stomach cancers and then expand to prostate, kidney, bladder, liver and pancreatic cancers in the coming months.
By looking across cancer types, this trial will help unpick if cancer signals are similar or different, and how early it's possible to pick these signals up.
If the technology proves to accurately identify cancer, the team hope that breath biopsies could in future be used in GP practices to determine whether to refer patients for further diagnostic tests.  
As such, Owlstone has fast become one of the UK's most promising med tech startups, managing to strike collaboration deals with companies like AstraZeneca and GSK.
The technology could revolutionise early detection of other diseases beyond cancer as well as the use of precision medicines, but it's part of a crowded pipeline of next generation diagnostics, with 'liquid biopsies' just one rival technology set to transform the field in the next few years.