Colon cancer treatment can be shortened to spare patients toxicity
News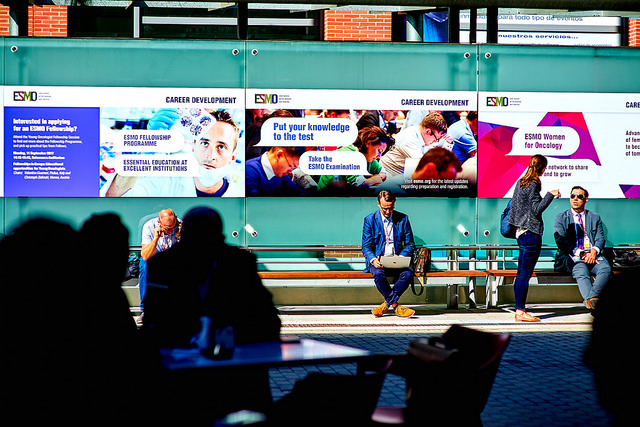 While much of the research at ESMO is based on breaking new ground and upping the ante against cancer, some studies focus on fine-tuning existing treatment to improve patient quality of life.
New research presented today says patients who undergo six months of chemotherapy for adjuvant treatment of colon cancer can have it reduced to just three months, with virtually no loss of efficacy.
Oncologists working in the field say their research shows this reduction of time has barely any effect on efficacy, but does mean patients experience less toxicity from the treatment.
Six months of oxaliplatin-based chemotherapy has been the standard adjuvant therapy for stage III colon cancer since 2004. However, the neurotoxicity of oxaliplatin sparked research into whether three months of therapy provided the same benefit but with reduced side effects.
Six randomised phase 3 trials have been conducted worldwide comparing three versus six months of chemotherapy with FOLFOX or CAPOX. The IDEA study was a pooled analysis of the 12,834 patients enrolled in the six trials. It showed that six months gave less than 1% added benefit over three months when all patients and both types of chemotherapy were included in the analysis.
Treatment regimens often aim to treat tumours as aggressively as possible, but this new drive shows that clinicians are weighing up patients' quality of life against current practices.
Investigators of four mature trials (SCOT, TOSCA, ACHIEVE, IDEA-FRANCE) will present their results today, and their conclusions could influence ESMO guidelines on early treatment, which are due to be updated next year.
Alberto Sobrero, session and ESMO 2017 congress co-chair. Medical Oncology Unit, IRCCS San Martino, Genova, Italy was involved in one of these studies.
"The common sense conclusion from the IDEA study is that it's not worth going through the toxicity and inconvenience of six months to gain less than 1% efficacy," said Sobrero. "Especially considering that the toxicity is cut by at least 50% with the three month regimen."
ESMO spokesperson Professor Eric Van Cutsem, is the main author of the ESMO consensus guidelines for the management of patients with metastatic colorectal cancer, Head of Digestive Oncology, University Hospitals Leuven, Belgium. "However, the clinical conclusion, given the reduction in neurotoxicity with a shorter duration of treatment, was that three months is almost identical to six months."
Two additional analyses revealed unexpected findings. First, for high risk stage III patients (N2 or T4) the difference in efficacy widens in favour of six months. Second, the results differ according to the type of chemotherapy. CAPOX is equally effective at three or six months, independently of the patient's level of risk, while Six months of FOLFOX is more effective than three months.
Van Cutsem says this means that six months should remain standard for high risk patients, but in low risk patients three months should become the new standard duration.
Sobrero said most patients prefer the three month option which gives much lower toxicity for very little loss in efficacy. He said: "Every now and then I see a patient who does not want to lose even 1% of efficacy and wants six months of chemotherapy. This is just one of the fascinating aspects of implementing the data from the IDEA study."
Keytruda in MSI-H patients
However practise in the field is also set to change because of the arrival of immunotherapies. In May the FDA approved  Merck's Keytruda for patients with a microsatellite instability-high (also known as MSI-H) or a mismatch repair deficient (dMMR) biomarker following progression on a fluoropyrimidine, oxaliplatin, and irinotecan.
The approval was based on data from 149 patients with MSI-H or dMMR cancers enrolled across 5 single-arm clinical trials. 90% of the 149 patients enrolled in the trial supporting this approval had colorectal cancer. Nearly 40% of those enrolled showed a significant reduction in tumour size, including including 11 (7.4%) complete responses and 48 (32.2%) partial responses.
The approval was a landmark for the FDA, as it was the first time it approved a cancer drug based on genetics rather than tumour location.