Boehringer bags CHMP backing for Ofev in rare lung disease
News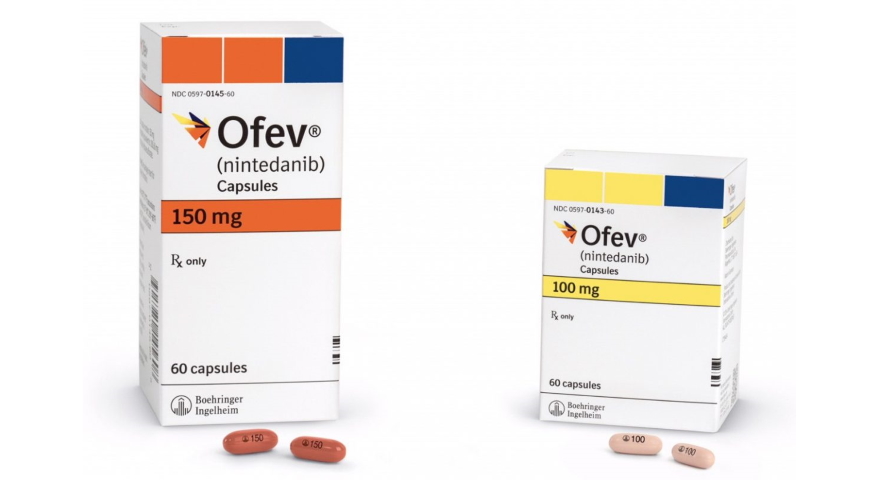 Boehringer Ingelheim has moved a step closer to getting approval for its blockbuster respiratory drug Ofev as the first treatment in the EU for a rare, life-threatening fibrotic disease.
The EMA's Committee for Medicinal Products for Human Use (CHMP) recommended approval of Ofev (nintedanib) for the treatment of adults with interstitial lung disease caused by systemic sclerosis (SSc-ILD), an autoimmune disease – also known as scleroderma – which causes scarring (fibrosis) of multiple organs.
Ofev – which was approved in the US for SSc-ILD last year – is one of Boehringer's top-selling drugs with sales growing 22% to €677 million ($751 million) in the first six months of 2019 from its established use in idiopathic pulmonary fibrosis (IPF).
There are estimated to be around 2.5 million people with systemic sclerosis worldwide, and there is no curative treatment with management focusing on symptom alleviation using phototherapy, physiotherapy and corticosteroid drugs. Lung disease is the leading cause of mortality, accounting for almost 35% of scleroderma-related deaths.
Analysts have suggested that the market potential for SSc-ILD could be almost as big as IPF, so approval in Europe could add additional sales momentum to Ofev.
At the moment there are hardly any drugs for scleroderma in clinical development, and the only near-term rival to Boehringer's drug looks likely to be Swedish biotech Vicore Pharma's VP01 in phase 2 trials for scleroderma as well as IPF.
CHMP round-up
The CHMP also recommended the approval of a new antibiotic at its meeting late last week, namely Shionogi's antibiotic Fetcroja (cefiderocol) for the treatment of infections due to aerobic gram-negative organisms in adults with limited treatment options.
The antibiotic was approved last year by the FDA under the Fetroja brand name as a last-line therapy for complicated urinary tract infections (cUTI).
The CHMP also backed a generic form of Pfizer's antibiotic Tygacil (tigecycline) for complicated skin and soft tissue infections (cSSTI) and complicated intra-abdominal infections (cIAI), Tigecycline Accord, from Accord Healthcare.
Positive opinions were also issued on new indications for two medicines, namely Takeda's Alunbrig  (brigatinib) for use in ALK-positive non-small cell lung cancer and Celgene's psoriasis therapy Otezla (apremilast) for oral ulcers associated with Behçet's disease.
Meanwhile, a new subcutaneous formulation of Takeda's Entyvio (vedolizumab) – currently given as an intravenous infusion – was recommended for approval by the EMA as a maintenance therapy in moderate to severe ulcerative colitis or Crohn's disease.
The CHMP also said it had started looking into its accelerated approval of PharmaMar's Yondelis (trabectedin) for relapsed ovarian cancer, after a clinical trial was stopped prematurely because an interim analysis found the drug didn't extend survival in these patients when added to standard therapy.
The review will gauge whether Yondelis should stay on the market for ovarian cancer. It is also approved by the EMA as a treatment for soft tissue sarcoma.
The committee will also review medicines which had studies conducted at a research site in India operated by Panexcell Clinical Laboratories which recently failed a Good Clinical practice (GCP) inspection, to see whether the drugs should remain on the market.