BioNTech, InstaDeep plan joint lab for AI research
News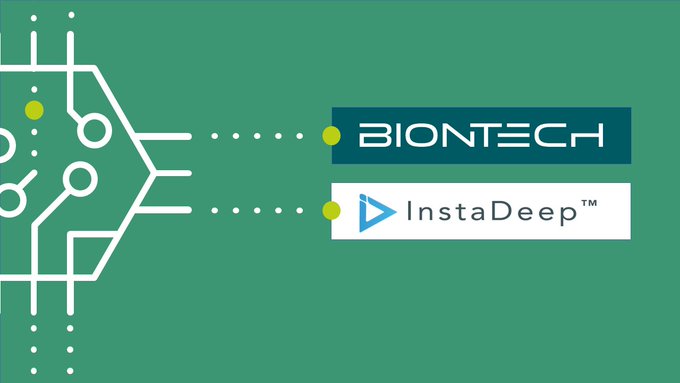 BioNTech may be deeply ensconced in the latter stages of its bid to bring a COVID-19 vaccine to market, but it's still pushing forward on other fronts, including a partnership with InstaDeep to deploy artificial intelligence and machine learning across its business.
The two companies have been working together in this area since 2019, but BioNTech has opted to double down on the alliance with a revised agreement focusing on new immunotherapies for cancer and infectious diseases.
The headline news in the new agreement is the formation of a joint AI Innovation Lab – split between InstaDeep's headquarters in London in the UK and BioNTech's site in Mainz Germany – that will focus on drug discovery and design, protein engineering, manufacturing and supply chain.
One of the main research areas for the new lab will be the development of new vaccines and biologic drugs for the treatment of cancer and prevention and treatment of infectious diseases, including COVID-19.
InstaDeep – which was founded in Tunisia – has built its business across a range of sectors, mainly helping small- and mid-sized companies to develop bespoke apps harnessing computer vision, predictive analytics, 3D imaging, augmented and virtual reality, and deep learning. It was recently nominated by CB Insights as one of the 100 most promising AI start-ups in the world
With BioNTech, the company will focus on three main areas. The duo will apply InstaDeep's protein design platform – called DeepChain – to engineer new mRNA sequences against protein targets, and also collaborate on sifting through anonymised patient data to identify new drug targets and biomarkers.
They will also use AI and machine learning to find ways to make manufacturing and supply chain processes more efficient, tapping into technologies like robotics and autonomous decision-making algorithms.
"Pairing BioNTech's deep knowledge of the human immune system and scientific data-driven development approach with our AI platform could transform the way we discover and develop new drug classes for patients all over the world," said Karim Beguir, InstaDeep's chief executive.
A recent study by Kearney revealed that 68% of global industry leaders in the healthcare sector see AI and advanced analytics as major value drivers.
All attention at the moment is on BioNTech's Pfizer-partnered coronavirus vaccine BNT162b, but it has a packed pipeline of earlier-stage projects, including a Roche-partnered mRNA-based drug for melanoma in phase 2 and several other cancer therapies in phase 1.
"We see a significant opportunity at the intersection of AI and immunology by computational design of new precision immunotherapies," said BioNTech chief executive Ugur Sahin. "This collaboration will expand our digital capabilities and optimise our operations across the value chain."