Bayer chooses UK for its AI-focused R&D hub
Bayer has continued its policy of setting up R&D hubs to get closer to innovative companies with a UK site that will focus on applying artificial intelligence to drug discovery and disease diagnosis.
The cluster – based at Reading's Green Park – is the seventh in the German company's LifeHub network, located at R&D hot spots around the globe, and is further evidence of the UK's leading position in AI technology.
According to the Tech Nation 2019 report, the UK is today the world's third biggest market for AI investment after the US and China with funding rising six-fold since 2014.
Bayer already has one company getting ready to set up a unit at LifeHub UK. Sensyne Health, which started working with the German group earlier this year, will base a project focusing on applying AI to automate image evaluation in radiology at the site.
The project will analyse research from three million anonymised, ethically sourced NHS patient records and data provided through Sensyne's partnerships with NHS trusts, with the NHS remaining the controller of all patient data.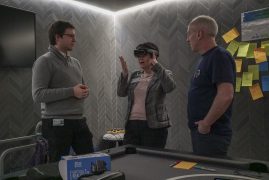 "We firmly believe that artificial intelligence has transformative potential for healthcare which can lead to enhancements in prediction, prevention and personalised treatments," commented Kemal Malik, Bayer board member for innovation.
The UK government is also keen to accelerate the country's position in AI, and in August allocated a £250 million (more than $300 million) block of funding for the NHS to increase the use of AI as part of the drive towards digitisation of health services.
The vast repository of data in NHS patient records has been hailed as resource that could be worth billions of dollars to commercial organisations, with AI often held up as the key to unlocking its value.
Sensyne and Bayer's first project will analyse research from three million anonymised NHS patient records and imaging data gained from Sensyne's partnerships with NHS trusts, aiming to "improve the quality of the diagnosis and increase efficiency for patients receiving the right treatment in a timely manner."
They also intend to conduct additional joint R&D projects in other areas where AI can be used to improve imaging technologies. Sensyne is also involved with a collaboration between Oxford University and German biotech Evotech, working to translate research into new AI drug discovery and digital health firms.
The UK LifeHub is Bayer's third in Europe after Lyon in France and Berlin in Germany, and sits alongside two in the US (Boston and San Francisco) and two in Asia (Singapore and Tokyo/Osaka in Japan).
Don't miss your daily pharmaphorum news.
SUBSCRIBE free here.