Bad news for Pfizer as blockbuster Xeljanz flunks safety study
News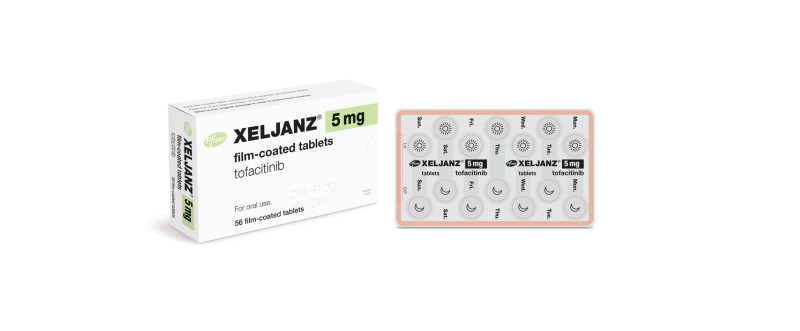 JAK inhibitor Xeljanz is one of Pfizer's top-selling drugs, despite a 'black box' warning for blood clots and cancers added to its label in 2019. Now, a study designed to prove its safety has achieved the opposite.
The post-marketing safety study showed that Xeljanz (tofacitinib) – used to treat rheumatoid arthritis (RA) – was associated with a higher rate of heart attacks and cancer than a TNF inhibitor in patients aged over 50 with underlying cardiovascular risk factors.
With more than 4,300 subjects recruited, the ORAL Surveillance trial has turned into a costly gamble by Pfizer on its flagship immunology brand, which brought in sales of more than $1.7 billion in the first nine months of 2020.
Analysts have suggested that with a large-scale study backing up the risks, Xeljanz now runs the risk of falling behind its rivals, including AbbVie's much-touted Rinvoq (upadacitinib).
There were 98 cases of cardiovascular events among Xeljanz patients in the study, compared to just 37 in the TNF inhibitor group. For cancer, the numbers were 122 and 42, respectively, so the drug missed the twin objectives of showing non-inferiority to the TNF drugs.
There was also no difference between the 5mg and 10mg doses of Xeljanz tested in the trial, said Pfizer, which said the data will "further clarify the benefit and risk profile of tofacitinib to help inform medical decision making and patient care."
There were however warning signs all wasn't well with the trial. Last year, the company was forced to abandon dosing in the 10mg group after an interim look at the data showed an imbalance in deaths between the Xeljanz and TNF groups.
Xeljanz has been a slow grower since its first approval for RA in 2012, but gradually grew into a blockbuster as clinicians gathered more experience with the drug and it picked up additional indications in psoriatic arthritis, ulcerative colitis and juvenile idiopathic arthritis.
It's the top-selling JAK inhibitor, showing remarkable resilience despite the safety warnings, and the question now is whether it can stay on the market and – if so – will it become a fallback option if patients don't get on with other JAK drugs.
Xeljanz isn't the only drug in the class to be affected by toxicity concerns of course. Eli Lilly/Incyte's Olumiant (baricitinib) was approved in 2018 with a black box warning for infections, malignancy and thrombosis, and the FDA only backed the lower 2mg dose of the drug after concluding that the safety of the higher 4mg dose was in question.
The regulator took an even tougher stance with Gilead and Galapagos' filgotinib, rejecting the drug entirely last year and asking to see data from an ongoing trial, although it has been approved as Jyseleca in Europe and Japan. Gilead has since abandoned plans to seek US approval and handed responsibility for Jyseleca in Europe to Galapagos.
Xeljanz woes are likely to be boost to Rinvoq, which is already growing fast – making $450 million in the first nine months of 2020, including $215 million in the third quarter alone.
So far, Rinvoq is only approved for use in RA, but is filed for ankylosing spondylitis and also in trials for several other inflammatory conditions including ulcerative colitis and psoriatic arthritis.
Some analysts think the fallout from the ORAL Surveillance could extend to other drugs in the JAK class, and encourage greater use of TNF blockers whilst leaving a big potential market open for other anti-inflammatories coming through development.