AZ signs multi-billion cancer R&D deal with Daiichi Sankyo
News
AstraZeneca is to raise $3.5 billion to fund a global development and marketing collaboration with Daiichi Sankyo, for an antibody-drug conjugate and potential new targeted cancer medicine, trastuzumab deruxtecan.
The drug was first developed by the Japanese pharma and consists of trastuzumab, the active ingredient in Roche's Herceptin breast cancer drug that is now off-patent, linked to a chemotherapy agent deruxtecan.
Trastuzumab targets the HER2 receptor on the surface of cancer cells, delivering the toxic dose of chemotherapy to malignant tissue, while leaving healthy cells alone.
AstraZeneca said the partnership will hasten and expand development of the drug codenamed DS-8201 across breast and other cancers, and will finance the expansion by offering shares to new and existing investors worth around $3.5 billion.
AstraZeneca will pay Daiichi Sankyo an upfront payment of $1.35bn, half of which is due upon execution, with the remainder payable 12 months later.
Contingent payments of up to $5.55bn include $3.8bn for potential successful achievement of future regulatory and other milestones, as well as $1.75bn for sales-related milestones.
The transaction will not affect core earnings this year, and is expected to contribute to earnings from 2020 and will start making a significant impact by 2023.
AZ said the drug could redefine standard of care in breast and other cancers – the Anglo-Swedish pharma hopes to create a drug that provides greater efficacy than Roche's original drug, and in a wider range of uses.
The deal also fits in with AZ's strategy in oncology, which is based in four areas – tumour drivers and resistance, DNA damage response, immune-oncology, and antibody-drug conjugates.
Trastuzumab deruxtecan is currently in development for the treatment of multiple HER2-expressing cancers, including breast and gastric cancer, and in patients with HER2-low expression.
The FDA has granted it Breakthrough Therapy Designation for patients with HER2-positive, locally-advanced or metastatic breast cancer who have been treated with trastuzumab and pertuzumab and have disease progression after trastuzumab emtansine.
A first regulatory filing is scheduled for the second half of 2019 for patients in the advanced or refractory breast cancer setting. Additional development for the treatment of breast, non-small cell lung cancer (NSCLC), gastric and colorectal cancers is ongoing.
Daiichi has already begun a large development programme in North America, Europe and Asia, including five pivotal trials in HER2-expressing breast and gastric cancers.
Trastuzumab deruxtecan is also in phase 2 development for HER2-expressing advanced colorectal cancer and metastatic non-squamous HER2-overexpressing or HER2-mutated NSCLC, and phase 1 development in combination with nivolumab for HER2-expressing metastatic breast and bladder cancers.
The companies will jointly develop and market trastuzumab deruxtecan worldwide, except in Japan where Daiichi Sankyo will maintain exclusive rights. Daiichi Sankyo will be solely responsible for manufacturing and supply.
[caption id="attachment_14218" align="alignnone" width="160"]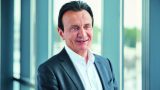 AZ's CEO Pascal Soriot[/caption]
AZ's CEO Pascal Soriot said: "We believe that trastuzumab deruxtecan could become a transformative new medicine for the treatment of HER2-positive breast and gastric cancers. In addition, it has the potential to redefine breast cancer treatment as the first therapy for HER2-low expressing tumours.
"It also has the potential to treat other HER2-mutated or HER2-overexpressing cancers, including lung and colorectal cancers. We are proud to be working with Daiichi Sankyo, a long-term collaborator of AstraZeneca in other disease areas."