Avelumab filed, Pfizer and Merck prepare to join immunotherapy battle
Pfizer and Germany's Merck have announced that their PD-L1 checkpoint inhibitor avelumab has been accepted for filing by the FDA, setting up the partners to join the fast-expanding cancer immunotherapy market.
The companies have confirmed that the US regulator has accepted for Priority Review the Biologics License Application (BLA) for avelumab, which was submitted by EMD Serono, the biopharmaceutical business of Merck in the US and Canada.
Avelumab has been filed for use in patients with metastatic Merkel cell carcinoma (MCC) based on tumour response results from the JAVELIN Merkel 200 trial.
Merck Inc and Pfizer had seemed like outsiders in the immunotherapy race just two years ago, when PD-1 inhibitors Merck's Keytruda and BMS' Opdivo gained their first approvals.
But the partners have seen their contender gain a Breakthrough status at the FDA for MCC, and have seen it overtake AstraZeneca's rival compound durvalumab, and now looks likely to be the fourth PD-1/PD-L1 inhibitor to reach the market.
Avelumab is still far behind Roche's drug Tecentriq, also a PD-L1, which gained US approval for melanoma and non-small cell lung cancer this year, but can carve out a niche in MCC, where it will be the first ever drug indicated for the tumour type.
MCC is a rare and aggressive skin cancer, which affects approximately 2,500 Americans a year, but this will just the first of many planned filings for the compound.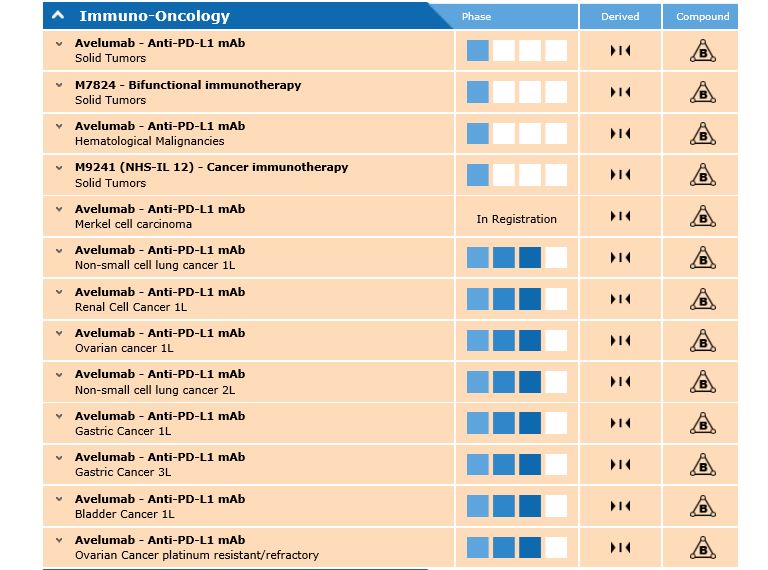 It is being investigated in a further 10 trials, with eight of these already in phase 3. These include non-small cell lung cancer (first and second line), ovarian, renal and gastric cancer.
While neither company are out-and-out leaders in oncology, Pfizer is already enjoying huge success with its breast cancer drug Ibrance in the US, and Merck has a decade of experience with its colorectal cancer treatment Erbitux.
This will help them gain a foothold in the fiercely competitive cancer immunotherapy market, though few therapy areas have evolved as far as the checkpoint inhibitors in 2016. BMS has seen the fortune of Opdivo dip after failure in NSCLC, but nevertheless still holds a revenue lead over Merck and Roche.
However dizzyingly rapid developments have transformed the market in 2016, with frontrunners sometimes rendering obsolete the pipeline programmes of the chasing pack.
One such example is AstraZeneca's durvalumab, which gained a Breakthrough designation in urothelial bladder cancer in February this year – only to see Roche's Tecentriq approved for the same indication in May.  This has forced AZ to rely more heavily on the promise of its trials of durvalumab in combination with other agents, with key readouts expected in the first half of 2017.
Long-term data
The checkpoint inhibitor drugs are expected to become a $30bn-plus market by 2022, but how this will be divided up may depend on longer-term efficacy data.
There is one downside to seeing avelumab achieve such a rapid path to filing – the data remains very immature. The filing is supported by data from the JAVELIN Merkel 200 trial, which is only a single-arm, open-label, Phase 2  study of 88 patients with metastatic MCC, whose disease had progressed after at least one chemotherapy treatment.
In the Javelin trial, eight patients achieved complete responses and 20 patients (22.7%) achieved partial responses. The median duration of response has not been reached (95% CI: 8.3 months – not estimable; range, 2.8–17.5+ months). Tumour responses were seen in patients regardless of the status of certain biomarkers (PD-L1 and Merkel cell polyomavirus). The progression-free survival (PFS) rate at 6 months was 40% (95% CI: 29–50%, estimated by the Kaplan-Meier method).
Early data also showed an overall survival (OS) rate at 6 months of 69% (95% CI: 58–78%) and a median OS of 11.3 months (7.5–14.0 months); however, these OS data are still maturing since minimum follow-up was six months for inclusion in the analysis.
The drug will have to prove its ability to prolong lives of patients to justify its high price, which is predicted to be around the $150,000 annual cost level selected by the other checkpoint inhibitor companies.
Avelumab is also being studied in combination, including with two Pfizer immuno-oncology candidates, 4-1BB (CD137) agonist utomilumab (PF-05082566) and OX40 agonist PF-04518600, as well as all three together as a triple regimen.
Don't miss your daily pharmaphorum news.
SUBSCRIBE free here.