Astellas gets EU approval for AML drug Xospata
News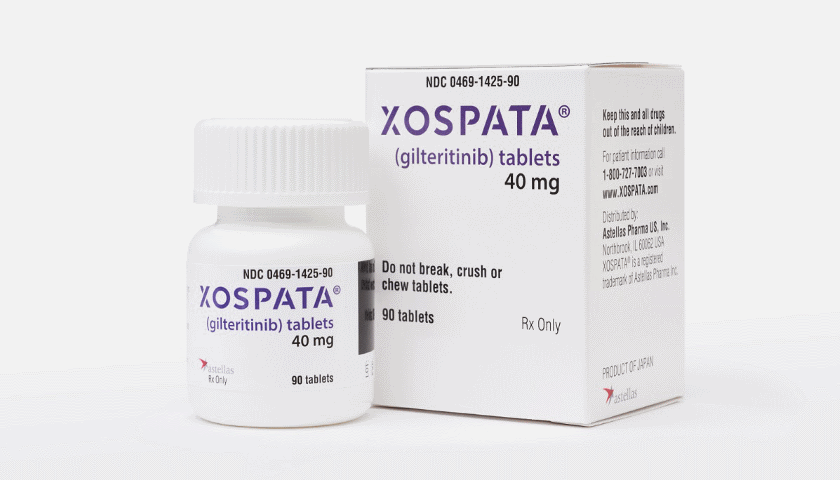 The European Commission has approved Astellas' Xospata (gilteritinib) for patients with relapsed or refractory FLT3-positive acute myeloid leukemia (AML), cementing its lead over a rival drug from Daiichi Sankyo.
Xospata, a FLT3 inhibitor, received an accelerated review, and the approval follows a positive CHMP recommendation in September.
The FLT3 mutation is expressed in about 30% of AML patients and is associated with a worse prognosis, higher relapse rate, faster progression and shorter overall survival, and FLT3 inhibitors have been pitched as a major advance in treatment for patients.
Xospata has been shown in the ADMIRAL clinical trial to improve overall survival compared to salvage chemotherapy, the standard second-line treatment option, with a median OS of 9.3 months for the Astellas drug versus 5.6 months for chemo.
It has been shown to work in two FLT3 mutations – namely ITD and TKD – while quizartinib only targets ITD but has greater potency against that target.
"AML is a rare cancer and patients with a FLT3 mutation have a particularly poor prognosis, with a median survival of less than six months following treatment with salvage chemotherapy," said Giovanni Martinelli, an investigator in the ADMIRAL trial. "Gilteritinib is a new and clinically meaningful treatment option that provides a welcome advance for patients and health care professionals across the European Union."

Xospata was cleared in the US and Japan last year, and the CHMP backing gives Astellas another leg up in the market over Daiichi Sankyo and its FLT3 inhibitor quizartinib.
The EMA is also in the midst of an accelerated review of quizartinib, but Daiichi Sankyo suffered a big setback last year when the FDA rejected its marketing application, just a few days after it claimed its first approval in Japan. The FDA verdict came after its advisory committee voted against the drug on the grounds that the clinical trial data in its marketing application may not be reliable.
Xospata and quizartinib have reached the market after Novartis' first-to-market FLT3-targeting drug Rydapt (midostaurin), which was approved in both the US and Europe for newly-diagnosed FLT3-positive AML in combination with chemotherapy in 2017.
Astellas and Daiichi Sankyo's drugs are being positioned initially as second-generation FLT3 inhibitors that build on the activity seen with Rydapt and extend the use of the class into second-line treatment.
However, both companies have aspirations to extend their use into the first-line setting and challenge Rydapt directly. There's also more potential competition on the way from AROG Pharma, whose FLT3 inhibitor crenolanib is in late-stage development for newly-diagnosed as well as relapsed/refractory AML.
Sales of Novartis' drug are too small to warrant their own line in the company's quarterly results statements, but analysts have previously suggested that peak sales of the drug will be in the $250 to $300 million range.
Astellas reported sales of around $22 million for Xospata in the first quarter of fiscal 2019, and has said it expects that to increase to around $140m for the full-year.