Astellas facing generics to big-selling Lexiscan product in US
News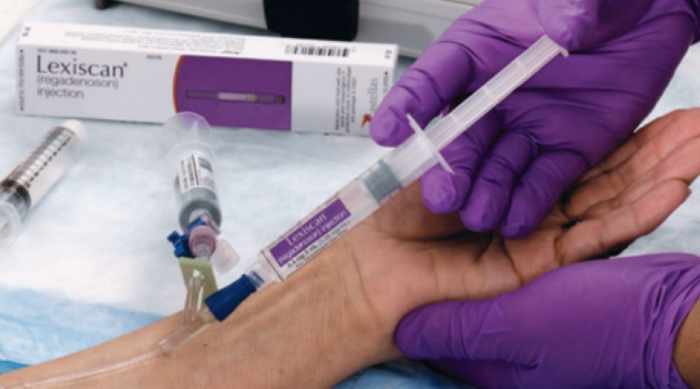 Astellas has won a reprieve in its attempt to stop Pfizer's generic medicines unit Hospira launching a copycat version of its pharmacologic stress agent Lexiscan in the US – but only for a couple of weeks.
A US district court in Delaware has granted an interim injunction that will prevent Hospira from launching its generic version of Lexiscan (regadenoson injection) until 5 October, but said no to the Japanese drugmaker's request for a preliminary injunction, which would prevent a launch while the patent dispute is being appealed.
The decision means that Hospira could choose to launch its generic early – albeit at risk of a damages claim if Astellas eventually emerges victorious from the appeals court.
In May, the Delaware court sided with Hospira and ruled that three patents Astellas is relying on for Lexiscan market exclusivity in the US – 8,106,183; 8, 524,883; and RE47301 – are not infringed by Hospira's generic, which was submitted for FDA approval in 2018.
Astellas challenged that decision in June, but has not yet revealed a date for a hearing by the Court of Appeals for the Federal Circuit (CAFC).
The patents in question – owned by Gilead Sciences, which licenses them to Astellas – cover polymorphic forms of the active ingredient in Lexiscan. Astellas claims those forms are present in Hospira's formulation of regadenoson, infringing its intellectual property, but the lower court ruled that it had been unable to prove that is the case.
Lexiscan is an A2A adenosine receptor agonist used alongside radionuclide myocardial perfusion imaging (MPI) in patients being assessed for cardiovascular disease who are not physically able to carry out standard exercise stress testing on a treadmill or stationary bike.
According to IQVIA figures, US sales of Lexiscan were approximately $650 million for the 12 months that ended 31 March 2022, making it one of Astellas top products. It was first launched in the US in 2008.
In a statement, Astellas said it is "reviewing the potential financial impacts of this district court decision for the fiscal year ending 31 March 2023."
Hospira isn't the only generics company trying to bring a version of regadenoson to the US market. AmphaStar and Glenmark Pharma also claimed FDA approval for versions of the drug earlier this year.
Lexiscan was originally developed by CV Therapeutics, which licensed rights to the drug to Astellas shortly before the Japanese pharma launched a hostile bid for the company – thwarted when it was acquired by Gilead in 2009.