ASH: Trial backs Gilead's Yescarta CAR-T in first-line lymphoma
News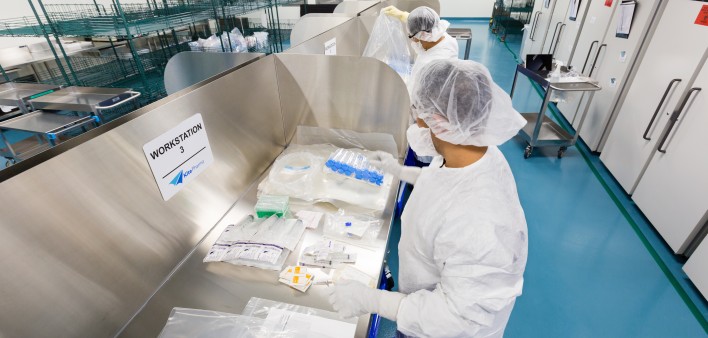 Gilead Sciences has taken a big step towards positioning its CAR-T therapy Yescarta as an option for previously-untreated large B cell lymphoma (LBCL) with updated results from the ZUMA-12 trial at the ASH congress this week.
The phase 2 trial showed that 78% of high-risk LBCL patients treated first-line with Yescarta (axicabtagene ciloleucel) had a complete response to the treatment after a follow-up period of just under 16 months, with an overall response rate of 89%.
The 40-patient open-label study is the first to evaluate CAR-T therapy in treatment-naïve in high-risk LBCL, which is currently treated first-line mainly with rituximab and a chemo regimen known as CHOP (cyclophosphamide, doxorubicin, vincristine, prednisone).
The results back up the durability of the response with Yescarta, which is administered as a one-shot therapy. At last year's ASH, the overall response rate with the CAR-T was 85%, including 75% complete responses.
That's important as less than half of patients with high-risk LBCL achieve long-term remission with standard first-line therapy, according to ZUMA-12 investigator Sattva Neelapu of the University of Texas MD Anderson Cancer Centre.
"Many of these patients typically progress very quickly on current standard-of-care therapies," said Neelapu. "Further study is needed to understand Yescarta's potential as first-line therapy, but we are encouraged by these results."
Gilead said the she study draws on the hypothesis that earlier use of CAR T-cell therapy when T cells are healthier may produce better outcomes.
The results come on the tail of new second-line results with Yescarta and another CD19-targeting CAR-T, Bristol-Myers Squibb's Breyanzi (lisocabtagene maraleucel), which sought to answer the question of whether they could be an alternative to chemotherapy and a stem cell transplant – the go-to therapy for relapsed LBCL patients.
Analysts at RBC Capital Markets said that moving Yescarta into the second-line setting alone could double the market opportunity for Gilead, and bump its CAR-T franchise up to peak sales of $1.8 billion.
Approval down the line in the first-line setting could add further upside, assuming the challenges of delivering CAR-T therapies – including the potential for serious side effects and a long production process – don't put a brake on take-up.
"We note supportive data from the ZUMA-1 trial, where 5-year survival data was 43% (64% among patients with a [complete response]), suggesting that CAR-Ts can potentially be curative, which we believe can further encourage use despite the administration challenges," said RBC's Brian Abrahams.
Gilead reported worldwide sales of $513 million for Yescarta in the first nine months of the year, an 18% increase on the same period as 2020.