ASCO22: Enhertu aces key HER2-low test in breast cancer
News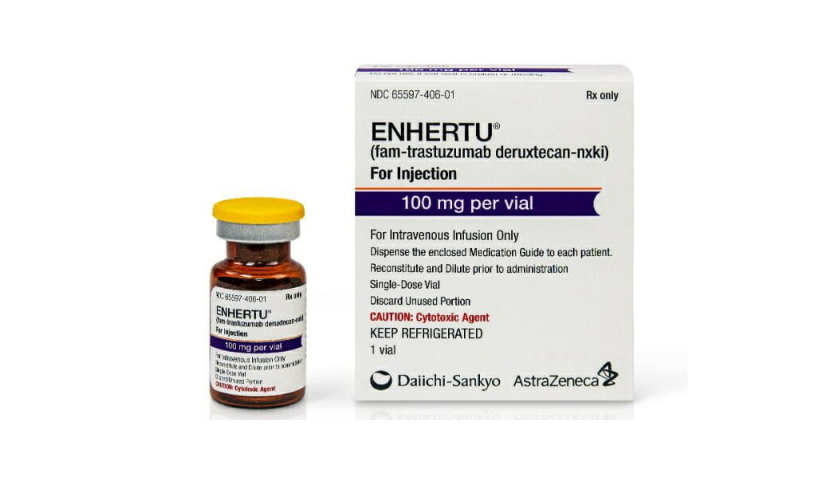 In February, AstraZeneca and Daiichi Sankyo teased the results of their pivotal trial of Enhertu in HER2-low breast cancer, and, at ASCO, they finally revealed the data – with the numbers every bit as good as hoped.
The top-line results of DESTINY Breast-04 are impressive - in patients with HER2-low metastatic breast cancer who received multiple lines of prior treatment, Enhertu (trastuzumab deruxtecan) reduced the risk of disease progression or death by 49%, whilst improving overall survival by 36% compared to chemotherapy when given as third-line treatment.
That translated to an extra six months of life – from 16.8 months to 23.4 months – a result that AZ said is "potentially redefining treatment for approximately half of all patients with breast cancer".
It's a spectacular result in a patient population with few effective treatment options and the first clear evidence that anti-HER2 therapy can be useful in a much broader range of patients than at present.
Breast cancer classed as HER2-positive - defined as an immunohistochemical (IHC) score of three or more – accounts for somewhere between 20% to 25% of all patients with the disease. However, up to 55% of all patients with breast cancer have tumours with an IHC score of one or two – the HER2-low range included in DESTINY Breast-04.
Approval in that broader patient range could unlock $3 billion in additional sales for Enhertu, according to analysts at Credit Suisse.
The data won the trial investigators a plenary slot at ASCO, and this comment from the organisation's rapporteur Jane Lowe Meisel of Emory University: "By effectively creating a new category of breast cancer, HER2-low, this trial will redefine how we classify breast cancer and will significantly expand the population of patients who can benefit from HER2-targeted therapy."
The trial's primary endpoint of progression-free survival (PFS) at 18 months was nearly double for Enhertu compared to standard chemo at 10.1 versus 5.4 months, with consistent results across all patient subgroups.
For example, the data showed a 49% improvement in PFS with Enhertu compared to chemo in patients with HR-positive disease and a 55% improvement on the same measure in HR-negative tumours.
Enhertu is already approved as a third-line therapy for HER2+ metastatic breast cancer and a second-line therapy for HER2+ metastatic gastric cancer, and recent data from the DESTINY-Breast-03 study looks set to expand its use into second-line treatment in HER2+ breast cancer.
Additional studies are also underway to see if the IHC threshold can be pushed even lower in the HER2-low breast cancer population, according to an ASCO statement. Meanwhile, AZ and Daiichi Sankyo are also looking at pushing use of the drug into earlier lines of therapy.
Sales of Enhertu came in at $426 million in 2021, more than double the amount made in the previous year, as doctors became more confident in using the drug after initial safety concerns over a potential side effect known as interstitial lung disease (ILD).
AZ paid $1.4 billion upfront to license rights to Enhertu in a deal that could be worth up to $6.9 billion to Daiichi Sankyo if all the ADC's development and sales objectives are achieved.