ASCO21: Gilead sets up first FDA okay for CAR-T in adult ALL with Tecartus data
News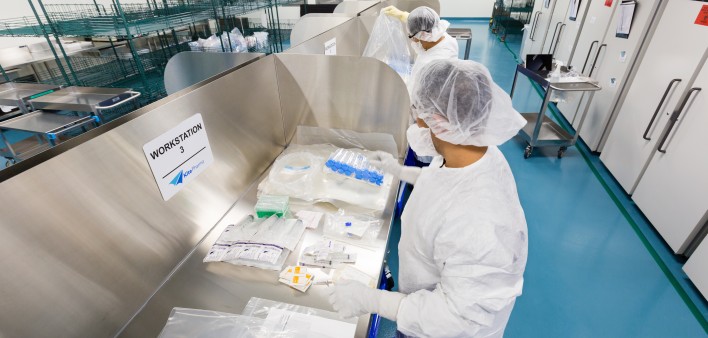 Novartis' Kymriah has had the CAR-T therapy market for acute lymphoblastic leukaemia (ALL) to itself so far, but Gilead Sciences' Kite subsidiary is now looming in the rear view mirror – armed with new data for its already-filed rival Tecartus.
Results of the phase 1/2 ZUMA-3 trial of Tecartus (brexucabtagene autoleucel) reported at the ongoing ASCO conference revealed a 71% complete response rate with the CAR-T in heavily pre-treated adult patients with B-cell precursor ALL.
The median response duration was 12.8 months, while overall survival was more than 18 months for all patients in the study and had not yet been reached for complete responders.
Kymriah (tisagenlecleucel) was approved for relapsed/refractory ALL in 2017, but its label covers use in children and young adults aged up to 25, who account for the bulk of cases of the blood cancer.
Gilead/Kite have taken a different approach with Tecartus, going after an adult patient population initially, but there will be overlap between the two therapies in the young adult category. Around 40% of ALL cases occur in adults, although most occur in people aged under 20.
Tecartus is also being tested in paediatric and adolescents patients with previously-treated ALL in the ZUMA-4 study, which would put the two therapies in direct contention. However results from that aren't due to read out until 2023, according to the entry for the study in the clinicaltrials.gov database.
Tecartus is already approved to treat relapsed/refractory mantle cell lymphoma (MCL), becoming the first CAR-T for that indication in mid-2020, and made sales of $31 million in the first quarter of this year.
It was filed for the adult ALL indication in the US in April, and has a priority review from the FDA, with a verdict due in October.
"Outcomes in adults with [ALL]  are poor relative to what is observed in children, with less than half of people over 20 years of age expected to survive the illness," said Bijal Shah of Moffitt Cancer Centre in Florida, who led the ZUMA-3 study.
Importantly, most of the responses seen with the CAR-T were associated with undetectable minimal residual disease (MRD), he added. Undetectable MRD is associated with longer remissions – and potentially longer survival – in ALL and other blood cancers.
Kymriah achieved a complete response rate of 81% in its relapsed/refractory ALL trial – called ELIANA – with 95% of patients MRD negative.
In autologous CAR-T therapy, the patient's T cells are harvested and genetically modified to include a new gene that helps then target and kill lymphoma cells, and the modified T cells are then infused back into the patient.
It's a process that can take at least a couple of weeks, and carries a risk of side effects including cytokine release syndrome (CRS), which can cause fever and flu-like symptoms and can be life-threatening. Around a quarter of patients treated with Tecartus had a severe immune reaction, and there were two deaths in the trial.
Novartis eyes Yescarta challenge in follicular lymphoma
Novartis meanwhile has an opportunity to fight back and muscle into territory held by Gilead's other approved CAR-T Yescarta (axicabtagene ciloleucel), after hitting the mark in the phase 2 ELARA trial in relapsed or refractory follicular lymphoma (FL).
The ELARA trial revealed a 66% complete response rate and 86% overall response rate with Kymriah in this form of non-Hodgkin's lymphoma (NHL), which accounts for around 22% of all cases of the cancer.
Yescarta was only approved by the FDA for FL in March, adding to its earlier green light in B-cell lymphoma, and Novartis now says it intends to file for approval of Kymriah in FL later this year.