As India battles COVID, Qure.ai deploys AI diagnostic for hard-pressed doctors
News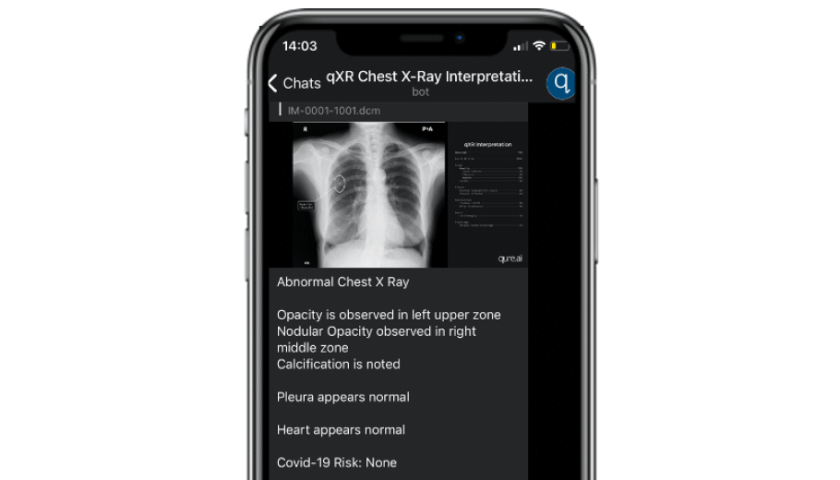 Indian digital health company Qure.ai is making an artificial intelligence-driven diagnostic app available to doctors scrambling to cope with escalating COVID-19 cases and deaths.
With the help of health-focused non-governmental organisation (NGO) PATH, Qure is providing its AI bot for interpreting chest X-rays to physicians across India on the Telegram messaging app.
India is already struggling with limited supplies of COVID-19 testing kits, so chest X-rays are increasingly being used to help diagnose infections, as well as to gauge the severity of cases.
Qure said its AI could be used as a preliminary screening tool to provide "a second opinion or confirmation of diagnosis", and enable clinicians to triage for COVID-19 instantaneously.
To use the technology physicians can download the Qure bot from the Telegram app use it to upload a patient's chest X-rays, getting a result in less than a minute, according to the digital health firm.
Qure's technology detects ground-glass opacities and consolidation, which are indicative of COVID-19 infections," commented Shibu Vijayan, a director at PATH.
"It quantifies affected lung volume and gives a COVID-19 score which will help physicians decide on the course of treatment," he added.
The move comes as India's death toll from COVID-19 headed north of 300,000, with some 26 million recorded cases putting the country second only to the US in exposure to the coronavirus.
Alarmingly, 100,000 of those deaths came in the last month, and the latest wave of infections is threatening to overwhelm India's healthcare system, with hospitals running out of essential supplies like oxygen and critical medicines.
"What we've been seeing in the last few weeks is truly taking a toll on our frontline care givers and straining our public and private healthcare infrastructure severely,£ said Qure's co-founder and chief executive Prashant Warier.
"We need to implement and leverage technology that's been extensively trained and validated to tackle this ongoing tragedy fast and it needs to be now."
Qure's AI platform has meanwhile also attracted partnerships with pharmaceutical companies, including a tie-up last week that will apply the AI to Fujifilm's portable X-ray FDR Xair system, flagging up abnormal findings at the point of care.
It is also working with AstraZeneca to use its AI for the early detection of lung cancer from X-rays, focusing on patients in emerging markets.
Globally, chest X-rays are the most commonly ordered diagnostic imaging test, with millions of scans performed every year.