AppliedVR's virtual reality therapy for pain cleared by FDA
News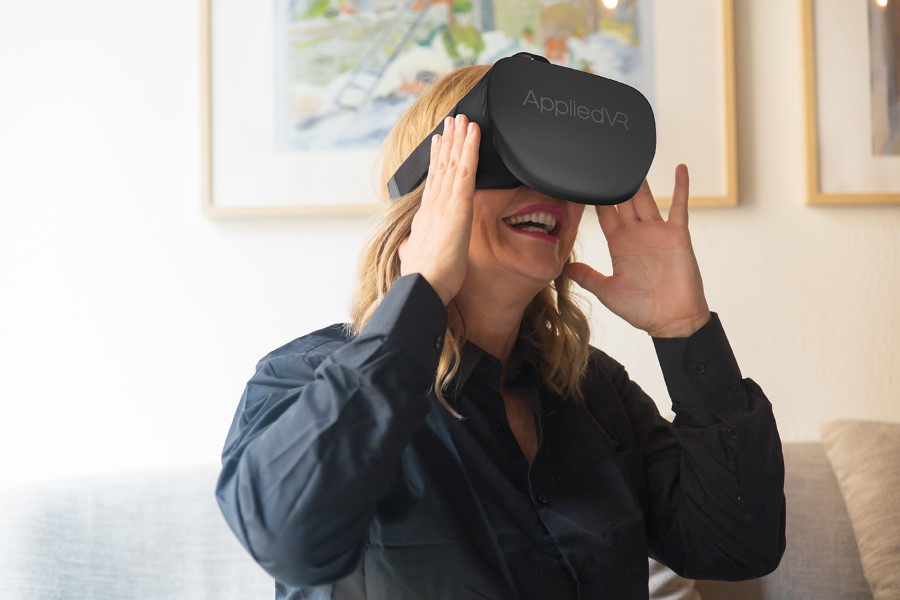 A virtual reality system developed by AppliedVR that has been shown in trials to help reduce chronic lower back pain has been approved by the FDA as a prescription digital therapeutic (DTx).
The EaseVRx system uses a VR headset and controller to deliver a course of 56 cognitive behavioural therapy (CBT) sessions – each between 2 and 16 minutes long – that are intended to address the physiological symptoms of pain over an eight-week period.
The system includes "breathing amplifier" attached to the headset that helps the user carry out deep breathing exercises during the sessions, which aim to tackle pain through techniques including deep relaxation, attention-shifting, mindfulness and healthy movement.
The aim is to increase chronic lower back pain patients' resilience to pain and to give them skills that can be applied outside of the CBT sessions to provide long-term relief.
The FDA gave EaseVRx breakthrough status last year, recognising its potential in reducing the reliance of people with chronic lower back pain on painkiller medications – with the accompanied risk of dependency and side effects – and the difficulties in accessing face-to-face physiotherapy and CBT sessions that have been exacerbated by the pandemic.
The VR system was evaluated in clinical trial of 179 subjects with chronic lower back pain who were treated wither with EaseVRx or a control programme that did not use skills-based CBT methods.
After the eight-week courses were completed, 66% of EaseVRx users reported a greater than 30% reduction in pain, compared to 41% of the control group. Moreover, 46% of those using the VR system had a 50% or better reduction in pain, versus 26% of controls.
The study also suggested that the treatment extended several weeks after the course was finished. After a month, the EaseVRx group continued to report a 30% reduction across all pain measures, and after two and three months that 30% reduction continued for all measures except pain intensity.
In contrast, the control group reported a reduction in pain below 30% after each month follow-up for all pain measures.
The approval comes just a few weeks after AppliedVR raised $36 million in a second-round financing that it said would be used to fund the market launch of EaseVRx, carry out pilot studies with payers, and build its DTx product pipeline.
The company is also looking at applications including pain during childbirth or trauma, or tackling the discomfort caused by some treatments such as cancer chemotherapy.
"Millions of adults in the US are living with chronic lower back pain that can affect multiple aspects of their daily life," Christopher Loftus, acting director of the FDA's Office of Neurological and Physical Medicine Devices.
The EaseVRx approval "offers a treatment option for pain reduction that does not include opioid pain medications when used alongside other treatment methods for chronic lower back pain," he added.
Lower back pain is one of the top causes of disability around the world, and according to a 2018 report in The Lancet accounts for 189 million lost working days and $62.4 billion in lost productivity in a year.
Other DTX approaches to chronic pain have also been developed. These include an artificial intelligence-powered app developed by Kaia Health for musculoskeletal health, as well as VR and CBT-based systems for chronic pain from Finnish drugmaker Orion, XRHealth, Deepsen SAS and Lucine Technologies.