Mylan challenges Amgen's Neulasta in US
Mylan and Biocon have filed a biosimilar of Amgen's Neulasta in a bid to get ahead of a rival from Sandoz.
The companies have joined together to produce the near-copy of Neulasta (pegfilgrastim) a treatment used to boost the immune systems of cancer patients taking chemotherapy.
Amgen's related product Neupogen (filgrastim) became the first biologic to fall to biosimilars in the US when Sandoz launched its Zarxio in September 2015.  Neupogen sales declined 27% as biosimilar competitors took hold last year – and now Neulasta is also in the crosshairs.
The US patent on Neulasta expired in 2015, but Amgen has not encountered biosimilar competition to its blockbuster drug, which earned $4.7 billion in 2016.
This puts the drug in the top six targets for biosimilars, according to recent IMS Health data (see table).
Sandoz, the generics and biosimilars arm of Novartis, had its hopes of being first to market with a near-copy of Neulasta dashed last year when the FDA rejected a filing last summer.
Biocon and Mylan could get their drug approved ahead of Sandoz after the FDA accepted a filing for their Neulasta contender, and plans to make a decision at the beginning of October.
Coherus could be the first to get biosimilar Neulasta approved in the US following a filing in October.
Neulasta is currently Amgen's second biggest earning drug (behind Enbrel, also facing biosimilar competition). Amgen will defend its intellectual property in court, making it difficult to predict when the rival will finally be launched.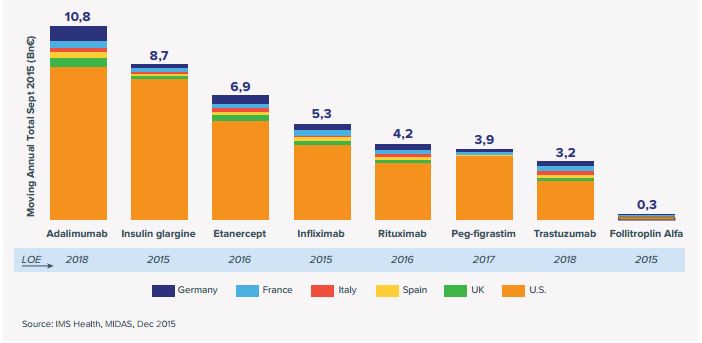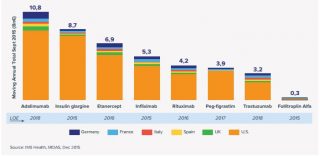 Mylan has joined with India's Biocon to develop a portfolio of biosimilars.
The Neulasta biosimilar is one of six biologics co-developed by the companies – Mylan has exclusive marketing rights for biosimilar Neulasta in the US, Canada, Japan, Australia, New Zealand and in Europe. Biocon has co-exclusive marketing rights with Mylan for the product in the rest of the world.
This is the second major US biosimilar filing from the two companies: in November Mylan filed a biosimilar of Roche's breast cancer drug, Herceptin (trastuzumab) with the FDA.
Mylan's president Rajiv Malik said: "The milestone builds upon the acceptance of regulatory filings for proposed biosimilar pegfilgrastim in Europe, Australia, and Canada and reinforces our dedication and commitment to establishing a global platform for this product."
Don't miss your daily pharmaphorum news.
SUBSCRIBE free here.