Alnylam's Onpattro is first ever FDA-approved RNAi drug
News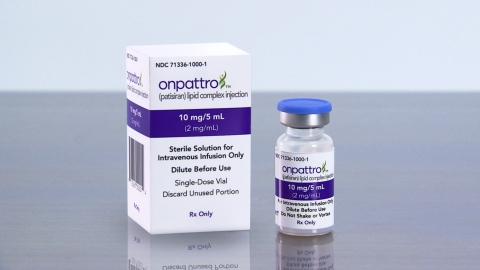 The FDA has approved the first ever RNA interference drug – Alnylam's Onpattro (patisiran) for the nerve damage caused by the rare disease hereditary transthyretin-mediated amyloidosis (hATTR) in adults.
While the approval was hailed as a historic step, there was also a sharp intake of breath at the drug's $450,000 per year price tag, which is expected to be mitigated by discounts and "value-based" deals with insurers.
This is a significant victory for Alnylam, and for biotech in general, which has been struggling for more than a decade to transform RNAi technology into an approval medicine.
RNAi works by selectively blocking the strand of RNA that transcribes a defective gene in a patient's DNA into a misfolded protein that leads to a disease.
Alnylam has beaten off competition in the US from RNAi company Ionis, which is developing a rival therapy for hATTR, Tegsedi (inotersen).
Inotersen has been approved in the EU, where Alnylam's drug is set for a final review by regulators on Europe's CHMP committee.
But Alnylam is ahead in the bigger US market, where Tegsedi is still under review, and the consensus is that Alnylam's clinical trial data will give it the edge once both drugs are approved and competing.
hATTR amyloidosis is a rare, inherited, rapidly progressive and life-threatening disease affecting around 50,000 people worldwide. – in addition to polyneuropathy hATTR can lead to other significant disabilities including decreased ambulation with the loss of the ability to walk unaided, a reduced quality of life and decline in cardiac functioning.
In the largest controlled study of hATTR amyloidosis, Onpattro was shown to improve polyneuropathy – with reversal of neuropathy impairment in a majority of patients – and to improve a composite quality of life measure, reduce autonomic symptoms, and improve activities of daily living.
[caption id="attachment_45594" align="alignleft" width="97"]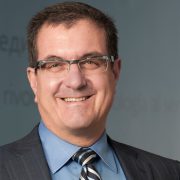 John Maraganore[/caption]
Alnylam's CEO John Maraganore noted that the company has a range of other RNAi therapies in clinical development – including givosiran and fitusiran, which are in late stage development for acute hepatic porphyrias and hypercholesteroaemia respectively.
He said: "With the potential for the sequential launches of several new medicines in the coming years, we believe we have the opportunity to meaningfully impact the lives of people around the world in need of new approaches to address serious diseases with significant unmet medical needs."