Alexion's Soliris gets new, and lucrative, rare disease indication
Alexion's rare disease drug Soliris has a new indication after the FDA approved it for a disease that attacks the optic nerves.
Approval of Soliris (eculizumab) for neuromyelitis optica spectrum disorder (NMOSD) in adults who have the anti-aquaporin-4 antibody opens up further revenues for Alexion, which has already built a blockbuster franchise around the drug.
Although only approved in a handful of rare diseases, the complement-inhibiting drug generated $962 million for Alexion in Q1 alone, up from $800 million in the previous year's Q1.
Although the disease only affects between 4,000-8,000 patients in the US, at the prices Alexion charges this could generate significant revenues.
Dosage varies according to a patient's weight but it's estimated to cost around $400,000 per patient annually.
First approved in 2007 for paroxysmal nocturnal haemoglobinuria, Soliris is threatened by the possibility of biosimilar competition as its US patent expires in March 2021 and it goes off patent in Europe in May next year.
Amgen is developing a biosimilar that could undercut Soliris on price if approved and marketed, and Alexion is hoping to maximise Soliris' revenues in its last years of its patent life, as well as developing a longer-lasting alternative, Ultomiris.
NMOSD is an autoimmune disease of the central nervous system that mainly affects the optic nerves and spinal cord.
Relapses can occur without warning and can cause progressive and irreversible damage to the brain, optic nerve, and spinal cord, possibly leading to long-term disability.
This approval is based on comprehensive results from the phase 3 randomised, double-blind placebo controlled PREVENT trial.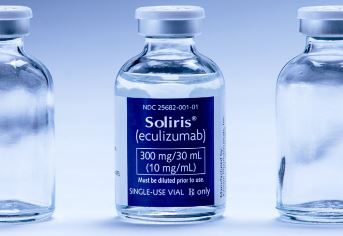 Soliris
At 48 weeks, 98% of patients treated with Soliris were relapse free compared to 63% of patients receiving placebo.
This effect was observed through 144 weeks of treatment, with 96% of patients in the treatment arm were relapse free compared to 45% of patients in the placebo arm.
Of the 21 patients treated solely with Soliris, without receiving other immunosuppressive therapies 100% were relapse free at 144 weeks compared to 20% in the placebo group.
Don't miss your daily pharmaphorum news.
SUBSCRIBE free here.