Alexion's shares slide after Soliris patent challenge from Amgen
News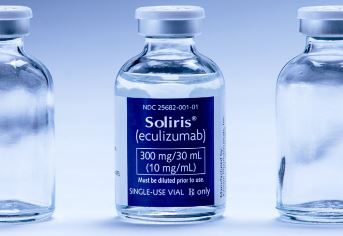 Amgen's famously voracious legal team is living up to its reputation once again, this time with a surprise challenge on the patents surrounding Alexion's rare diseases blockbuster, Soliris.
The patents surrounding Soliris (eculizumab) extend its period of market exclusivity from 2022 to 2027, but Alexion thinks it has found a chink in the legal armour.
Soliris is still the mainstay of Alexion's business and accounted for around four-fifths of the company's revenue in the last quarter.
With sales of almost $1 billion each quarter, Alexion would be in deep water without Soliris, which is approved in several rare diseases but is also very expensive at almost $500,000 per year in the US.
That's why the protection is so important to Alexion, which is hoping to move rare disease patients on to a longer-lasting version of the drug before it loses its exclusivity.
But Amgen's move could make this far more difficult should it get a biosimilar approved in time, to treat rare diseases related to the complement system such as generalised myasthenia gravis, paroxysmal nocturnal hemoglobinuria, and atypical haemolytic uremic syndrome.
The US patent office has said it will review patents on Soliris after Amgen challenged them, according to court filings that surfaced on Friday.
The challenge relates to patents covering the composition of the active ingredient eculizumab, its formulation, and use to treat proxysmal nocturnal haemoglobinuria
Alexion's shares were down more than 10% after the market learned about news of the decision, while Amgen's shares ticked up.
The decision came from the Patent Trial and Appeal Board, the patent office's administrative court, which said it was beginning an inter partes review of the patents.
The board's decision means that it thinks there is a good chance that the challenge may succeed, and decisions are made within a year, with the possibility of a six-month extension.
Infamous for its litigious behaviour in the pharma industry, Amgen lost the latest round in a legal battle with Sanofi over patents over cholesterol drug patents.
In the ruling a district court judge said aside a jury decision from February and said some of Amgen's patent claims to protect its PCSK9 drug Repatha were invalid because they did not sufficiently outline the company's claimed innovations.
Amgen said it would appeal against the decision in the long-running feud between the two companies with competing drugs from the same class, which were approved within a few weeks of each other in 2016.
Aside from the patent challenges the California-based pharma's legal department has been typically busy this year – in April Amgen became embroiled in a row with Novartis after trying to kick the Swiss pharma out of a development partnership over the migraine drug Aimovig.
Amgen is reportedly unhappy that Novartis' subsidiary Sandoz is supplying materials to Alder Biopharmaceuticals, which is developing a rival calcitonin gene-related peptide (CGRP) class migraine drug.
Novartis has stated that the agreement with Alder is being terminated and the contract manufacturing agreement will only continue until the end of 2023.