AI-powered stethoscope from Eko spots heart failure in seconds
News
A study has shown that a 'smart' stethoscope developed by US digital health company Eko can be used to screen people for heart failure in a few second during a standard physical examination.
The device tested in the independent study combines a stethoscope used to listen to heart sounds with a single-lead electrocardiogram (ECG). It uses an algorithm to detects low left ventricular ejection fraction (LVEF) – reduced outflow of blood from the heart to the aorta – which is a common characteristic of heart failure.
If LVEF is 40% or less a patient is considered to have heart failure with reduced ejection fraction (HFrEF), sometimes known as systolic heart failure, which is generally diagnosed in hospital.
HFrEF accounts for around half of all heart failure patients, and around 80% of patients are diagnosed after an emergency hospital admission, even though 40% of patients have symptoms that should be detectable in primary care and allow earlier treatment.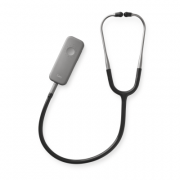 Eko's ECG-enabled stethoscope – dubbed the DUO ECG + Digital Stethoscope – was put through its paces in more than 1,000 patients who were attending NHS clinics at seven sites in London, including Imperial College Healthcare NHS Trust (ICHNT) hospitals – for standard 12-lead ECG monitoring.
The subjects were assessed using the smart stethoscope for 15 seconds, with signals transmitted via Bluetooth to a smartphone, and also had a regular ECG to allow for a comparison between the two methods.
The result? The smart device was 80% to 90% likely to correctly identify patients with an LVEF of 40% or less, depending on the location used to take the measurement, with an 80% likelihood of accurately spotting patients who did not meet that threshold.
While slightly less accurate than the in-hospital ECG, the system could be used in primary care settings as a screening tool to identify at-risk patients sooner, even if they do not have symptoms of HFrEF. The study is published in The Lancet Digital Health.
"This tool allows healthcare professionals to reliably rule in or rule out heart failure at the point of care," said lead investigator Dr Nicholas Peters, professor of cardiology at ICL, who described the tool as "a total game-changer."
He added: "The result will be earlier diagnosis and treatment and the avoidance of unnecessary and expensive tests for those in whom heart failure is ruled out. This means better and more cost-effective healthcare."
The algorithm used in the stethoscope is a modification of one developed by the Mayo Clinic in the US for a 12-lead ECG, that was modified to apply it to the single lead version. Eko says it will be submitted to the FDA for approval later his year.
Peters meanwhile said this group will start another study to see how the stethoscope can be deployed in urban and rural GP practices across the UK, "with a view to producing the evidence for NHS-wide adoption."