AI device cleared by FDA to spot lesions during colonoscopy
News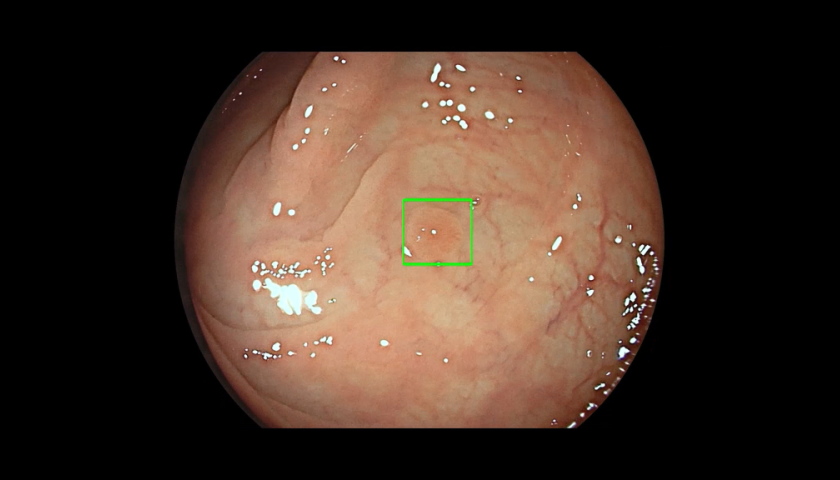 The FDA has approved the first artificial intelligence-powered device that can be used to help identify colorectal lesions during the millions of colonoscopies carried out each year in the US. 
Cosmo Pharma's GI Genius is a hardware and software bundle that overlays the images generated by an endoscope camera with green marker squares – accompanied by an alert sound – when the AI detects a potentially abnormal area of the rectum or colon.
The prompts allow the clinician conducting the colonoscopy to carry out further assessment, which could be as simple as a closer look using the camera. The clinician remains the judge of whether a lesion is concerning, and decides whether tissue should be sampled for lab diagnosis or if the lesion should be destroyed in situ.
Approval is based on an Italian study of GI Genius in 700 subjects who were receiving a colonoscopy for suspected colorectal cancer. The main analysis came from a subgroup of 263 patients who were being screened every three years or more, which compared standard white light colonoscopy either with the GI Genius or on its own.
In the study, GI Genius identified colorectal adenomas or carcinomas, subsequently confirmed in the lab, in around 55% of patients. That compared to a 42% identification rate among patients who had a standard colonoscopy. The trade-off was a slight increase in biopsies that turned out not to be cancerous.
The AI processes images using advanced algorithms that can identify and mark abnormalities consistent with polyps, including small flat polyps that might otherwise go undetected by the human eye, according to its developer.
"The GI Genius is not intended to characterise or classify a lesion, nor to replace lab sampling as a means of diagnosis," stressed the FDA, adding that it "only identifies regions of the colon within the endoscope's field of view where a colorectal polyp might be located, allowing for a more extended examination in real time during colonoscopy".
GI Genius will be distributed by medical device giant Medtronic, which said it is the first and only commercially available computer-aided detection (CADe) system using AI to identify colorectal polyps. It is already available in Europe and certain markets in Asia, Australia and the Middle East.
More than 19 million screening colonoscopies are performed in the US each year, said Dr James Weber, a gastroenterologist and chief executive of the GI Alliance physician network.
"A key factor in the prevention of colorectal cancer is the integration of leading-edge technologies into gastroenterology practices to increase detection rates," he added.
There's no data yet on whether use of the AI module can reduce the risk of patients going on to develop colorectal cancer. However, prior studies have shown that having a second observer can increase detection rates – and every 1% increase in adenoma detection rate is estimated to cut the risk of colorectal cancer by 3%.
Around one in 20 people US adults are diagnosed with colorectal cancer in their lifetime, and it is the second most deadly cancer worldwide, even though 90% of patients can beat it if diagnosed early enough.
Cosmo Pharma chief executive Alessandro Della Chà said that the worldwide market opportunity for AI in the colonoscopy sector alone is worth "at least $1.1 billion".