Exploring the potential of FHIRs and e-labelling
Market Access
Fast Healthcare Interoperability Resources (FHIRs) allow fast to build REST based APIs,1 and are revolutionising the way healthcare providers, patients, and vendors share and access sensitive data. As an emerging data exchange standard, FHIRs allow for secure storage and easy-to-understand data communication. An FHIR makes it possible for healthcare professionals to access patient information quickly and efficiently, allowing for faster, more informed decisions. Additionally, patients have greater control over their medical information.
According to a recent report by Grandresearch review,2 the global healthcare API market size is expected to grow to USD 336.02 million by 2027 from USD 219.39 million in 2020, with an expected compound annual growth rate (CAGR) of 6.3%. The major driving factors for this growth are higher implementation of Application Programming Interfaces (APIs) and integrated Electronic Health Records (EHRs), which provide easier and simpler healthcare data accessibility.
FHIRs were developed by Health Level Seven International (HL7), accredited by the American National Standards Institute , which develops and provides frameworks and standards for sharing, integration, retrieval of clinical health data, and other electronic health information.
FHIR frameworks are built around the concept of resources' basic units of interoperability and modular components that can be assembled into working systems to try to resolve clinical, administrative, and infrastructural problems in healthcare.
How is FHIR different from other interoperability standards?
The differentiating factors of FHIRs are simplicity and flexibility. An FHIR combines the best features of previous data exchange standards in a common specification, while being flexible enough to meet the needs of a wide variety of use cases within the healthcare ecosystem.
FHIRs support four information exchange methods, including Representational State Transfer (REST), the software architectural style that forms the basis for the World Wide Web. This approach sets FHIRs apart when compared to other internet development efforts outside of healthcare.
The main difference between an FHIR and HL7 is that the FHIR leverages RESTful web services and open web technologies such as XML, JSON, and RDF, while HL7 only supports XML.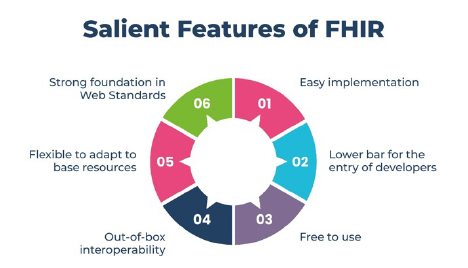 How healthcare systems benefit from FHIRs
Holistic patient experience: The simplicity in the implementation and integration of this protocol across a wide array of applications and software provides patients with greater control over their information.
Improvement in clinical treatment: With the implementation of the FHIR and the rest of the web services, data sharing standards will allow safe and easy exchange of data.
Enhancement in data management: Real-time records lead to improved data management and data accuracy.
Easy third-party integration: FHIR works well with third-party apps and software and provides easy integration, with no need for specific software or systems.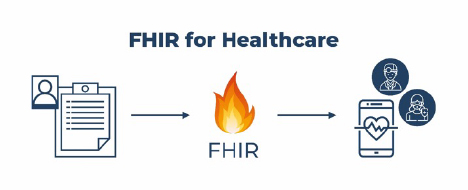 How an FHIR is linked to electronic Product Information (ePI):
ePI is authorised, statutory product information for medicines (i.e., SmPC, PL, and labelling) in a semi-structured format created using the common EU electronic standard.3 ePI is adapted for electronic handling and allows dissemination via the world wide web, e-platforms, and print.
There are certain questions raised, however, regarding ePI:
What risks do we face running two parallel systems – one of ePI and one utilising the traditional system of paper package leaflets?
What is the expected period required to harmonise the various national European initiatives to ensure a pan-EU ePI?
Would patients, who are not digitally savvy, run the risk of being left behind?
Addressing these questions is the essence to developing an effective ePI system. It is known that current procedures based on PDF are not adequate to support electronic initiatives.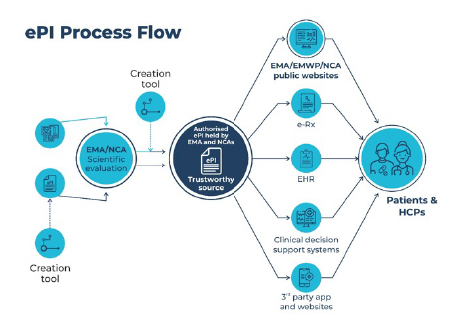 Why there is a need for end-to-end ePI support
The innovations afforded by digital-first electronic product information delivery ensure greater information accuracy, easier content validation, accelerated regulatory processes, and rapid safety updates. However, one of the key challenges in implementing FHIRs and e-labelling is understanding the technical integration requirements between various systems in the healthcare ecosystem. This requires end-to-end ePI support for:
Improved patient safety: ePI provides up-to-date and accurate information.
Enhanced regulatory compliance: End-to-end ePI support ensures that the information provided about a medication is consistent and compliant with regulatory requirements.
Increased efficiency: Electronic delivery of ePI eliminates the need for paper-based systems, which can be time-consuming and inefficient.
Improved patient engagement: Patients can access ePI on their devices and read important information about their medication.
Better data management: End-to-end ePI support enables the capture and analysis of data related to medication use, including adverse reactions and medication errors.
Healthcare providers can leverage the benefits of these standards to enhance patient care, reduce errors, and improve healthcare outcomes. For all the insights and usability that FHIR can deliver, the solution is not just to identify better ways to communicate how the system functions, but to create processes that will help in understanding the outcome and delivering it in a user friendly manner to benefit healthcare in the EU.
About the authors

Mallikarjun R is VP of Regulatory Services at Navitas Life Sciences, and has been in Regulatory Affairs/Operations for over 18 years. He has been working at the core of product lifelines dealing with end-to-end regulatory services (drug development, clinical studies, and post-marketing considerations). He brings deep experience relating to developing strategies, continuous improvements, and resource plans to anticipate demand for workforce needs, and is involved in process standardisation and proven metrics-oriented process-driven functions.

Murali Prasaanth Babu is a regulatory associate and has an MS in Regulatory Affairs from The Institute of Technology, Carlow, Ireland. He has significant regulatory operations experience across the EU, US, Canada, and ROW markets, performing end-to-end regulatory service for submission management.

Priya Arunachalam is a team lead in end-to-end regulatory services at Navitas Life Sciences and has a BSc in Pharmacy and a PG Diploma in Regulatory Affairs. She has more than a decade of experience in regulatory operations across the EU and ROW markets, along with analytical R&D, licensing, and QC experience.

Palli Nomuganesh is a senior manager in regulatory operations at Navitas Life Sciences and has a Masters in Pharmacy, with over 12 years of experience in regulatory operations across the EU and US markets, along with analytical R&D experience.