TIGIT Therapies 2021
Events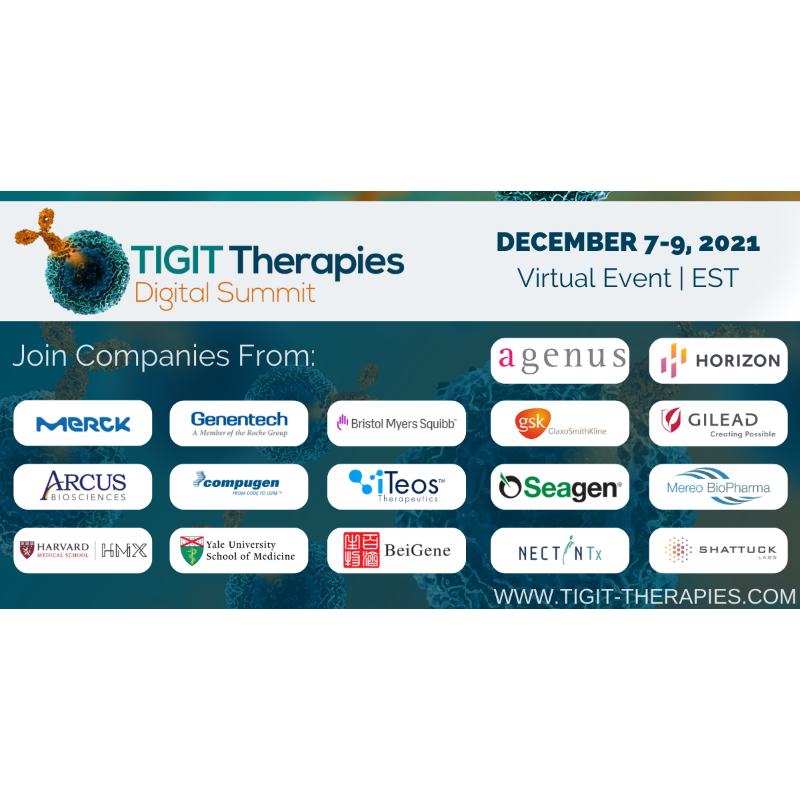 Arriving at a critical point for TIGIT development, the 2nd Annual TIGIT Therapies Summit is the definitive industry-led event focused on propelling this next-generation inhibitor to clinical use.
Enable TIGIT therapies to reach full clinical potential through uniting with 25+ TIGIT experts to discuss:
• Refining Fc receptor co-engagement to inform effective drug design
• Elucidating the mechanism of action of TIGIT in the tumor microenvironment
• Leveraging the combinatorial activity of anti-TIGIT agents across therapeutic modalities
• Enhancing TIGIT Therapies through targeting checkpoint inhibitors in the DNAM-1/CD226 axis
• Utilizing biomarkers to maximize the clinical effect
• Examining the clinical trial landscape and glimpsing the indication expansion of TIGIT
• Plus 2 add on workshops:
• Elucidating the anti-tumor immunity of other immune checkpoint inhibitors in oncology
• Investigating the functional synergy between PD-1 & TIGIT in autoimmunity
You don't want to miss out on gaining exclusive insight from our esteemed speaker faculty:
Jane Grogan, Graphite Bio
Jeremy Waight and Marc Ballas, GlaxoSmithKline
Kartik Krishnan, Arcus Biosciences
Dhan Chand, Agenus
Sandhya Girish and Sreeneeranj Kasichananula, Gilead Sciences
David Hafler, Yale School of Medicine
Eran Ophir, Compugen
Gregory Driessens, iTeos Therapeutics
Tong Zhang, BeiGene
Vijay Kuchroo, Harvard Medical School and Brigam & Women's Hospital
Yvonne McGrath iTeos
Ann Kapoun and Suba Krishnan Mereo, BioPharma
Shyra Gardai and Alyson Smith, Seattle Genetics
Pini Tsukerman, Nectin Therapeutics
Michael Lim, Stanford University
Farahnaz Forozan, OncoGen Forozan Consulting
Taylor Schreiber, Shattuck Labs
Walter Fiedler and Franziska Brauneck, University Medical Center Hamburg-Eppendorf
Ahmed Tajmohamed, Beacon Targeted Therapies
Ensure your research team secures its place at the forefront of the immune checkpoint inhibitor space by putting this event on the calendar for 2021. Download the event guide here to find out how you can attend the only TIGIT event taking place this year!