PM Society Digital Awards 2021
Events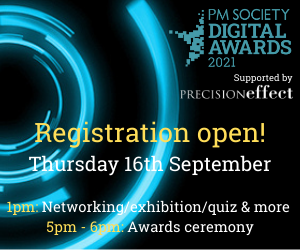 2021 marks the 12th year of the PM Society's Digital Awards where we recognise the best in digital creativity, innovation and effectiveness from across the healthcare industry.  We pride ourselves on highlighting the best programmes, projects and campaigns across a broad range of digital activities.
We are delighted to see a record number of entries this year, perhaps not surprising in the light of the pandemic!  Judges also commented on the high quality of entries, so getting to the shortlist was an achievement in itself. Our finalists are from a wide range of creative and communication agencies, charities and pharma companies
The event on 16th September will highlight the great digital work developed in the last 12 months and allow many agencies, pharma companies and charities to showcase their achievements. It's all been made possible by our loyal sponsors, PRECISIONeffect, ARK, Astellas, Bionical, Brainsell, Cuttsy & Cuttsy, earthware, Exeevo, M3, Markify, mms360, Novartis, Open Health, Pharmadoctor, PM Group, Wave, Wiley and Wilmington Healthcare. We are very grateful to all these companies.
True to being the Digital Awards, we have a new online platform for the show this year, with lots of features, including the ability to chat to other attendees.
To register for your FREE place, just visit: reg.pmsocietydigitalawards.org.uk/pm-society-digital-awards-2021.
We look forward to seeing you online on the 16th September from 1pm!