CNS Summit 2019 | Oct 31 - Nov 3, Boca Raton, FL
Events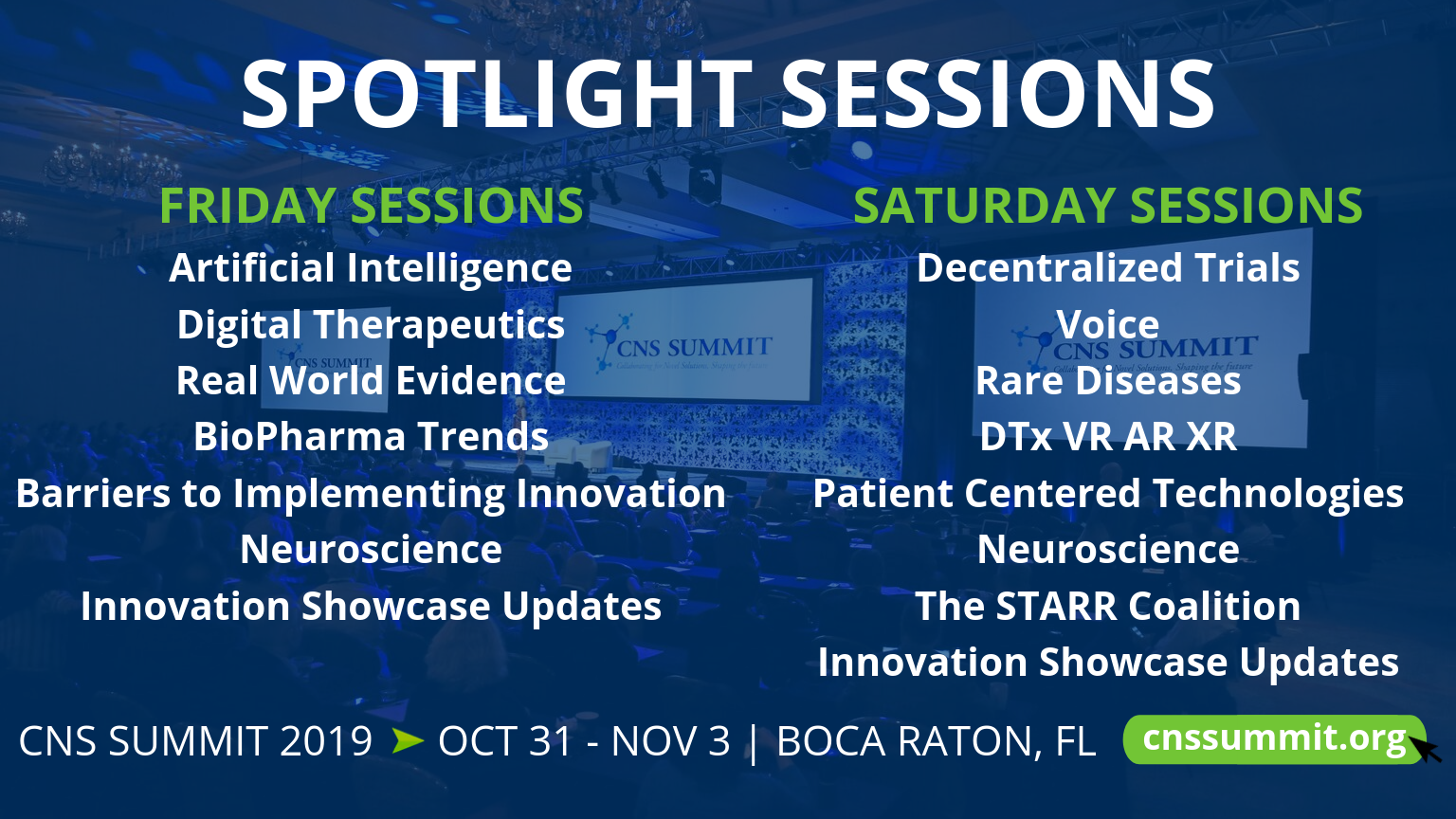 The CNS Summit is the leading multi-therapeutic life science meeting on innovation, technology, and collaboration for clinical development. Now in our 10th year, the CNS Summit brings together more than 750+ clinical development leaders from small, mid-size, and big pharma, CRO's and service companies, technology companies, and research sites who are meeting to shape the future.
Experience 3 days of interactive keynote sessions and unrivaled opportunities for collaboration and networking.
Here are some of the people participating in this year's milestone CNS Summit:
Amy Abernethy, Principal Deputy Commissioner, FDA
Bakul Patel, Director, Division of Digital Health, FDA
Mona Siddiqui, Chief Data Officer, HHS
Jessica Mega, Chief Medical Officer, Verily
Antony Loebel, CEO, Sunovion
Kabir Nath, President & CEO, Otsuka America Pharmaceuticals
Sharon Mates, CEO, Intra-Cellular Therapies
Corey McCann, CEO, Pear Therapeutics
Mei Mei Hu, Co-Founder and CEO, United Neuroscience
Pavan Cheruvu, CEO, Axovant Sciences
Bill Martin, CEO, BlackThorn
Karoly Nikolich, Chairman & CEO, Alkahest
Ian Marks, VP R&D Innovation, GSK
Rob Scott, Chief Medical Officer, AbbVie
Ray Sanchez, Chief Medical Officer, Cerevel
Ron Cohen, CEO, Accorda Therapeutics
Albert Robichaud, Chief Science Officer, Sage Therapeutics
Junaid Bajwa, Digital Centre of Excellence, Merck
Jeremy Sohn, Global Head of Digital Business, Novartis
Steve Rosenberg, SVP and GM, Oracle Health Sciences
Naveen Rao, GM of AI Products Group, Intel
and many more listed on the speaker page HERE!
This year's program will also feature focused Spotlight Sessions on
Artificial Intelligence
DTx
VR/AR/XR
Voice
Decentralized Trials
Rare Diseases
Neuroscience
Real World Evidence.
Check out our full speaker list HERE
Watch the 2018 Highlights Video HERE
Register HERE
For more information visit our website at www.cnssummit.org or email admin@cnssummit.org.