AI Marketing for Pharma - The time to rise is Now!
Events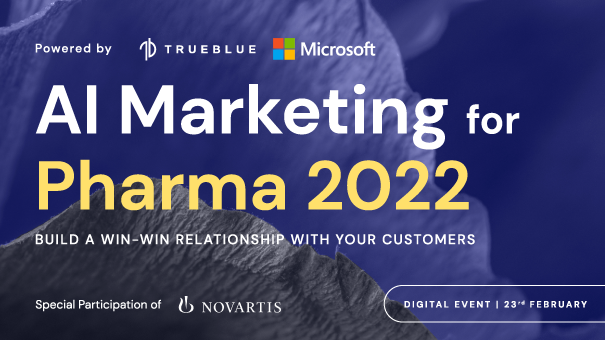 The digitalisation that we all experience daily has affected the way we engage with stakeholders and patients. But how can we make Customer Engagement effective, and how can we leverage technologies like AI and Marketing Automation to their best potential? The key to success lies in implementing a digital health ecosystem, in order to support the shift from an organization-centric model to a customer-centric model by using digital platforms.
This and other trending topics related to Digital Marketing for the new year, will be discussed on February 23rd at 2:30 CET, at the digital event "AI Marketing for Pharma" by Trueblue, an Italian IT company that every day supports the Pharma and Life Science markets at global level.
The Event – Helping marketers to face Business Challenges
The event will open with a high-level discussion of Marketing Trends for 2022 with particular focus on Pharma and Life Science markets, with the participation of Valeria De Flaviis - Head of Customer Experience at Novartis and Martina Fiore - Head of Marketing at Trueblue. Then it will see the presentation of a real case applied to the pharmaceutical market, on how to effectively implement an AI-Driven Marketing strategy. Finally, it will see the presentation of a practical DEMO of AiDEA Marketing, Trueblue's solution powered by Microsoft Dynamics 365®, together with Guido Pica - Cloud Solution Architect, Dynamics 365 Customer Engagement at Microsoft and Luca Caucchioli - Presales Engineer at Trueblue.
The event will close with a Q&A session in order to allow an active participation and to deepen any topics of interest.
AiDEA Marketing – One conversation, multiple channels!
Continuing the innovation process that began last year with the launch of AiDEA, the development of AiDEA Marketing powered by Microsoft Dynamics 365®, represents a solution whose concerns the real opportunity of converting marketing strategies and actions into automated processes and integrated workflows. In this way, Trueblue's Artificial Intelligence combines the power of Microsoft Dynamics 365®, for a completely customer-focused approach.
Save your spot to attend Trueblue's digital event here.
Martina Fiore – Head of Marketing, Trueblue Srl
Mobile +39 320 63 38 116 – Email: martina.fiore@truebluecorp.com