15th Annual Pre-Filled Syringes and Injectable Drug Devices Conference
Events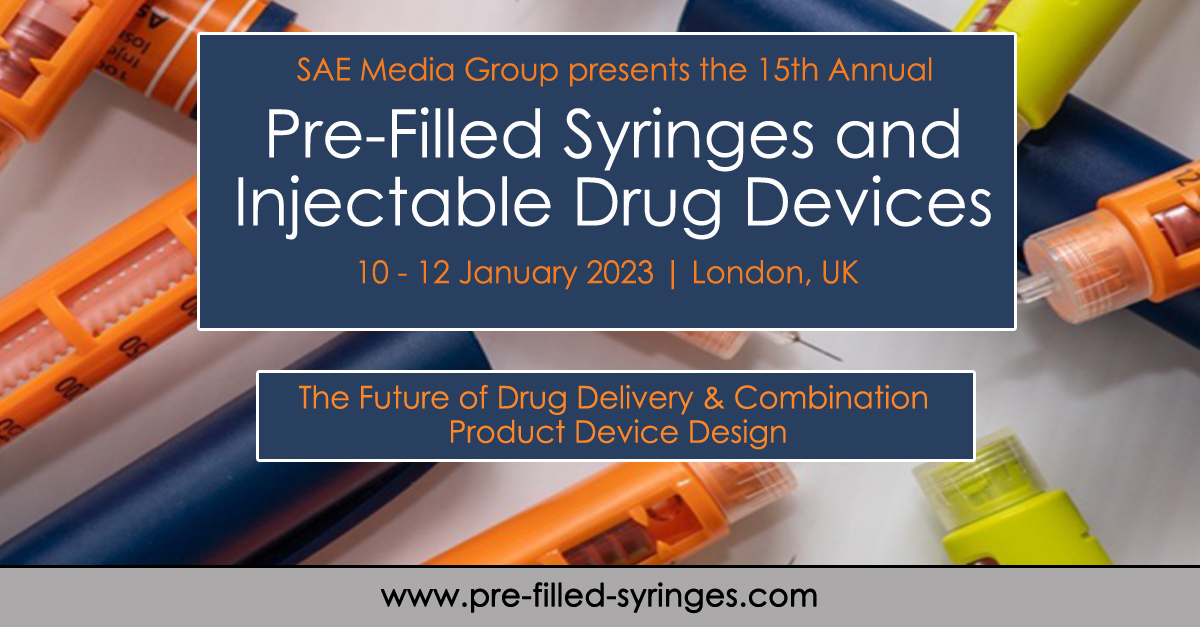 SAE Media Group's 15th Annual Pre-Filled Syringes and Injectable Drug Devices Conference 2023 will be bigger than ever, with a pre-conference focus day exploring the advances in PFS design for enhanced drug delivery proceeded by a two-day main conference comprising of morning keynote plenaries and parallel afternoon topic streams as detailed below:
Novel Drug Products and Large Volume Delivery
Sustainability for Injectable Delivery Devices
Primary Packaging Development
Connected Drug Delivery Devices
Topics of discussion will include the latest updates in the combination product regulatory framework, insights into the evolving digital health landscape for connected delivery devices, considerations for the development of primary packaging, utilising platform technology, the delivery of novel drug formulations and large volume drug products, patient centric approaches to device design as well as sustainable approaches for device development.
This event will not only bring you key insights you need to expand and enhance your injectable device portfolio but will also give you the opportunity to network with key players throughout the industry.
find out more at http://www.pre-filled-syringes.com/pharmaphorum
Benefits of Attending:
Engage with industry representatives on the latest trends within the pre-filled syringe and injectable device market
Hear about new technological advances in the delivery of large volume drugs
Explore updates to drug device combination product design approaches considering patient preference at the forefront with case studies from big pharma representatives
Understand the latest regulatory requirements from regulatory experts surrounding medical devices and digital health
Delve into the considerations for material components for the development of primary packaging
Speakers Include:
Sebastian Stening, Vice President and Global Head Medical Device Manufacturing Science and Technology, Bayer
Abha Violette, Associate Director, Medical Devices and Combination Products, AstraZeneca
Theresa Scheuble, Head of Design and Innovation, Johnson & Johnson
Claus Geiger, Global Medical Device Leader, Sanofi
Carsten Bech, Medical Device Executive, Amgen
Joel Richard, Chief Scientific Officer, MedInCell
Aaron Gowson, Public Affairs Manager, Chiesi
Kim Kristiansen, Principal Scientist, LEO Pharma A/S
Eleanor Kimber, Principal Device Engineer, GSK
Markus Hemminger, Principal Medical Device Engineer, Roche
Olaf Lebau, Device Manager, Boehringer Ingelheim
Cinzia Federico, New Technologies Device Project Leader, Novartis
Amber Witteman, Founder, Managing Director, EPIWatch
Blaine Martin, Digital Health, New Product Planning and Portfolio Expansion, Franchise Lead, Fertility, Merck
Murray Sayce, Global Head, Sustainability Assurance, BSI Group
Marc Moal, Corporate Programme Vice President, Devices and Delivery Solutions, Novo Nordisk
Steve Hoare, Quality, Regulatory Science & Safety Policy Director, The Association of the British Pharmaceutical Industry (ABPI)
Blake Green, Director Regulatory Affairs, Amgen
Ravi Kaushik, Vice President, Patient Integrated Care Innovation Platform, Takeda Pharmaceuticals
Sebastian Gerner, President, Alliance to Zero
Shannon Clark, Founder and CEO, UserWise
Kevin Kusmierek, Scientist, Primary Packaging and Medical Devices, CSL Behring
Mitali Aon, VP and Global Head of Device Development, Sanofi
Petra Renne, Senior Expert Engineering, Novartis
Nima Aghajari, Senior Simulation Engineer, Sanofi
Michael Becker, Packaging Engineer, Boehringer Ingelheim
Troels Keldmann, DDS Device Consultant and Interim Technical Lead on Injection Devices, LEO Pharma A/S
Sean McPike, Senior Consultant, Global HSE, Eli Lilly
Niels Otterstrøm Jensen, Head of TakeBack Program, Novo Nordisk A/S Reusable Devices
Els Ducheyne, Senior Manager, Materials Compliance, Johnson and Johnson
Fatima Bennai-Sanfourche, Senior Director of QA & RA Compliance for Medical Device, Combination Products and eHealth, Bayer
Carsten Worsoe, Principal Scientist, Novo Nordisk
Danielle Middleton, Associate Medical Director, Patient Safety Physician digital & Devices, AstraZeneca
Heinrich Martens, Vice President Regulatory Affairs, Fresenius Kabi
Clemens Gunther, Director, Senior Expert Nonclinical Safety, Bayer
Klaus Boje, Scientist, Boehringer Ingelheim
SAE Media Group offer direct access to key decision makers through tailored sponsorship and exhibitor packages.
For details, please contact Daniele Moreschi on: +44 (0)20 7827 6050 or dmoreschi@smi-online.co.uk
For all delegate enquiries, contact Jamie Wilkinson on: +44 (0) 20 7827 6136 or jwilkinson@smi-online.co.uk
Visit the website where you can find out more, book or download the agenda here:  http://www.pre-filled-syringes.com/pharmaphorum