14th Annual RNA Therapeutics Conference
Events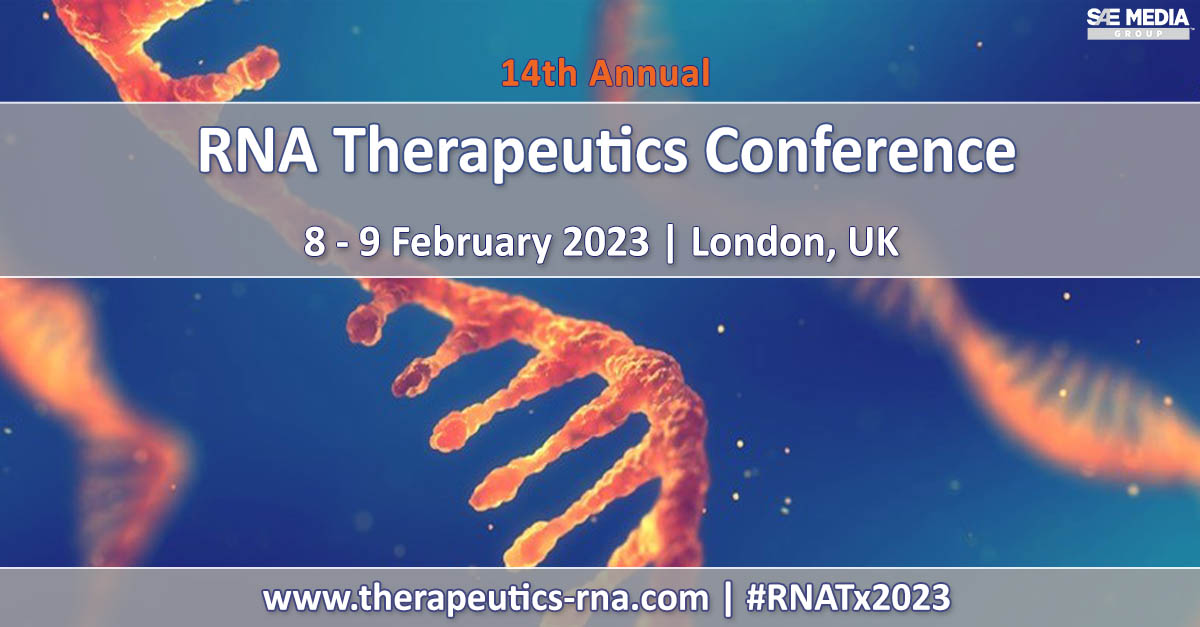 14th Annual RNA Therapeutics
Date: 8 – 9 February 2023
Location: London, UK
Website: http://www.therapeutics-rna.com/WLPharmaphorum
Investigating the next generation of genetic medicine through RNA based therapies
Sponsors: eTheRNA, Sartorius BIA Separations
Exhibitor: Polypeptide
RNA therapeutics is a rapidly expanding industry with increasingly growing potential for immunotherapy, personalised medicines, and treatment of genetic, infectious, and chronic diseases. This is reflected with the value of the global antisense & RNA therapeutics market expected to reach USD 1.81 billion by 2025, growing at a CAGR of 7.5%. With Covid-19 rapidly accelerating the RNA landscape through massive regulatory successes, the recent advent of CRISPR, an RNA-guided gene-editing technology, as well as new strides in the delivery of messenger RNA transcribed in vitro, there has been considerable progress in the development of RNA medicines and a major expansion of the RNA-therapeutics field.
In 2023 we will see the return of SAE's RNA Therapeutics conference to a live in-person event, showcasing an update on mRNA therapeutic applications, coupled with an industry outlook of the field. We will also explore the latest trends in novel RNA therapies, including developments in AI modelling and small molecule modulation of RNA. Further topics to be examined comprise of novel RNA modalities encompassing self-amplifying RNA, saRNA, circular RNA, lnc RNA and many more.
Don't miss this unmissable opportunity to network with the pharma and biotech community of global experts in the UK and Europe; the two-day agenda offers you peer-to-peer networking with Directors of novel RNA therapies, CEOs, Senior and expert scientists, Chief Medical Officers, Senior Vice Presidents and many more.
Benefits of attending:
Explore how mRNA leads the way in the genetic medicine space as the next generation of novel drug modalities
Investigate the latest trends in AI drug discovery as a tool for designing novel RNA based therapeutics
Enhance your knowledge of the latest innovations in RNA application and RNA delivery techniques with case studies from BioNTech, Neuway Pharma and Ethris GmbH
Engage in the growing advances and development of novel RNA molecules in the treatment of chronic respiratory, neurodegenerative, and infectious diseases
Who should attend:
Directors of novel RNA therapies
CEOs
Senior and expert scientists
Chief Medical Officers
Chief Technical Officers
Senior Vice Presidents
Global Heads of mRNA R&D
Global Medical Directors
Heads of Translational Medicine
Director, Clinical Pharmacology
Global Head of RNA and Targeted Therapeutics
Clinical Science Director
Head of Biology
Director, Genetic Medicine
Associate Director
EARLY-BIRD RATES:
BOOK BY 31ST OCTOBER AND SAVE £400
BOOK BY 3OTH NOVEMBER AND SAVE £200
BOOK BY 16TH DECEMBER AND SAVE £100
Additional Contact Info:
T: +44 (0)20 7827 6732
E: lamprini.balasi@saemediagroup.com
LinkedIn: SAE Media Group Pharma
Twitter: @SAEMGPharma | #RNATx2023