13th Annual Industry Leading Cold Chain Distribution Conference 2018
Events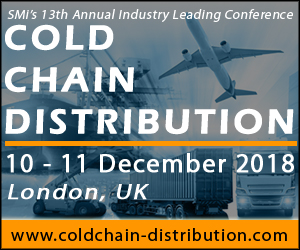 SMi Presents the 13th Annual Industry Leading Conference:
Cold Chain Distribution
Date: 10th – 11th December 2018
Workshop: TBC
Location: Copthorne Tara Hotel, London UK.
Website: www.coldchain-distribution.com
SMi proudly presents the 13th annual Cold Chain Distribution Conference and Exhibition, taking place at the Copthorne Tara Hotel in Kensington, London between the 10th - 11th December.
The 13th annual event will specifically focus on recent advances in temperature-controlled logistic solutions and the impact of regulatory changes on this multi-billion-dollar industry. The event will also address the impact of the overwhelming digitalisation of the industry and how companies, from biotech's to pharma, need to adapt, as well as the crucial challenges of supply chain visibility and data integrity in the cold chain industry.
The two-day event will also look at various developments within the industry, guiding companies on how best to ensure costs are kept low, and quality remains high, whilst simultaneously staying compliant to global regulations.
This year's event will continue to lead with its unrivalled panel of experts bringing you the most insightful presentations and issues in the field of temperature-controlled distribution.
Chairs for 2018:
Bob Hayes, Director, SeerPharma (UK)
Tony Wright, CEO, Exelsius
Featured Speakers:
Bob Hayes, Director, SeerPharma (UK)
Stephen Mitchell, Quality Lead Logistics Partnerships, GSK
Gianne Olaes-Dénis, Supply Chain Quality Manager, Sanofi Genzyme Europe
Stefan Braun, Managing Director, SmartCAE
Gianpiero Lorusso, Director, Supply Operations and GS, Merck
Francicso Rizzuto, Cargo Specialist, Manager for Europe, IATA
Marco Gaudesi, Pharmacist - GDP and Cold Chain Referent, MSF
Henk Mulder, Head, Digital Cargo, IATA
Key Highlights this December:
Evaluate the current GDP guidelines, with reference to the recently published PQG/ECA guide and discover the implications for everyday practice
Explore the overwhelming digitalisation of the supply chain and identify the subsequent security issues involved
Discover the temperature-controlled logistic solutions to best optimize your supply chain
Discuss the technical agreements within the supply chain and find out what questions you should be asking
Identify the challenges for the supply chain within emerging markets and discover the best solutions for optimization of your process
View the full agenda online: www.coldchain-distribution.com
EARLY-BIRD RATES:
BOOK BY 29TH JUNE AND SAVE £400
BOOK BY 28TH SEPTEMBER AND SAVE £300
BOOK BY 31ST OCTOBER AND SAVE £100
Social Media Handles
LinkedIn: https://www.linkedin.com/company/smi-pharma/
Twitter: https://twitter.com/SMIpharm
Hashtag: #smiccd
Additional Contact Info:
T: +44 (0)20 7827 6048