10th Annual RNA Therapeutics Conference
Events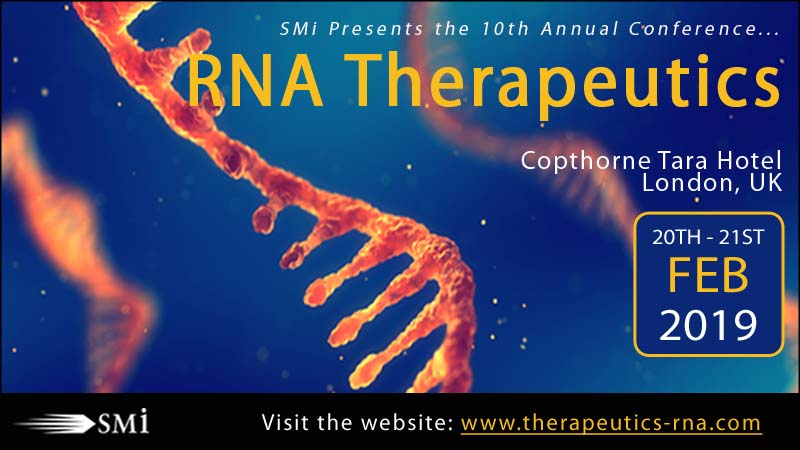 Senior experts from Exicure, Roche, GSK, BioNTech RNA Pharmaceuticals & MiNA Therapeutics to speak at RNA Therapeutics 2019
SMi reports: Senior industry experts are set to speak and present at the 10th Annual RNA Therapeutics Conference, taking place on 20th – 21st February 2019 in London in less than 4 weeks.
With less than 4 weeks until SMi's 10th annual RNA Therapeutics event (http://www.therapeutics-rna.com/pharphorpr) opens its doors in London, UK next month, registration will soon be closing and delegate places are becoming increasingly limited.
Over the course of 2 focused days, attendees will be able to have an exclusive look into key developments in oligonucleotide therapeutics, mRNA technology, delivery mechanisms, and much more, led by industry leaders, scientific pioneers, and academics exploring and sharing the latest advances in delivery technologies and applications of RNA-based drugs for modulation of gene, protein expression, and genome editing.
Snapshot of Featured Expert-Led Presentations:
Spherical Nucleic Acids: Clinical Progress
Presented by David Giljohann, CEO, Exicure
LNA Therapeutics: Recent Developments & Discovery Concepts
Presented by Christoph Rosenbohm, Head of Discovery Operations, Roche Innovation Center
SPOTLIGHT: Self-Amplifying mRNA Vaccines
Presented by Jeffrey Ulmer, Head Preclinical R&D, GSK
Development of Formulations for Delivery of RNA and Small Molecules
Presented by Henrich Haas, Vice President RNA Formulation & Drug Delivery, BioNTech RNA Pharmaceuticals
Small Activating RNA – From Bench to Bedside
Presented by David Blakey, Chief Scientific Officer
MiNA Therapeutics
Fulfilling the potential of genetic discoveries for hard-to-treat diseases requires the development of therapeutics that can specifically modulate the expression of disease-relevant genes. RNA-based drugs, including siRNAs and antisense nucleotides, are promising examples of a newer class of biologics.
Researchers have tried to overcome the major challenges for utilising RNAs in a therapeutic context, including: intracellular delivery, stability and immunogenicity over the years, with recent promising advancements made in the field now making waves in the rapidly expanding industry.
Attendees of this year's conference will have the chance to learn more about the subject of RNA Therapeutics, as well as hear the valuable experiences and developments made by 19+ senior expert speakers in the field, as well as 5+ hours of dedicated networking time.
The conference brochure with the full two-day agenda and speaker line-up is available to download on the website, along with more exclusive event content at http://www.therapeutics-rna.com/pharphorpr
RNA Therapeutics Conference
20th – 21st February 2019
London, UK
2019 Sponsors: ChemGenes, NOF Corporation, Bio-Techne, Lipocalyx
About SMi Group:
Established since 1993, the SMi Group is a global event-production company that specializes in Business-to-Business Conferences, Workshops, Masterclasses and online Communities. We create and deliver events in the Defence, Security, Energy, Utilities, Finance and Pharmaceutical industries. We pride ourselves on having access to the world's most forward-thinking opinion leaders and visionaries, allowing us to bring our communities together to Learn, Engage, Share and Network. More information can be found at http://www.smi-online.co.uk