Trump's China trade quarrel could hit US medical device prices
President Trump's tariff quarrel with China could have a knock-on effect on the price of US medical devices, according to press reports.
Trump has proposed a 25% tariff on certain Chinese products and manufacturing ingredients as part of a growing row between the two countries over trade.
Late last week the White House announced a list of 1,333 Chinese imports, worth around $50bn for tariffs of 25%.
China retaliated with its own list of US goods that would be subject to tariffs, including soybeans and small aircraft.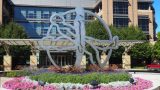 Medtronic is among device manufacturers that could be affected
This led to Trump threatening a further $100 billion in additional tariffs, and a promise to prevent Chinese firms from obtaining US companies' intellectual property.
But the New York Times reported that dozens of drugs and medical devices are among the Chinese products and ingredients targeted by Trump.
A growing number of medical devices and their components are manufactured in China. One analyst estimated around 12% of medical devices imported into the US come from China, accounting for a total of $3 billion.
Medical devices manufactured in China include complicated medical equipment such as magnetic resonance imaging scanners.
The New York Times noted that Medtronic, considered the world's leading medical device manufacturer, bought Chinese orthopaedic device firm China Kanghui Holdings.
Any products shipped to the US from these operations would be subject to the tariffs, the article said, noting that Medtronic declined to comment.
It also noted a report by RBC Capital Markets that 25% tariffs could cost the medical device industry up to $1.5 billion each year.
This would drive up prices and affect "baby boomer" customers who are in need of hip and knee replacements.
It is unclear whether the tariffs will affect the supply of active pharmaceutical ingredients, although China is a leading exporter of these products, according to the article.
But it cited a note from analyst Umer Raffat, an analyst for Evercore ISI, who said the tariffs would not have much impact.
Don't miss your daily pharmaphorum news.
SUBSCRIBE free here.