Research reveals search engine habits of patients and HCPs
Digital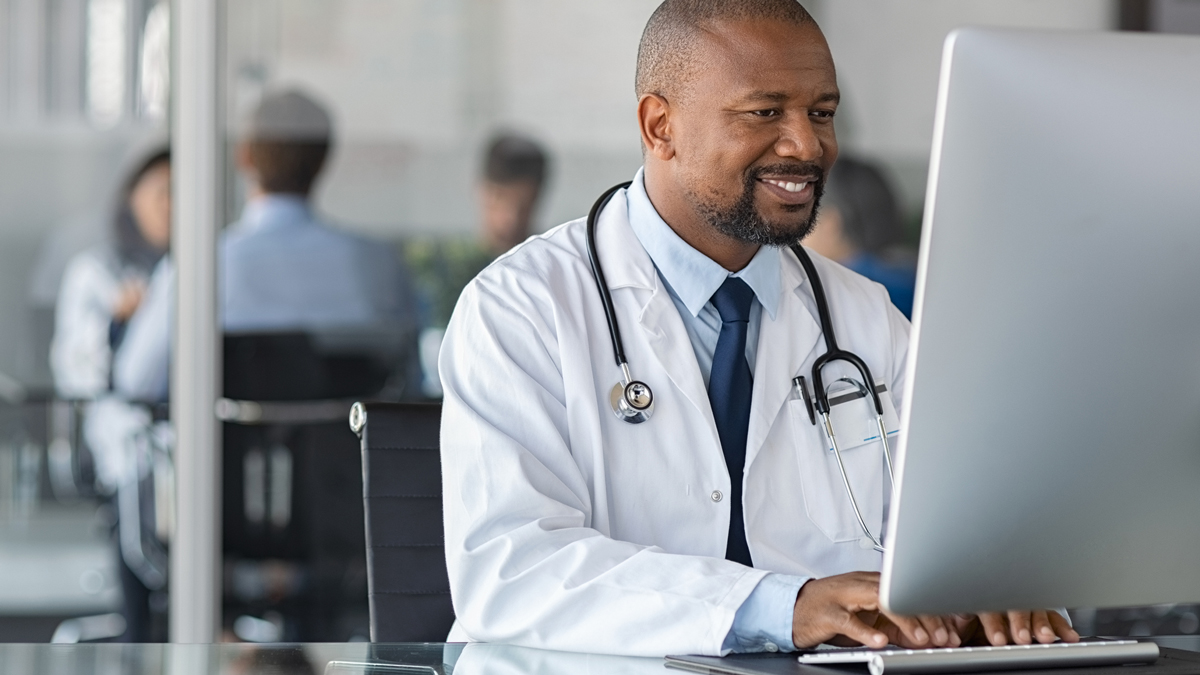 Search engines are now arguably the dominant way that both patients and HCPs alike access medical information – so it's important for pharma to understand exactly what they are searching for. New research by Life Sciences by Stickyeyes, conducted for pharmaphorum, sheds light on people's behaviour when searching for oncology information online.
The research looks at the types of questions patients and HCPs are posing to search engines and the information they are seeking, in order to understand the overall digital marketing landscape within oncology and its associated topic areas.
It also compares the behaviour of patients and HCPs in order to analyse the differences between the two.
Monthly search volumes attributed to keywords provide an indication of how often a term is used within Google per month and therefore its popularity, allowing the researchers to identify the most common questions and the most requested content.
758 keywords in 16 primary categories were identified that relate to oncology treatment, with a total of 51,930 searches per month in the UK.
The data shows that while patient terms – which tended to be broader in nature – dominate the landscape, "pockets of opportunity" are found within HCP terms.
"Keyword research can be used to gain insight into the content HCPs are searching for online and the types of questions they are posing," the researchers say. "Monthly search volumes attributed to keywords provide an indication of how often a term is used and therefore its popularity; meaning this research allows us to identify the most common questions and most requested content.
"By understanding this we are able to create and tailor content based on demand rather than 'gut feel'. More and more pharma brands are talking about customer-first or audience-first strategies. This is one method to ensure you are putting what your audience wants at the heart of your activity."
Top 10 search terms for patients and HCPs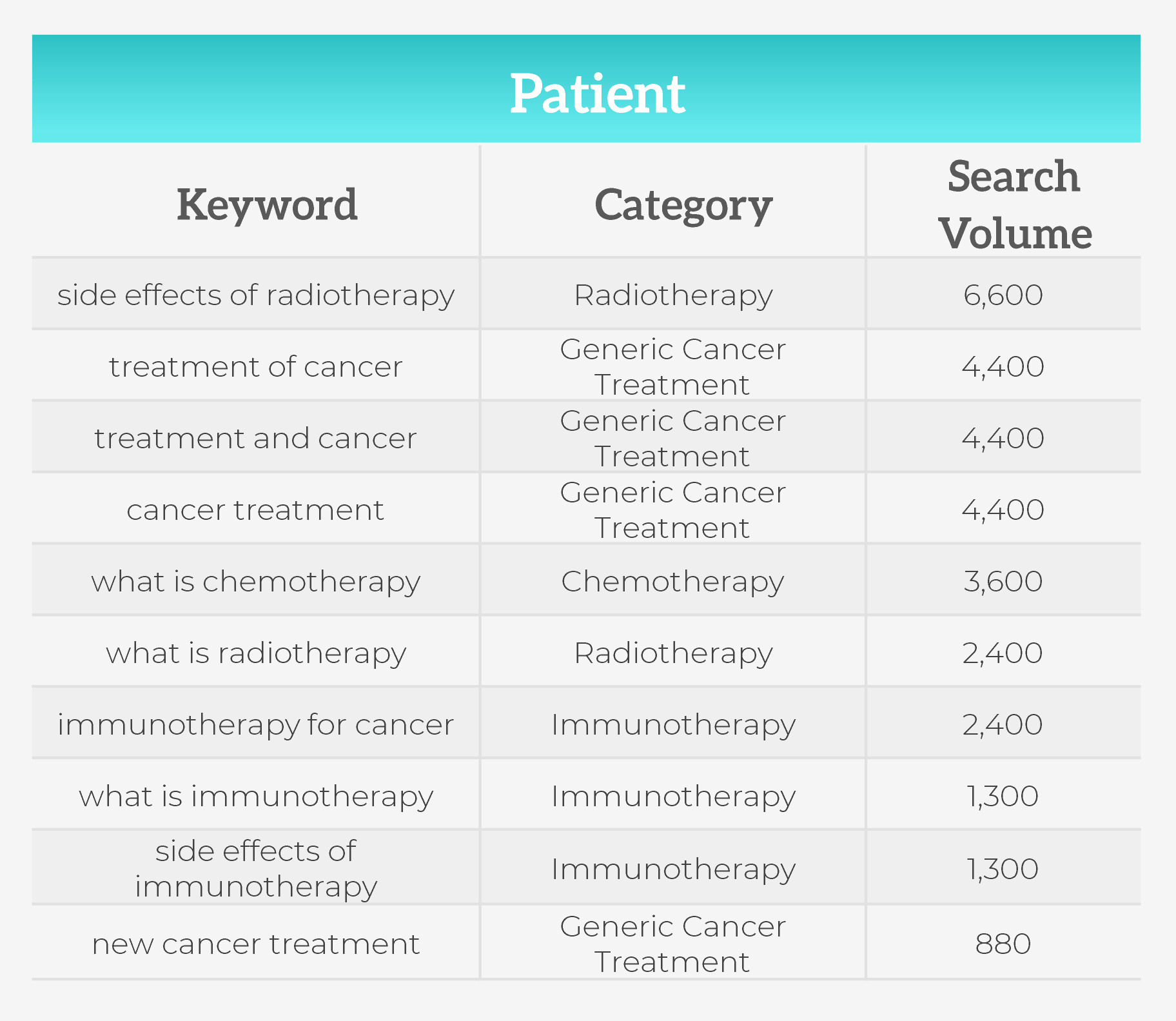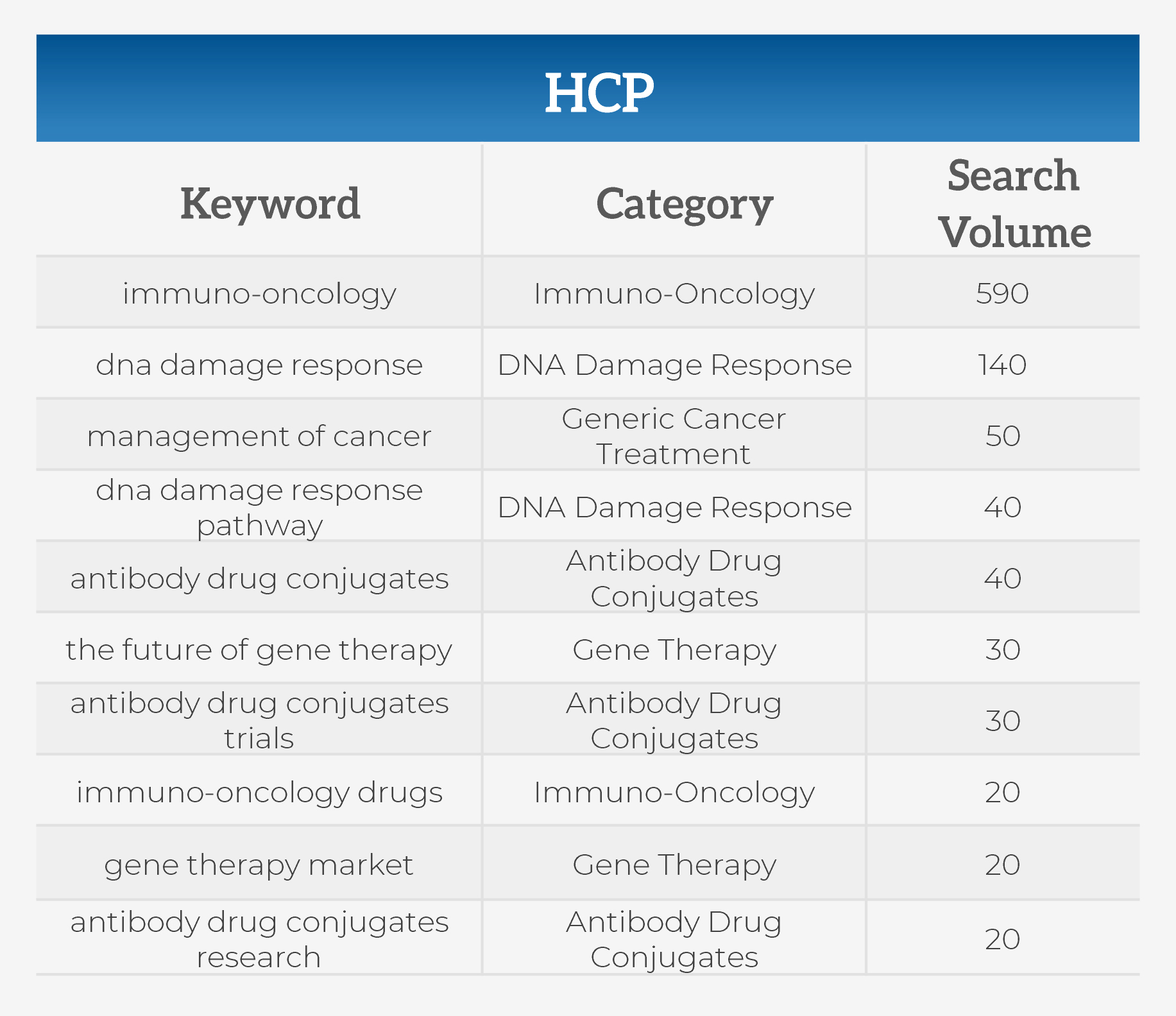 Terms relating to side effects, general information and different therapy areas are the most popular for patients, suggesting that informational content around these areas will be most effective.
When it comes to analysing the volume of search terms by category, generic, broad terms such as 'cancer treatment' dominate the landscape, especially for patients. 'Radiotherapy', 'Immunotherapy' and 'Chemotherapy' are popular search terms across both audiences.
Figure 2 – Search volume by category (overall)

Figure 3 – Search volume by category (patients)

In general, HCPs are less likely to search for generic terms and instead utilise search for specific and educated reasons – e.g. searching for research, clinical trials and risks, with immuno-oncology being a key subject area. The niche terms they use, such as 'DNA Damage Response', tend to receive low level search volume thanks to their specificity.
Figure 4 – Search volume by category (HCPs)

The research also segments the primary categories to add an additional layer of specificity.
In these secondary categories, treatments, side effects and information are all key search areas for patients, while HCPs again search for more specific keywords resulting in lower search volume.
Figure 5 – Keyword sub-category potential (patients)

Figure 6 – Keyword sub-category potential (HCPs)

The tables below provide an example of the top five terms within each of the top four secondary keyword categories created.
Figure 7 – Secondary category terms

Looking at the research as a whole, the researchers note that 'treatments' (radiotherapy, chemotherapy etc.) and side effects being the most popular topics "is probably as you would expect".
"HCPs, on the other hand, were looking for new trials and research – with immuno-oncology being a key topic area, taking interest in the ever adapting world of oncology and practice methods," they say.
"Interestingly, this is a low volume topic area: none of the keywords possess search volumes of above 6,600 per month, with 93% of the keywords possessing 100 searches or less. This might mean that HCPs are turning to other sources for information, or these areas have yet to reach a mass interest amongst HCPs."
The researchers add that they would expect to see similar patterns in other disease areas outside oncology.
"In pharma research we consistently see the pattern of high search volume for patient searches (looking for symptoms, treatment and information etc.) versus low volume, long tail searches – specific searchers involving more than three words – for HCPs (looking for dosing, chemical compounds in the products, clinical trials etc.), with informational content being key for both areas."
They note that these insights could have implications for the kinds of content pharma brands might produce on their websites.
"When looking at pharma websites, you often think of functional, product-related content. This research can identify informational content; that is content which is one step removed from a product but still relevant and still content a brand has a clear 'right' to talk about.
"Informational content is crucial in meeting the contextual needs of an audience, building trust and helping a site gain visibility in search engines. The 'sweet spot' marketing teams should focus their efforts around are those keywords and content themes that sit somewhere between reasonable competition (going after an exceptionally competitive keyword with new content would not bear fruit) and high enough search volume to make it worthwhile.
"Identifying the keywords a brand has the right to talk about, which can bring in traffic but have low competition to see gains quickly, is the most effective use of research like this."