Digital round-up: AZ pens R&D deal BenevolentAI, NICE to identify promising digital health tech
Artificial Intelligence (AI) based research is all the rage as big pharma tries to find ways to cut development costs, and AstraZeneca has become the latest pharma company to jump on the bandwagon, penning a deal with the UK's BenevolentAI to find new kidney and lung drugs.
AI has the potential to solve many of the underlying issues with drug discovery. For example, deep learning algorithms could analyse molecules and predict how they might act in the human body at an earlier stage than in the traditional drug discovery process.
The long-term collaboration will use artificial intelligence (AI) and machine learning to discover and develop new treatments for chronic kidney disease (CKD) and idiopathic pulmonary fibrosis (IPF).
It will combine AZ's genomics, chemistry and clinical data with BenevolentAI's target identification platform and biomedical knowledge graph – a network of contextualised scientific data – genes, proteins, diseases, and compounds – and the relationship between them.
Machine learning systematically analyses data to find connections between facts, and AI-based reasoning is used to extrapolate previously unknown connections.
The companies will interpret the results to understand the underlying mechanisms of these complex diseases and more quickly identify new potential drug targets.
London-based BenevolentAI is already well-established in the field of drug R&D, and is considered to be a biotech "unicorn" – a privately-held company worth more than $1 billion.
This year it raised a further $115 million from new and existing investors to increase its value to more than $2 billion, and has acquired a new R&D facility in Cambridge, where AstraZeneca has also located its new R&D hub.
While BenevolentAI has had some notable successes, working with charities on drugs for macular degeneration, and identifying promising drug candidates for motor neurone disease, this is one of the company's most high profile collaborations yet.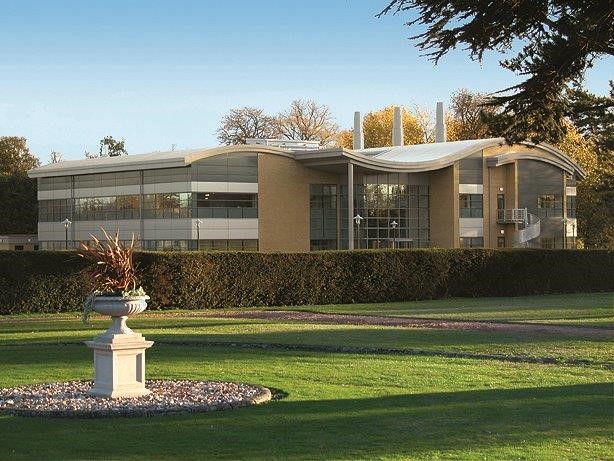 BenevolentAI's new Cambridge base
Innovate UK funding for AI drug discovery
Meanwhile, Chief.AI and Medicines Discovery Catapult have been awarded £370,000 of funding from Innovate UK to develop a searchable online platform that aims to make AI accessible to all drug discovery researchers.
Users will be able to search by sector and/or keyword to discover and connect their own machine and database to the relevant AI algorithm on a pay as you go, on-demand basis. Through the platform they can find downloadable, off-the-shelf AI models, algorithms and high-quality data.
By providing easy access to scarce but invaluable, cutting edge skills, resources and expertise, the platform aims to enable UK SMEs to leverage AI at the click of a button.
Medicines Discovery Catapult will support the development of high-quality datasets and plan to provide exclusive access via Chief.AI's platform to their own novel AI algorithms; state-of-the-art image processing models are capable of extracting information from pharmacological data and medical images in scientific journal papers to predict a potential drug target's performance.
The platform will have a comprehensive rating, benchmarking, pricing and scoring system and will provide tailored sector relevant services as opposed to a one stop shop. Each AI algorithm will be further validated by customer use and experience.
Hu-manity.co acquires Betterpath
Hu-manity.co has acquired Betterpath, a New York-based firm that allows patients and other users to search, find, and improve healthcare data that is currently difficult to access.
The acquisition brings together Hu-manity.co's blockchain-backed consent and authorisation management platform with Betterpath's Compass, Sonar, and Lumos technologies creating a combined capability to unlock some of the 80% of healthcare data that is currently not available to patients, providers, or clinical researchers.
Compass, Lumos and Sonar can find, retrieve, and understand this 'deep' clinical data from hospitals and clinical centres. The underlying capabilities leverage fax automation, optical character recognition, and natural medical language understanding coupled with patented processes.
Matt Sinderbrand, CEO and co-founder of Betterpath, will join Hu-manity.co as senior vice president, chief product officer as well as a member of the Hu-manity.co Board of Directors.
Sinderbrand started Betterpath after experiencing his sister's struggle with accessing her own healthcare data while battling Crohn's disease, and as a result prioritised the training of Betterpath's Lumos medical natural language understanding to learn more than 100,000 biomedical-terms, synonyms, relationships, and structured codes.
NICE launches tool to identify promising medical devices, diagnostics and digital health technology
NICE has launched a new resource to help identify and support new health technologies for the UK health system to adopt, to hasten patients' access to the cutting-edge medical devices, diagnostics, and digital health technologies.
HealthTech Connect has been developed with NICE's partner organisations and has been backed by funding from NHS England.
NICE is on the look-out for technologies that offer measurable benefits to patients or other health and care service users, compared with those offered by current routine practice in the UK.
The system is free to use and will help companies understand information that financial decision makers need in the UK health and care system and clarify routes to market for them.
It also aims to help the UK health and care system to better plan for the introduction and adoption of health technologies, such as by reconfiguring services or enabling reimbursement.
Once registered, companies enter and update information about their technology as it develops into www.HealthTechConnect.org.uk.
This information is used to determine if the technology is suitable for consideration by an organisation that offers support to health technology developers; for example with funding, technology development, evidence generation, market access, reimbursement, adoption.
NICE and other UK health technology assessment programmes can use the site to identify if the technology is suitable for evaluation.
HealthTech Connect will then link up the new technology with the relevant assessment bodies such as NICE, meaning companies will not have to provide the same or similar information separately, reducing duplication of work.
Since the initial "soft" launch of the system in February, over 100 companies have registered to use HealthTech Connect, 13 technologies have been submitted, and one technology – Gynesonics' Sonata System – has already been selected by NICE for an introductory briefing as a result.