BIO-Europe Spring Digital: Big data and AI panel discussion
Digital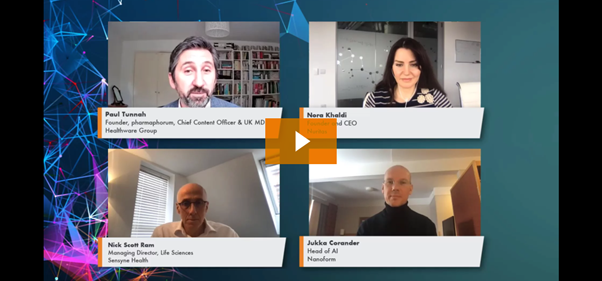 The combination of big data and artificial intelligence/machine learning is a powerful one and nowhere more so than in healthcare. As part of BIO-Europe Spring Digital, pharmaphorum founder Dr. Paul Tunnah moderated a panel discussion about big data, AI and applications in the real world.
The expert panel explored the evolving applications of big data and AI within the industry, looking beyond drug discovery to new ways these technological approaches can transform healthcare delivery.
Participants:
Paul Tunnah - founder, pharmaphorum, chief content officer & UK MD, Healthware Group
Jukka Corander - head of AI, Nanoform
Nora Khaldi - Founder and CEO, Nuritas
Nick Scott Ram - managing director, life sciences, Sensyne Health
About Bio-Europe Spring Digital
BIO-Europe Spring Digital is produced by EBD Group, a partnering firm for the global life science industry. The annual event brings together over 2,500 executives from biotechnology, pharmaceutical and finance companies around the world to engage in more than 15,000 partnering meetings. For the 2021 edition, it went fully digital and expanded the format to four 24-hour days to accommodate partnering meetings between attendees from all over the world.