AI in action: Report highlights the real-world benefits of AI in healthcare
Digital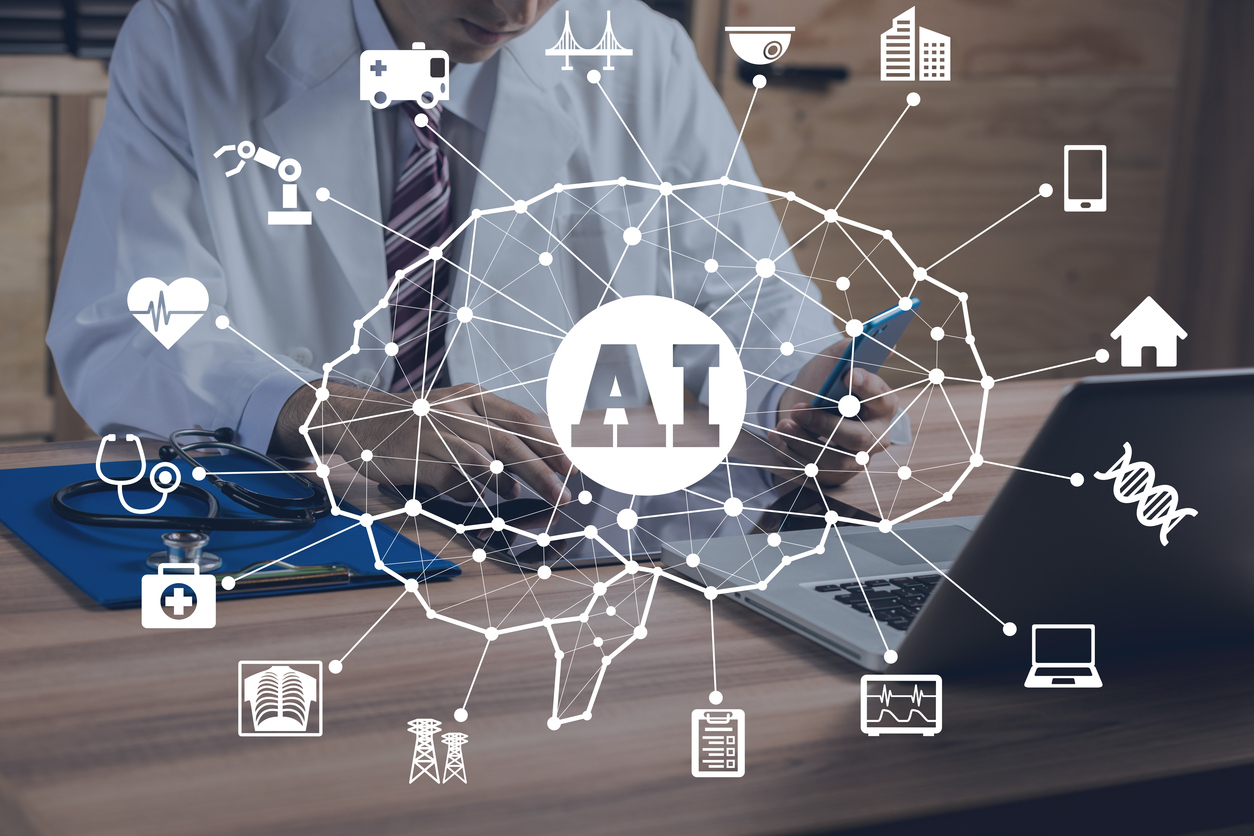 Joined up thinking is the key to converting AI-driven advances into real benefits for healthcare systems, say NHSX.
Healthcare systems the world over have been facing the same challenges for some time – and the pandemic has only served to compound them.
Aging populations, a growing number of people living with long-term conditions, and dwindling resources meant the NHS was already being asked to do more with less before COVID-19 hit.
Now, on top of pre-existing skills gaps and funding shortages, it faces record-breaking waiting lists, and a race to understand and cater for people with an erstwhile unknown disease.
NHSX believes artificial intelligence (AI) could hold at least part of the answer – but where are we right now, and what more needs to be done to ensure system-wide implementation?
Embracing AI potential
AI has long been mooted as a potential solution to some of healthcare's biggest challenges, yet, to date, adoption has been slow.
The NHS AI Lab, set up in 2019 in partnership with the Accelerated Access Collaborative, was designed to change that.
"The opportunities presented by AI for saving money, improving care, and saving lives are huge and must not be wasted," said a spokesman, adding that "progress is not that fast".
"Most examples of AI for health or care are, at best, proofs of concept working in small-scale highly constrained environments. We have very few examples that have achieved scale to impact mainstream clinical practice and help large numbers of patients."
Since its inception, the AI Lab has been working with a number of developers from both within and outside of the health service. The idea is to continue to build the evidence base for new technologies, as well as identify and overcome roadblocks to implementation.
The COVID affect
An NHS AI Lab progress report, published last week, said 2020 had been a strong year for AI, with the pressures of COVID-19 helping to highlight many of its potential benefits.
Dr Indra Joshi, director of AI at NHSX said: "The pandemic has had such an enormous impact on the NHS with waiting lists at an all-time high.
"Through the AI Lab we are seeing examples of how AI can play its part in helping to alleviate some of the pressures facing the NHS, particularly in light of the COVID-19 pandemic, whether it be through efforts to speed up diagnosis and treatment, or alleviating clinician time and assisting with early detection."
An NHSX survey of 368 AI developers and procurers, for example, found that the pandemic had helped accelerate progress in some areas.
"A third of AI developers… indicated a positive impact, where healthcare pressures had resulted in a rapid uptake of AI tools and an increased acceptability for digital technologies being used to deliver care," said the report, 2020-21: A Year in the Life of the NHS AI Lab.
The COVID effect, however, was not positive across the board. A similar number of developers reporting a negative impact, with examples of including problems related to the re-deployment of clinical staff, reduced data collection, and a lack of engagement for non-COVID-19 activity.
"We are seeing examples of how AI can play its part in helping to alleviate some of the pressures facing the NHS… whether it be through efforts to speed up diagnosis and treatment, or alleviating clinician time and assisting with early detection"
Diagnostics
More than half, 57%, of the survey respondents said their technology focused on diagnostics, a trend that was reflective of much of the literature in this area.
"The diagnosis of disease – in particular the reading of images like CT scans and X-rays – is proving a dominant area for the use of AI-driven technologies," said the review, adding that the NHS AI Lab's AI in Health and Care Award was funding the testing and research for a range of products in this area, such as cancer screening and stroke assessment.
Many commentators believe this kind of approach will help healthcare systems reduce waiting lists, speed up diagnostics, and close widening skills gaps. Machine learning (ML) models that screen images and then "flag" those of concern to human experts, for example, can free up skilled staff to concentrate on more important tasks.
However, training such algorithms to produce accurate, non-biased results requires access to extensive datasets – such as the National COVID-19 Chest Imaging Database (NCCID).
The joint initiative between NHSX, the British Society of Thoracic Imaging (BSTI), Royal Surrey NHS Foundation Trust and Faculty will help drive understanding of the disease and how to manage it.
It is a centralised UK database containing chest X-ray, magnetic resonance imaging, and computed tomography images from hospital patients across the country.
"The benefits of collecting chest imaging data are extensive," explained NHSX. "This data has the potential to enable faster patient assessment in A&E, save radiologists' time, increase the safety and consistency of care across the country, and ultimately save lives.
"It is being made available to researchers, clinicians, technology companies, and all those wanting to investigate the disease and develop solutions that can support the COVID-19 patient care pathway."
AI future?
According to the NHSX, the UK is second only to the USA in terms of the number of AI-driven healthcare technologies currently in development. But joint working, it said, was key to converting these technological advances into improved patient outcomes.
"It is our aim to continue creating an environment that enables both developers and adopters of AI technologies to thrive, and to bring the benefits of AI quickly and safely to the people who need it most," said the review.
"There is an immense pool of knowledge and experience at hand in the regulators and bodies with whom we are partnering to achieve this, and within industry. The continuation of this joined-up approach is a principal factor in our future plans."
About the author
Amanda Barrell is a freelance health and medical education journalist, editor and copywriter. She has worked on projects for pharma, charities and agencies, and has written extensively for patients, healthcare professionals and the general public.