Cancer Drugs Fund: winners and losers in pharma, but a long-term fix is needed
Roche to pioneer 'multi-indication pricing' for Avastin – is this part of a future solution?
Last week's decision to make cuts to England's Cancer Drugs Fund caused dismay among some patient groups and pharma companies, as the 'de-listing' means certain drugs will no longer be funded for some indications.
Since it was set up in late 2010, England's Cancer Drugs Fund (CDF) has given pharma and patients an alternative market access route – getting round the frequent rejections handed down by the health service's main cost effectiveness watchdog, NICE.
But no longer: suddenly, the CDF has started to resemble NICE, rejecting drugs because of high prices and limited data on benefits to patients.
The CDF's chairman, practising oncologist Professor Peter Clark has made it clear he believes the de-listing was overdue, and says pharma has exploited a lack of clinical and cost scrutiny in the CDF until now.
Speaking at a conference in London last week, Professor Clark went as far as saying commissioning of cancer drugs was 'broken' – but also added that he wanted to help fix the system.
It is clear that this is a view shared by all sides, and everyone agrees that full-scale reform is needed. Most want to see NICE reformed to help restore its pre-eminent position, but there are many obstacles to this, not least political ones. There are few easy answers as the number of cancer patients continues to rise, and as pharma continues to launch new drugs, which are often very effective but also very high cost. Set against this, the tax-funded NHS is reaching breaking point after several years of static funding.
"Pharma company Roche has introduced, on its own initiative, an experiment in multi-indication pricing"
That means the CDF problem is part of a much bigger conundrum about how 21st century cancer treatment (indeed all healthcare) can be affordable. Among the many solutions being put forward is a brand new experiment: pharma company Roche has introduced, on its own initiative, an experiment in multi-indication pricing (MIP). This is where a cancer drug is priced higher in indications where benefits are clear, and lower when the evidence is less strong.
Roche's initiative looks like a common-sense solution to one aspect of the problem, but can it help square the circle? The solution required is likely to be much more complicated. But the CDF de-listing has certainly created new demand for change.
Charity Breakthrough Breast Cancer says the de-listing process showed that pharma could be made to negotiate on prices of its high cost treatments, but called on all the players to come together to produce a roadmap for reform.
"What we need now more than ever is a commitment to a better, universal solution to the problem of drug pricing and evaluation," it said.
CDF de-listing
In all, 25 indications are to be cut from the full list of 84 indications, including Novartis' Afinitor in advanced breast cancer, Sanofi's Zaltrap in metastatic colorectal cancer and Roche's Avastin as first-line treatment in advanced colorectal cancer.
These drugs were judged to offer the least clinical benefit and least value for money – and have been cut to rein in the CDF spending, which has risen steeply in the last few years. Professor Clark has now warned that further de-listings will need to take place.
The process has produced winners and losers among the different companies in cancer. A notable example is Eisai, which has seen its only cancer drug, breast cancer treatment Halaven (eribulin) de-listed.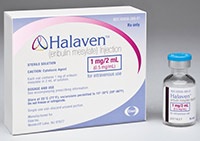 Eisai's breast cancer treatment has been de-listed
Gary Hendler, president & chief executive of Eisai EMEA and head of the firm's global oncology business, attacked the decision in the strongest terms.
"To say that we are disappointed by this decision would be a gross understatement; we are outraged."
The company has threatened legal action in order to stop the de-listing, which takes effect from 12 March, and has even called on the Prime Minister David Cameron to intervene to pause the process.
Despite these warning shots, the de-listings are unlikely to be reversed. The health service budget holder NHS England is struggling with a major overspend in 'specialised commissioning', which includes high-cost drugs across all therapy areas, and the CDF's spending has been the chief reason for the runaway costs.
Roche – good news on breast cancer drugs
By far the biggest casualty of the cutbacks is Avastin, marketed by Roche.
Avastin (bevacizumab) currently accounts for nearly 20 per cent of all CDF applications approved, spanning eight different indications. Three of these will now be cut, including in first-line treatment of metastatic colorectal cancer with combination chemotherapy, by far the most commonly used indication across the whole CDF.
The two other indications are in first-line metastatic colorectal cancer with a single chemo agent and in second-line advanced epithelial ovarian cancer. Together, the de-listing of these three indications will see a cut of around 13 per cent in the total volume of prescriptions.
Avastin has never been approved by NICE since it was launched in 2005, with NICE repeatedly rejecting the drug, citing high cost and a relatively short extension of life compared to older treatments. Roche says NICE's decision makes the UK the odd-man-out, with Avastin now established in the US and Europe as the standard of care in advanced bowel and ovarian cancer.
Roche says it wants the CDF panel to reconsider its decision on Avastin with FOLFOX combination chemotherapy in colorectal cancer, and in ovarian cancer. However it does concede that there is 'less compelling' evidence in its use with another colorectal chemotherapy combination, FOLFIRI.
So why isn't Roche as indignant as Eisai? The main reason is because the company's new breast cancer drugs Kadcyla (trastuzumab emtansine) and Perjeta (pertuzumab) have been retained on the CDF – albeit after some confidential negotiations on price.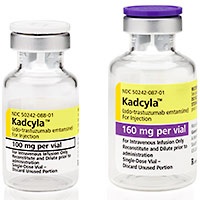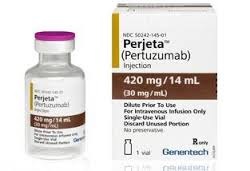 Roche's Kadcyla and Perjeta remain on the CDF list
Responding to the CDF announcement on 12 January, Dr Jayson Dallas, general manager of Roche in the UK said:
"We are pleased that we have been able to work collaboratively with NHS England to maintain access via the CDF to our highly innovative and clinically effective medicines for breast cancer, Perjeta and Kadcyla, at prices that reflect their clinical benefit."
He added: "The review demonstrates that industry and NHS England can work together to make sure the very latest medicines are available to patients."
The reason for Roche's more sanguine attitude is clear: Avastin is already established in other markets around the world, whereas Perjeta and Kadcyla are newly launched, and vital to the future growth of the company. That means the backing of the CDF is great news for Roche, not just in England, but for other markets which monitor the country's market access decisions.
The drugs staying on the CDF is a major coup, because they would otherwise be locked out of England's market. Roche is currently battling NICE over its appraisal of Kadcyla, while the review of Perjeta is seemingly stuck in limbo, as NICE struggles with economic modelling problems.
Despite being pleased by the ruling on its new breast cancer drugs, Roche says fundamental problems with the current market access system need to be addressed.
Talking to pharmaphorum, Roche UK's director of market access Deb Lancaster said these changes simply highlighted other remaining problems. This includes the fact that the CDF doesn't cover the entire UK, creating inequality within the country.
"Perjeta and Kadcyla remaining on the CDF is great news for patients in England, but it does nothing for patients in Scotland, Wales and Northern Ireland."

Deb Lancaster
She says the CDF cannot be a long-term solution, and that comprehensive reforms are needed to allow life-extending medicines to reach cancer patients.
Ms Lancaster added: "The key issue here is that we had promises of system reform [in 2011, when the CDF was established] but this this simply hasn't happened."
The CDF was meant to be a stopgap until a comprehensive medicines pricing deal was developed – so called 'Value-based pricing' (VBP). But the idea proved too complex, and was shelved in favour of an update to the existing PPRS pricing system.
Since then, this confusing patchwork of access routes has persisted.
Roche says the CDF decision on the two drugs sends a signal to NICE, showing that the CDF system recognises the value of the drugs to patients.
NICE says the very high price of Kadcyla is the sticking point, estimating the average cost per patient is more than £90,000, and says the drug is not effective enough to justify this price. However Roche contests this estimate, saying the real figure would be just under £60,000.
Roche has also countered that NICE's appraisal methods are simply no longer fit for purpose. In the case of Perjeta, even if Roche provided it for free, NICE's current methodology could not deem it cost-effective. This is a bizarre quirk linked to the fact that Perjeta extends the life of breast cancer patients very significantly – and therefore also costs.
Groundbreaking pricing and real world data
Speaking to pharmaphorum after the CDF ruling, Roche has revealed it is to vary the cost of its cancer drugs according to their value to patients with different types of cancer.
So called multi-indication pricing (MIP) has not been attempted in the UK market before, but the company says a deal has been agreed with the CDF in relation to its drug Avastin (bevacizumab).
Deb Lancaster says the new approach has also been agreed with NHS England, and has been in the making for nearly a year, well before the CDF review began.
"We can price according to value to patients – we are really happy to do with Avastin," she says, a system which she says allows the firm to raise its prices if new evidence shows further benefits.
This means that Roche is charging a lower price for Avastin in breast cancer, an indication where it agrees that the data is not so strong. It's not clear if any of these pricing changes influenced the CDF decisions. In colorectal cancer, Avastin didn't score highly enough on the CDF's clinical effectiveness scoring system, and this is why it has been de-listed; its low score means it wasn't eligible for Roche to offer a discount. Roche says not all of the data it submitted has been taken into account, and will contest this ruling.
So is there any mileage in multi-indication pricing? Could it become part of a future solution? Health economist Leela Barham has been keeping a close eye on developments in the CDF, and novel pricing ideas. She says the idea of multi-indication pricing is hugely appealing, and seems to represent a fair solution for pharma, payers and patients.
However, she adds, multi indication pricing in theory might mean paying more, a risk that payers will bear in mind, as companies capture all the value instead of pricing on the basis of the average value across indications. "But real life is uncertain, so both companies and payers need to consider how value changes over time and hence how price should change too," she points out.
Roche is also participating in another ground-breaking initiative emerging from the NHS, the Systemic Anti-Cancer Therapy Dataset (SACT). The Oxford-based project aims to collect and analyse data to prove a drug's 'real world' benefits to patients, such as overall survival. This should eventually be a vital part of a future value-based system, but problems with collecting data from the NHS has delayed the project.
The jigsaw pieces don't fit
Despite the seemingly draconian cuts to the CDF, the de-listing represents just £80 million in saving, and this will merely help the Fund stay within its £280 million budget this financial year.
While most national newspapers focused on the plight of future patients who will be denied de-listed drugs, most overlooked the bigger picture: next year's CDF budget will rise to £340 million, a last-minute increase of 20 per cent. This is a sign that NHS England can currently neither control spending nor provide a clear, equitable system.
It is clear that there are many pieces to the market access jigsaw in England and the UK, but few of them fit together.
"The final piece is the UK's pricing deal, the PPRS, which could in theory be the answer to all these problems"
The final piece is the UK's pricing deal, the PPRS, which could in theory be the answer to all these problems. Introduced a year ago, the new PPRS involves the industry effectively underwriting the entire NHS branded drugs bill, guaranteeing a limit to the drugs budget, and paying back any extra surplus spending.
The PPRS was meant to take the pressure off NHS drugs spending, and give space for new drugs to be introduced; instead, most of the NHS is behaving like the agreement doesn't exist – a cause for frustration for pharma and DH leaders who hoped it represented that fabled 'win-win' scenario.
It looks likely that the shouts of protest about the system have been heard, and Prof Peter Taylor, NICE and Life Sciences minister George Freeman MP have all declared their willingness to oversee a comprehensive solution. Further danger lurks in the UK's general election in May, which could throw the pieces of the jigsaw up in the air again; nevertheless, all sides will want to forge a new system that is at least a workable, rational compromise.
About the Author
Andrew McConaghie is pharmaphorum's managing editor, feature media.
Contact Andrew at andrew@pharmaphorum.com and follow him on Twitter.