20 people who shaped healthcare in 2015: part 1
Articles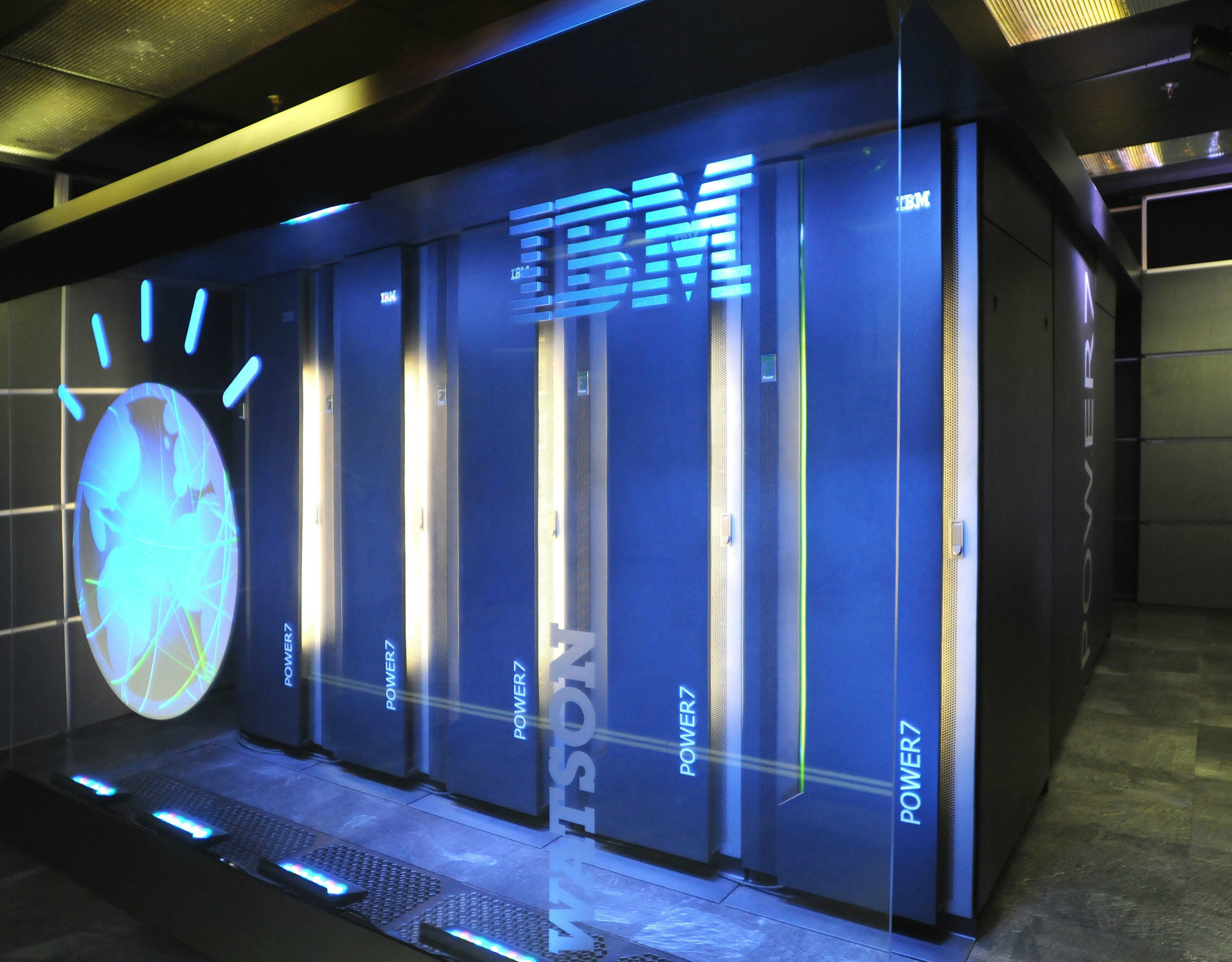 The first instalment of two-part article looking at people behind the most important events and trends in pharma, biotech and wider world of healthcare in 2015. The year saw a flurry of innovative new drugs hit the market, and exciting developments in biotech and tech - but the sector was also beset by major controversy
1. Brent Saunders

                            

6. Layla Richards                                 

2. Anonymous doctor

7. Hans-Georg Eichler

3. J. Michael Pearson

8. Dr. Steven Pearson

4. Hilary Clinton

9. IBM Watson Health

5. Jamie Oliver

10. Aylan Kurdi
1. Brent Saunders
To many observers of the industry, Brent Saunders is one of the most prominent in a new breed of brash, somewhat disreputable pharma industry leaders whose aggressive deal-making and disregard for R&D investment could damage the sector in the long-term.
But unlike 2015's ultimate pharma bad boy, Martin Shkreli, Saunders knows how to do business. In just five years, Saunders has run three major drug companies (Forest, Actavis, Allergan) and sold them all on, generating billions for shareholders and investors.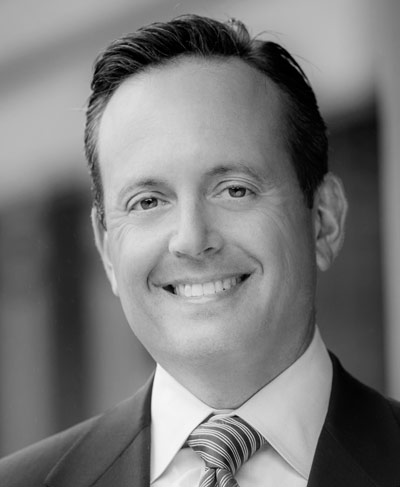 Brent Saunders
Saunders has risen quickly, having never been a chief executive before taking on Forest. But Saunders decided early on that pharma's belief in nurturing in-house drug discovery was misplaced, and has placed his faith in mergers and acquisition as a more predictable and less risky route to growth.
Each of the deals showed a keen eye for growth opportunities, and a disregard for the normal rules of engagement. This culminated in the biggest deal of them all – the $160 billion acquisition of Allergan by Pfizer in November.
This was the 'tax inversion' deal, Pfizer had been looking for since its failed takeover bid for AstraZeneca in 2014. The Valeant deal allows it relocate its corporate headquarters from New York to Ireland, and thereby cut its corporate tax burden and avoid taxes on billions of revenues earned overseas.
Saunders calls his approach "growth pharma" - and Pfizer's chief executive Ian Read has bought into this, as it is very closely aligned with his own hard-nosed, deal-based philosophy.
It is reported that Saunders had demanded the Pfizer CEO job in the negotiations with Pfizer, but has had to settle for deputy role under Read. Despite the returns for investors, many analysts remain sceptical about the mega-merger, and whether it is a deal too far for Allergan, Pfizer and the industry. There are doubts about many aspects – whether th7e merger of the two companies can produce the necessary synergies, whether Pfizer can sustain itself in the long term if it pursues a diminished R&D spend, and even whether the deal could still be blocked by the US authorities.
Equally unclear is whether or not Saunders can switch away from his frenzy of deal-making and settle into more sedate management of a firm the size of Pfizer. Whatever the outcome, the partnership between Saunders and Read will shape Pfizer's future, which is likely to involve spin outs of less profitable divisions. Meanwhile others in the sector will have to respond to the new pacesetter in 2016 and beyond – which means the frantic M&A seen in 2015 may not abate much next year.
Read the Forbes profile of Saunders by Matthew Herper from January here
2. Anonymous doctor #iminworkjeremy
In July, the UK's health secretary Jeremy Hunt announced he would bring in a 24-hour, seven days a week health service. This was to meet a key election pledge, and Hunt said this would require altering the contracts of hospital doctors– by force, necessary. Hunt said this was necessary because evidence showed that understaffing at weekends was resulting in avoidable deaths.
The row had been brewing for some time, and doctors took to social media to criticise the health secretary, and defend themselves against what they felt was a slur against their profession, and a misrepresentation of the facts. The hashtag #ImInWorkJeremy soon began trending on Twitter and Facebook, as more and more doctors posted messages and pictures of themselves at work in unsocial hours and at weekends.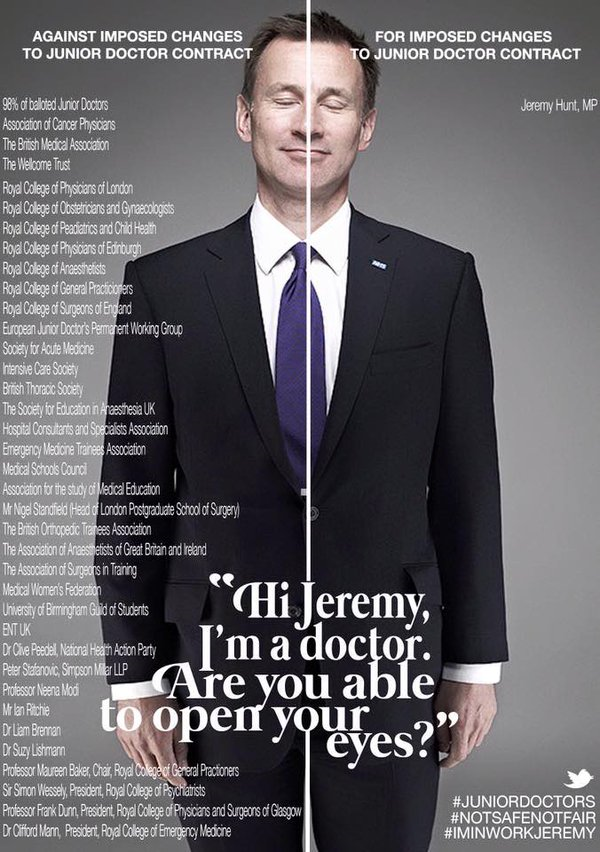 Him against us: one of the many images and graphics used by supporters of doctors and the #ImInWorkJeremy hashtag
So who first devised the #ImInWorkJeremy hashtag? There have been several different people cited as the originator – one anonymous doctor wrote in The Guardian in June, claiming to have created it, and explained the reasons behind the protest. The phenomenon showed once again the power of social media, particularly when a group of like-minded people feel their message isn't being fairly represented by government or the mainstream media.
The government's plans for seven-day NHS in urgent and emergency care services by 2020 are likely to hit junior doctors hardest – doctors' union the BMA says they will work longer hours for the same, or less money. And despite the evidence base around weekend mortality rates shown to be deeply flawed, the government wants to press ahead.
Despite a last-minute agreement to mediation talks to avert a strike by junior doctors in November, the strike could be back on again in January. Doctors and the NHS continuing to enjoy public support, but knows strikes have limited effects and lifespan. Its negotiators at the BMA will have a huge task in reaching a deal with the government which will satisfy its members concerns.
3. Michael Pearson
Michael Pearson is a former McKinsey & Co. consultant who took on Valeant as a troubled small drug company in 2008, transforming it within just a few years into one of pharma's highest-flying stocks.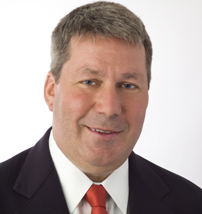 Michael Pearson
But the tactics Pearson has used to achieve this rapid growth are controversial. The core of the strategy is simple: acquire a specialist companies with niche products and then immediately introduce huge price increases to your medicines.
At the same time, Valeant has also rejected the risky, long-term business of investing in R&D: it invests around 3% of its total revenue on R&D, whereas big pharma companies' R&D is usually 15-20% of turnover.
Valeant isn't the only company to use this approach – Horizon and the notorious Turing Pharma are two others – and payers and regulators and patients began to protest loudly about having to foot the growing bill during 2015. Even investors, happy to reap the rewards of rapid growth, grew sceptical about just how sustainable this business model was.
In October, a new analysis by Deutsche Bank found Valeant had raised prices on 56 of its drugs in 2015 by an average of 65.6%, more than any other company. This on top of price increases of 50% the year before.
While these increases were outrageous, the companies managed to escape the attention of politicians and media, but Martin Shkreli's arrogance and hubris spoiled the party for the firms in September.
Having acquired Turing, former hedge fund manager Shkreli raised the price of HIV-related infection treatment Daraprim by 5000%, causing outrage across the US.
At this point Democrat politicians decided enough was enough. Alongside Hilary Clinton's promise to clamp down on such price-gouging, Rep. Elijah Cummings and Senator Bernie Saunders (running against Clinton to be the 2016 Democrat presidential candidate) also acted.
They and all 18 Democrat members of the House Committee on Oversight and Government Reform demanded that Pearson and Martin Shkreli testify before the committee. They also called for the firms to hand over documents which could justify their dubious claims that such price rises were needed to recoup investment.
Then in October, US pharma industry body PhRMA condemned Valeant's business model, saying "much like Turing, Valeant Pharmaceutical's strategy is more reflective of a hedge fund than an innovative biopharmaceutical company".
This was an unprecedented move, as PhRMA has always defended the industry – but clearly believed the firms stood outside the 'research based' industry which it represents.
That same month, allegations emerged of corrupt practices in Valeant's close relationship with specialty pharmacy chain Philidor, short seller Citron Research accusing Valeant of using the pharmacy chain to artificially inflate its sales figures. Citron even went as far as to compare the pharma firm with Enron, the growth-fixated energy company where 'the smartest guys in the room' committed colossal fraud on investors before it imploded.
Valeant is still under investigation from federal agents, but has already cut all ties with Philidor. These scares saw the company's shares plummet, but Pearson has halted the decline by reassuring its business model is not just a 'pack of cards', and has signed a new pharmacy distribution deal with the trusted Walgreens chain.
In a strange twist at the end of a rollercoaster year, Pearson was admitted to hospital just before Christmas with a severe case of pneumonia. The serious illness means Pearson will be off work for some time, and Valeant has hastily assembled a triumvirate of senior executives to fill in while Pearson recuperates.
Pearson had been due to testify before a Congressional hearing early next year, but this may be postponed if the legislators want to hear direct from Valeant's mastermind. The company also faces several federal investigations into its pricing practices and relations with pharmacies, which signals another turbulent and unpredictable year ahead for the firm.
4. Hilary Clinton
The frontrunner for the Democrat party 2016 presidential nomination has a long history in US healthcare. After her husband was elected President in 1993, she headed up a push to introduce mandatory universal healthcare, but opposition from the pharma industry and healthcare insurers ensured her plans were scuppered.
Fast forward 20 plus years, and Clinton is once again on a collision course with the pharma industry, promising to rein in its excesses if elected as President in November 2016.
While the Republican debates, dominated by the demagoguery of Donald Trump, has garnered most attention, Clinton's statements on pharma and healthcare have been taken more seriously.
In September she tweeted her response to news of Martin Shkreli's now-notorious Daraprim price rise, promising a crackdown.
"Price gouging like this in the specialty drug market is outrageous. Tomorrow I'll lay out a plan to take it on."
The threat was taken so seriously, the tweet sparked a run on shares in the biotech sector.
Since then, Clinton has also hit out at Pfizer's mega-merger with Allergan, and has promised measures to curb corporate tax inversions, the main rationale behind the deal.
The plan would force US companies moving their HQs abroad to pay an "exit tax," which would tax foreign earnings at the time of the inversion deal. "I want the Treasury Department to do everything it can to stop that kind of behavior and call it for what it is: gaming the tax system," she said.
Despite this public criticism – and because of her status as a current favourite to win next year's election – pharma has been donating generously to her campaign.
In fact Clinton has received more money from pharma than any candidate in either party - $164,315 in the first six months of the campaign according to analysis by Stat News.
While Clinton looks almost certain to win the Democrat candidate nomination, it is far too early to say she is already destined for the Oval Office. Nevertheless, her policies have already influenced the pharma and biotech sectors, and the industry will try its best to keep her on side in 2016, despite their long history of enmity.
5. Jamie Oliver
One of the world's most famous and successful celebrity chefs, Jamie Oliver used his high profile this year to push for a tax on sugar in the UK.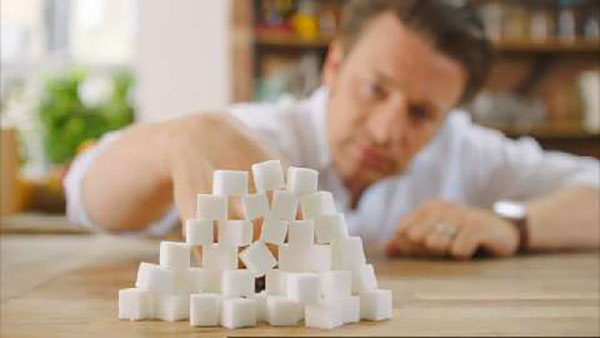 Public health campaigners have been increasingly vocal in naming sugar as one of the biggest causes of the global obesity epidemic, and governments around the world are beginning to take calls for taxes seriously. Mexico and France have already introducing levies. In October this year, Jamie Oliver urged UK ministers to introduce a sugar tax on fizzy drinks of up to 20 per cent.
Expert modelling of a sugar tax at this rate suggest around 200,000 cases of obesity could be prevented or delayed. Meanwhile the tax could raise up to a £1bn a year, and Oliver proposes that these revenues should go towards NHS treatment costs and on educating primary school children about healthy eating.
UK politicians are fearful of being accused of imposing a 'nanny state', despite also acknowledging that something must be done to curb the country's growing obesity and related type 2 diabetes epidemics.
The government will publish its strategy in the new year, but at the moment says it has no plans to introduce a new tax.
6. Layla Richards
The prognosis was grim for Layla Richards, an 11-month-old who patient at London's Great Ormond Street Hospital. Layla had incurable, refractory and highly aggressive acute lymphoblastic leukaemia (ALL) and doctors were considering palliative care options after all other treatments had failed.
But doctors at the hospital gained permission to make Layla the first ever human patient to receive an experimental immunotherapy treatment – and were astonished when the treatment freed her of the disease completely.
Developed by French biotech company Cellectis, the treatment UCART19 has taken a surprise lead among a field of rival CAR-T (Chimeric Antigen Receptor T-Cell) immunotherapies being developed, ahead of rivals Novartis, Kite, and Juno, who have yet to begin human trials.
Layla obtained the drug as a one-off compassionate use, and not part of a clinical trial, it is still too early to declare the drug a success. It illustrates the growing use of 'early access' uses of innovative medicines, and their sometimes spectacular successes. While such near miraculous stories will remain rare, Layla illustrates the shift towards more calculated risk-taking in medicine and drug development, with the hope that it can pay off for patients.
7. Hans-Georg Eichler
2014 saw a major change in the field of drug regulation when the FDA's Breakthrough Therapy Designation initiative kicked in, helping to get many new innovative drugs to market faster, and helping to significantly increase the overall number of drugs approved compared to the year before. In 2014, the European Union's regulator the EMA launched its reply to the FDA's programme, in the shape of the Accelerated Development of Appropriate Patient Therapies (ADAPT SMART). Funded by the EU Innovative Medicines Initiative, the project is a collaboration between 32 international partners that includes regulators, patients, academia, and industry representatives.
One strategy is the Medicines Adaptive Pathways to Patients (MAPPs), which allows patients with unmet medical needs to gain access to treatments as early as possible.
Leading the initiative is Hans-Georg Eichler, Senior Medical Officer at the EMA, whose profile has grown across Europe this year as he has taken on the tough job of building a broad coalition of stakeholders. One of the significant differences to the FDA's system is that it considers new medicines not just from the perspective of the science, but also from the impact on the healthcare systems – the word 'sustainable' is key.
Speaking earlier this year, Hans-Georg Eichler said: "With the challenges facing healthcare in Europe, we see MAPPs as a vital tool to make the increasing number of promising new therapies available at the earliest appropriate time for patients with unmet medical needs.
"We need to do so in a way that is sustainable for all stakeholders in the healthcare ecosystem. ADAPT SMART is a vital programme to help achieve this goal," said Eichler in September.
The initiative will gain momentum in 2016, but will have to overcome the inertia facing any pan-European health initiative in order to meet its ambitious goals.
Read more on the ADAPT SMART website.
8. Dr. Steven Pearson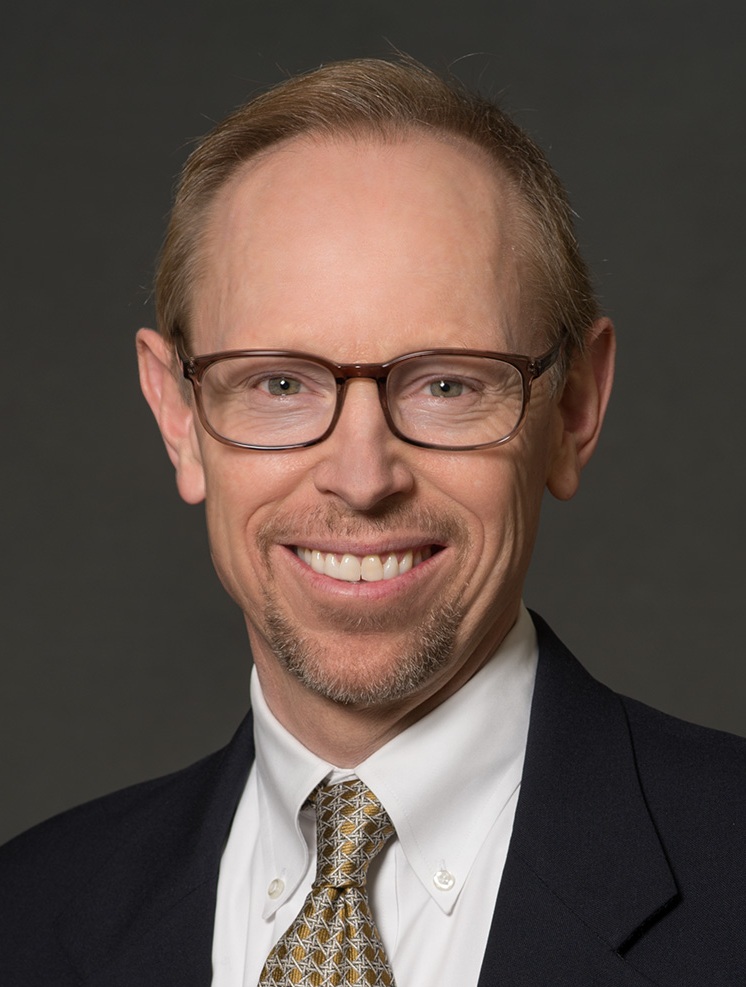 Dr Steven Pearson remains relatively unknown in the world of healthcare, but 2015 saw his organisation the Institute for Clinical and Economic Review (ICER) make big waves in US healthcare.
The ICER is an independent non-profit organisation that is transforming how America looks at the value and cost effectiveness of new medicines. This was once inconceivable in the US, where federal and state governments are barred from negotiating on prices and value of medicine, and where medicines cost more than anywhere in the world.
Set up by Pearson and colleagues in 2013, the ICER says its mission is to "evaluates the evidence on the value of medical tests, treatments, and delivery system innovations" and then "move that evidence into action to improve patient care and control costs."
It has spoken loud and clear on numerous newly launched drugs in 2015, including the new PCSK9 inhibitor drugs, and GSK's new respiratory drug Nucala, ruling these to be hugely overpriced. Novartis' heart failure drug Entresto and the new hepatitis C drugs were judged to be more cost effective however. This is, nevertheless, a very major shift in the US market for pharma, and the industry is clearly rattled. The reality is that where Europe has led on health technology assessment, through bodies such as England's NICE, the US is now following, even though the ICER is not directly linked to payers.
"I wouldn't say I'm on everyone's Christmas card list," he joked in an interview with The Boston Globe in September. "But I think America is mature enough to have an honest conversation about the tension between innovative new drugs and the prices patients and the health care system can afford."
Read more in the Boston Globe interview
9. IBM Watson Health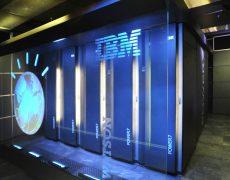 Not a person, but a supercomputer. IBM Watson Health is at the forefront of 'cognitive computing', a trend set to transform healthcare over the coming decades. IBM signed several significant deals with pharma companies and healthcare providers in 2015, illustrating the huge potential for 'artificial intelligence' alongside human expertise in medicine.
Read more about IBM Watson Health's new collaboration with Novo Nordisk.
10. Aylan Kurdi
Aylan Kurdi, was the Syrian boy who drowned trying to cross the Mediterranean in September. Picture of his lifeless body, washed up on a beach in Turkey were seen around the world, and captured the horror and suffering of the region's refugee crisis.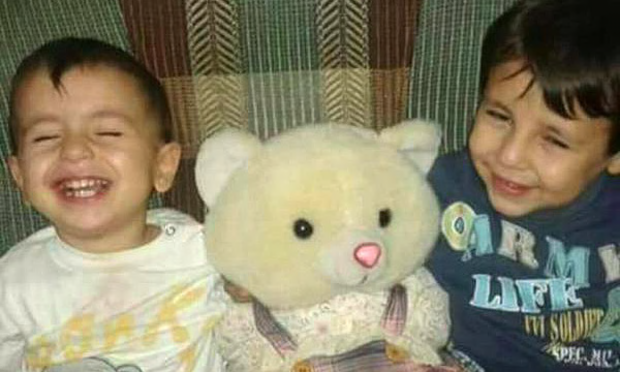 Aylan, left, pictured here with his brother before the tragedy
The three-year-old died with his mother and brother trying to reach Greece, and was one of many millions of refugees fleeing Syria and Iraq because of the conflicts in these countries. The needs of the affected populations are huge, representing the biggest refugee crisis since the end of World War II. 13.5 million people inside Syria – more than half of its population are displaced, 6.5 million people within the country, and a further 4.2 million fleeing to neighbouring countries and on into Europe.
A large part of this humanitarian crisis is a healthcare crisis, with the displaced people often vulnerable to diseases such as typhoid and hepatitis when displaced and living in unsanitary conditions.
Despite the acute lack of co-ordination in dealing with the crisis in Europe, the EU is slowly beginning to act to help those in greatest need. However the burden on Europe and the Middle East will be immense, with even rich countries like Germany struggling to cope with the demands of millions of refugees and their health needs.
The desperately sad pictures of Aylan Kurdi captured the attention of the world for a few days in September, and helped spur Europe's politicians into action. However while the media spotlight has moved on, the problem has only got worse – in October, just one month after Aylan's death, Save the Children reported that 70 more children had died trying to cross the same route.