Primary care sites: A new avenue for clinical research

Webinars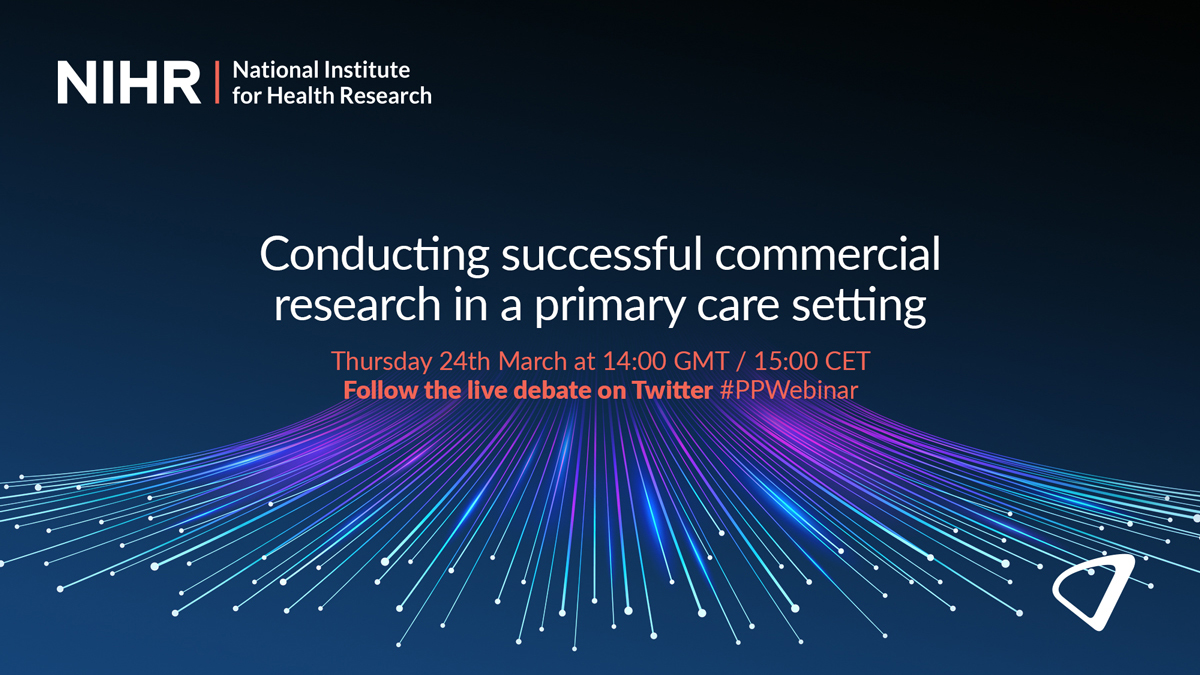 The primary care setting offers huge potential for commercial research. This was, and still is being, demonstrated through the UK's COVID-19 vaccine research successes. But primary care site protocols can't just be cut and pasted from hospitals.
Primary care sites require their own approach, but they can have great benefits for clinical trial recruitment, access to hard-to-reach patients, and more.
In this pharmaphorum webinar, conducted in partnership with National Institute for Health Research (NIHR), we will hear from experts on how and why commercial researchers should be looking hard at primary care sites. The webinar will be held Thursday 24th March at 14:00 GMT / 15:00 CET.
Focus
The webinar will cover
What is the role of primary care in research?
Why lifting and shifting a protocol from a secondary care hospital setting is unlikely to result in success
Using primary care data to drive recruitment at scale
How primary care improves access to patients with chronic disease, acute disease and  rare disease in the community
Efficient models of research delivery and new ways of working
What support is available for researchers looking at primary care
About the panel 

Jonathan Abraham is the CEO and co-founder of Healum which provides connected software and apps to improve self-management for patients with long term conditions. Jonathan believes in the power of personalised healthcare to improve and transform the health outcomes for everyone. He combines his experience in mobile and technology startups, with 5 years at Google where he held the roles of UK head of mobile and UK head of brand solutions, to achieve this goal. He specialises in bringing digital B2B and B2Cproducts to market and has experience in business strategy and operations, sales and marketing and proposition design and development. He holds a First Class Honours BSc in Economics from UCL.

Sheena Gomez is a local delivery lead manager for GlaxoSmithKline (GSK). She began her career in clinical research as a clinical trial assistant for Novartis Vaccines and Diagnostics in 2007 and continued to pursue her interest is vaccine research in 2014 when she joined GSK (formerly Novartis Vaccines). Sheena has a wealth of experience of managing and delivering clinical trials. Her work supporting vaccine trials in particular has spanned in healthcare settings beyond the hospital clinic, including primary care and the wider health a care environments.

Simon Royal is industry lead primary care NSG, GP, principal investigator NIHR, he has been a GP in Nottingham for over 20 years and has been working for the NIHR CRN (and predecessor organisations) for much of that time.  He has been the NIHR Primary Care National Specialty Group Industry Research Lead since 2015.

Rebecca Clark GP, principal investigator Layton Medical Centre is one of the UK's leading primary care commercial principal investigators. Her team consistently deliver to time and target over a wide range of therapeutic areas, including a portfolio of more specialised treatments that have historically been placed in hospital settings. A second generation triallist with multiple global firsts in an award winning facility, her aim now is to expand to large scale commercial delivery whilst remaining embedded within the NHS infrastructure. A recent collaboration with PRC Blackpool has enabled rapid and substantial growth that now sees them in a position to expand in an exciting time for the UK's life sciences industry.

Eloise McLennan is the editor for pharmaphorum's Deep Dive magazine. She has been a journalist and editor in the healthcare field for more than five years and has worked at several leading publications in the UK. (moderator)

* When you click to register for this webinar you will be taken to a website run by BrightTalk who host the webinar and gather your registration data.
This data may then be passed to pharmaphorum media limited, and in turn passed to the company(ies) we are partnering with to bring you the webinar. This data may be used by us and them for occasional marketing purposes. It will not be shared with any further third parties.
By clicking to register for this webinar you give consent for any data you provide to be used in this way.
If at any point you no longer wish to be contacted based on the information you provide during the registration for this webinar, please send an email to info@pharmaphorum.com requesting that your information is deleted in accordance with the General Data Protection Regulation.