IWD: Spotlight on women in life sciences
Views & Analysis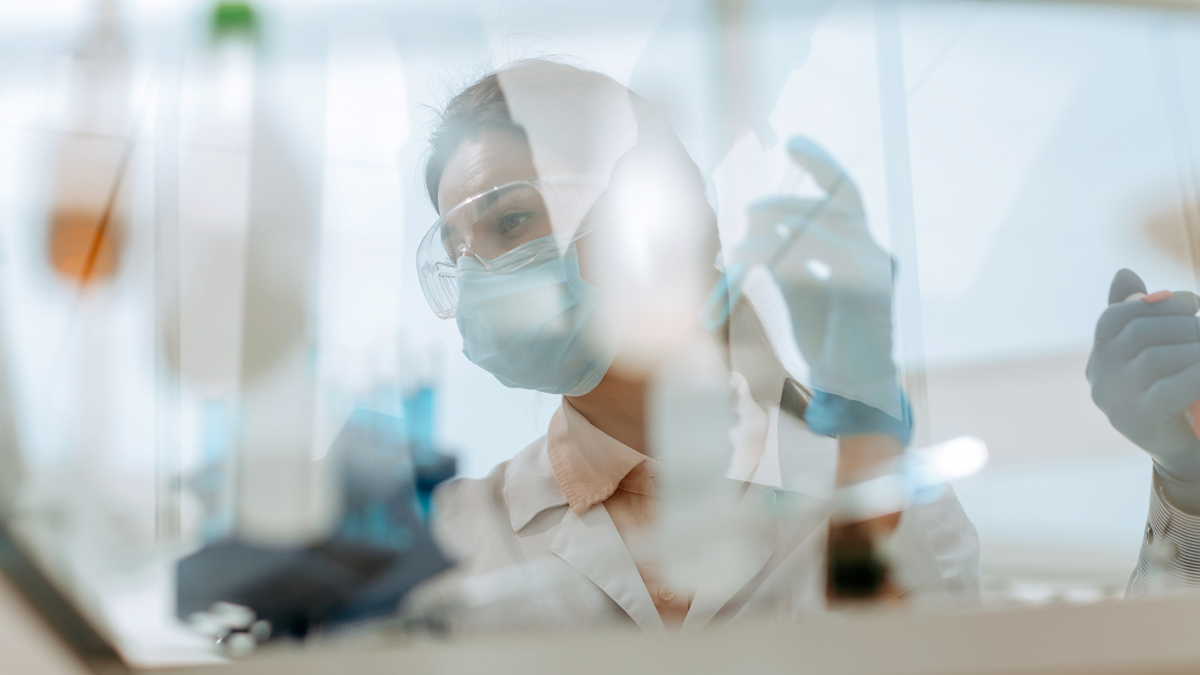 To celebrate International Women's Day, we speak to design engineer at Envair Technology Darina Shopova; general manager, UK & ROI at Healthcare Business of Merck Doina Ionescu; and vice president of clinical development, medical, and regulatory affairs, Novo Nordisk UK Avideh Nazeri about their careers, how their field is progressing and how the industry can encourage more women and girls to pursue roles in STEM.
What has your career path been? How did you get into life sciences?
Darina Shopova (DS): My first job, in 2005, was as a structural CAD engineer in my home country of Bulgaria. Four years ago, I pivoted in my career, becoming a mechanical design engineer for a Manchester-based Heating, Ventilation and Air Conditioning (HVAC) company – designing air handling units for hospitals, pharmacies, schools and supermarkets.
In October 2021, I joined the engineering department at Envair Technology, designing isolators. Our products are used primarily in the fight against cancer – to aid drug discovery – while also ensuring patients and laboratory workers are safe.
Doina Ionescu (DI): After completing my PhD in physics at the University of Southampton, I joined Merck as a research scientist in 1998. After a few years, I decided I wanted to move into the commercial side of the business, so I completed an MBA and went on to hold various positions in Corporate Business Development, Life Science and Healthcare. I have been general manager for Merck Healthcare UK & Ireland since 2020.
Avideh Nazeri (AN): I always dreamt of having a career that would take me around the world, and when I was younger, I thought I wanted to be a flight attendant. I was encouraged instead to use my interest in science and study medicine, and I trained to be a hospital doctor at King's College London.
I made the decision to join Novo Nordisk in 2006 as a medical manager because I felt this move would best give me the opportunity to have an international career without geographical boundaries whilst remaining close to science and developing solutions for people who are struggling with chronic conditions.
What has been the biggest challenge you have had to overcome in your career, and what did you learn from it?
DS: The biggest challenge for me has been going back to college in my 40s to study mechanical design. This would not have been possible without the support of my family and an apprenticeship scheme. Being able to continue to work while studying meant I could achieve a recognised qualification and gain valued experience, all while continuing to earn an income.
DI: Transitioning from being a research scientist to a mergers & acquisitions project manager was not easy. The knowledge I had acquired from my MBA was very academic and trying to position myself in the new role was challenging. I also had to learn to navigate internal politics, which I was not used to.
To position myself in that world, I had to rely on my transferable skills – my ability to listen, plan and focus on delivery. I also learnt that it's not what you say and who you say it to but how you say it – you have to speak your mind and make it clear what you want. And I've always spoken my mind since then. Effectively managing internal politics does not mean you have to be subdued; you must communicate in an effective way that retains your values.
AN: Moving from working as a hospital doctor to my role as a scientist working in industry was a huge challenge – suddenly, instead of spending my time with patients, I was spending time in boardrooms and business meetings.
I felt that I also had to overcome a dual bias – coming not just with a scientific background but also as a female scientist. I was surprised to find that some people assumed I might not be cut out for working in industry. Or that there is only one way to be successful in industry; if you are sufficiently ambitious, you want to be the next CEO.
I also learnt the value of a strong support network – as a doctor, you are trained to be quite independent, but in industry I found that working with people I looked up to as role models, who gave me opportunities but challenged me at the same time, really helped me. Now, I know that a core part of my purpose is to help other women succeed by helping to make the industry more accessible and improving representation.
Why is it important to encourage girls and young women to pursue life sciences roles?
DS: I think there is a systemic lack of awareness, among girls in particular, about the variety of roles out there in STEM. Ultimately, this has to start at school. We need strong allies within the education setting – clued up careers advisors and teachers – along with inspiring female mentors who can visit schools and talk about their experiences.
We need a stream of young people entering the sector. Our industry needs open minds and a fresh outlook so we can continue to find solutions to the problems we face.
DI: More women than ever are in life science roles, but we still need to encourage more because it's a very rewarding and interesting career. But also because the best companies (and teams in general) are a balanced mix of genders, backgrounds and cultures. The industry needs diversity in all its forms.
AN: Representation matters, and we currently don't have sufficient representation of girls across all areas of science. It is also important as we know diverse teams generate higher-quality science and results.
What advice would you give to girls or young women contemplating a career in life sciences?
DS: There is so much I would like to say to young girls interested in a career in life sciences. It's important to retain your curiosity, to constantly explore and question things – even the obvious. It's easy to say, but being brave and allowing yourself to step outside of your comfort zone is how boundaries are pushed in STEM. Also, don't be afraid to make mistakes. Mistakes are another way of learning.
Finally, find support. I would recommend joining a professional organisation or local group supporting women in your field. That way, you can connect and find inspiration from other amazing women like you.
DI: I know from my own daughter that many girls and young women today feel a lot of pressure to focus on things like looks, perception and followers. But these are not sustainable. Sustainability comes with understanding and being smart. A career in life sciences gives you the skills to run rings around most people. Aside from being a fascinating and rewarding career, life sciences also really nurture some of the qualities women naturally possess, such as analysis, multitasking, understanding and listening.
AN: Remain curious, as that is what probably got you interested in science in the first place. Ask yourself the toughest questions to define your whys, but thereafter don't be too tough on yourself; you won't have all the answers. Passion, perseverance, and purpose are your North Stars. A career in science is a journey of discoveries. Just give yourself the chance to surprise yourself and inspire others.
How important is it to have role models for young women working in the sector? Who has helped to inspire and shape your career?
DS: It's a shame that there aren't more well-known female scientists young girls can be inspired by - in the same way they are by pop stars, actresses or other influencers. It is so important to celebrate women in the pharmaceutical industry and their achievements; they need to be seen by young girls as visible role models. Maybe platforms like TikTok could change that and make the industry seem more accessible.
In terms of my current role models, the MD at Envair Technology, Gary Bagshaw, has more than 25 years in the business. I'm constantly learning from his deep technical knowledge of the aseptic and healthcare processes.
DI: It is very important, and we all need role models. Mine were diverse and not all female. My biggest role model was Albert Einstein, as he was, in my view, by far the cleverest person who ever lived. Growing up, Julia Roberts was actually my inspiration. I liked her because she never came across as fragile, she knew what she wanted, and she excelled both personally and professionally.
AN: I have encountered many women through my career who I look up to and admire. Women who have defined their own paths, using science and technology to create new molecules that have ultimately changed lives. Not all of these women were driven to become CEOs, but they were no less inspiring to me because of that fact. What these women all embodied was their ability to find their own purpose and forge ahead.
I am also inspired by the new generation of girls & women around me every day. Their tenacity, their approach to breaking the mould, their independent way of thinking and their impatience for change versus my generation is truly inspiring to me.
Is there anything pharma could do to encourage more women to take up science careers?
DS: Celebrating women's achievements is a good place to start. If we make women more visible, this will foster a culture where they feel more valued and appreciated. Also, businesses investing in mentoring schemes, training and support is how the 'glass ceiling' will ultimately be broken.
DI: I think as a whole, the industry could offer more internships and work experience opportunities, and this is something we are looking into in the UK & Ireland at Merck – we offer some already but I feel we should offer more.
There are still challenges, but the reputation of industry following the COVID pandemic has improved, and I think it's shown many people that the pharma industry has a lot to offer – it's not just a job. It allows you to make a contribution to the world.
AN: As an industry, we need to do more to champion and showcase the success of women. We, as women in the industry, can start to cultivate this by doing more to expand the talent pool and spreading the message that science is interesting, creative and a good career.
Companies also need to put structural changes and KPIs in place to hold themselves accountable for ensuring good gender representation at every level and in every department and ensuring intersectional diversity within that, to ensure that a career in this industry is accessible to all women regardless of their background.
What are the most exciting developments you're seeing in your field at the moment?
DS: By constantly improving the design of our isolators, we are making pharmaceutical manufacturing more sustainable here at Envair Technology. This is hugely exciting for me.
We are implementing the latest electronically commutated (EC) fan technology with highly efficient HEPA filters to reduce the carbon footprint of our units and ultimately support the pharmaceutical industry in striving for net-zero [emissions].
DI: Oncology is a hugely exciting area at the moment, particularly the further focus on genome testing to help identify specific mutations in the DNA and select the best treatment option for the patient and their type of cancer. As well as personalised medicine, at Merck we're also very interested in personalised healthcare as the data speaks for itself: Supporting people to play a greater role in managing their own health keeps people living well at home and out of GP surgeries and hospitals.
AN: The UK is an exciting place to be in the life sciences industry right now, because on top of its legacy of academic strength, in the last couple of years – partly due to the way the pandemic has driven us to accelerate innovation – we have seen a real culture of openness. Companies within the industry are collaborating with each other and with the public sector and NGOs, which has led to a really high quality of science.
About the interviewees

Darina Shopova
Darina Shopova is design engineer at Envair Technology, working on the design and development of rigid isolators. Envair's isolators prevent pharmacy and laboratory workers from dangerous exposure to cytotoxic drugs and ensure products are protected from microbiological contamination.

Avideh Nazeri
Avideh Nazeri is vice president clinical development, medical, and regulatory affairs, Novo Nordisk UK. She is an endocrinologist and worked at King's College London before joining Novo Nordisk in 2006.

Doina Ionescu
Doina Ionescu has been Merck's general manager for the UK & Ireland since May 2020. Since joining Merck as a research scientist in 1998, she has held a diverse range of roles within the company including in Corporate Business Development, Corporate Mergers & Acquisitions and Commercial Operations.
A physicist by background, she holds a Master's degree in nuclear physics from the University of Bucharest, a PhD in physics from the University of Southampton and an Executive MBA from Ashridge Business School.