Health literacy 'elephant in the room' in patient engagement
Views & Analysis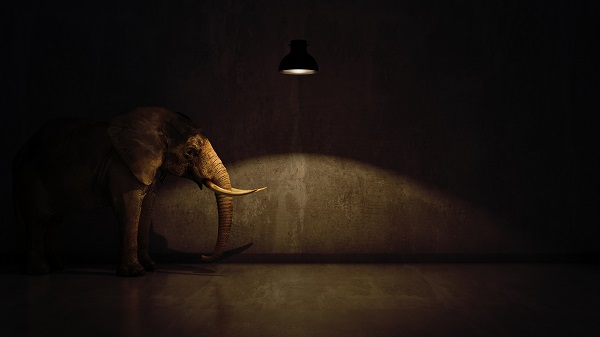 Understanding that a large percentage of the population has low health literacy, and tailoring patient information to suit this audience, can bridge the divide between patient needs and business success.
Picture the scenario. You're at work. The financial advisor is in the office for the twice-yearly staff consultation. It's time to talk pensions.
You enter the office with the greatest of intentions, paper and pen in hand, fully alert. You leave the office feeling dazed and confused, with some buzz phrases like 'acrual rates' and 'gross performance' ringing in your ears. You're none the wiser.
Swap 'financial advisor' for 'doctor' and 'pension' for 'health' and you'll see what I mean. Health is hard.
So, how sure are you that the information and services that your company or brand provides to patients are understandable?
Whatever your answer, I'm here to introduce you to an elephant by the name of health literacy.
You know too much
First, let's talk about you. I expect that you left school with more than a few qualifications and probably went to university too.
More important than your qualifications, you work in pharma, and so have a very good knowledge of health and medicine.
That means you're equipped with an above-average knowledge of things like basic human anatomy, how drugs work, and side effects. And you definitely have above-average reading and numeracy skills.
Therein lies the (very big) elephant. The average person isn't as equipped with these basic 'health literacy' skills.
Literacy takes many forms
Think again about that financial advisor meeting example. Some of us are at the 'Pension, what's a pension?' end of the financial literacy scale, while others are happy personally micromanaging individual investments in their pension funds.
Most of us lie somewhere in between those two on the scale. The point is that 'literacy' isn't simply about reading and writing. It's about our understanding of many different aspects of life.
And often these are difficult to understand and navigate without specialist knowledge; remember the last conversation you had with a financial advisor or boiler technician, for example.
However, few facets of life are as important as our health. Not knowing where the filling loop is on your boiler isn't life-or-death stuff, but understanding the correct dosage of lung cancer pills can be.
Health information isn't healthy
Yet there's plenty of evidence showing that we communicate with patients in terms they don't understand. Take the UK as an example:
43% of UK adults struggle to understand the written health information provided to them
This figure jumps to 61% if you include health resources that contain numerical information
According to Dr Jo Prothero, GP and author of the research, this means that up to 21 million people across the country with low health literacy may not be able to use the information they need to look after themselves.
Those figures are shocking.
Returning to the earlier question, what would you do if you found out that around half of people couldn't fully understand your health information? And how do you know if the materials, websites and apps you've produced are suitable for that massive population of patients with lower health literacy?
Pharma brands routinely produce materials and services that add value to many patients' lives. But why stop at 'many' if we can aim for 'all'?
Research into patient information provision by the pharma sector highlights that the industry is missing the mark. In the study, Prof of Marketing Lynne Eagle, from James Cook University, examined at a range of materials, from patient information inserts to those produced by brand teams. The conclusion was stark: the vast majority were written at a reading level beyond that of the average UK adult.
As Prof Eagle states, "Research on what makes health information understandable and actionable is plentiful, yet the industry, as a whole, hasn't actively engaged with it. It's time that changed."
Health literacy is at the centre of health
So what is health literacy exactly? Here's a definition from the World Health Organisation:
"The personal characteristics and social resources needed for individuals and communities to access, understand, appraise and use information and services to make decisions about health."
Ironically, that's not the simplest description. Away from the academic, it's helpful to consider health literacy in terms of more everyday activities:
discussion between doctors and patients;
reading and comprehending health information;
interpreting charts;
making decisions about participating in research studies;
using medical tools, such as inhalers;
or calculating timing or dosage of medicine.
In short, health literacy is key – in many ways the key – to being, and staying, healthy.
This isn't just a theory. People with low health literacy are unhealthier and more likely to die prematurely. They are much more likely to misunderstand information about their disease and medicines and are less likely to use screening and preventive services.

But, there's growing evidence that improving the comprehensibility of information and services for people with low health literacy can help to improve things like adherence.
Opportunity for pharma
And there lies the opportunity for pharma: beyond-the-pill services are increasingly seen as the bridge between patient need and commercial success. Developing resources and services that address health literacy can help create the conditions for genuine patient engagement.
Want a truly 'patient-centric' brand offer? Start with health literacy. Want to change health behaviours? Start with health literacy. Want to find ways to better engage patients on clinical trials? Then, start with health literacy.
Why? Because the evidence shows it works. And not only for patients with low health literacy. Making a leaflet, website or app simpler means it's more accessible to all.
Health information design
While they may not be part of the average medical writer's resources, research-backed tools exist to ensure that pharma information is readable and usable by groups with low health literacy.
Embedding this evidence-backed 'health information design' approach in the development of patient-facing materials and services is vital to increase engagement.
And how about involving people with low health literacy in the development process too? A truly patient-centric organisation should consider how to engage them.
Lori Hall, Director of Health Literacy at Eli Lilly in Indianapolis, has a straightforward and eloquent way of describing the role of pharma in addressing health literacy:
"Once you put on the 'health literacy lens', you can't ever take it off. Pharma has a responsibility to clearly communicate what people need to know about our medicines so they can make confident, informed decisions about their health. We're striving to make evidence-based clear communication an organisational value embedded at every patient touch point across the drug development and commercialisation continuum."
Let's hope even more pharma companies start to see the world through the health literacy lens, as the opportunities for brands and, more importantly, patients, are huge.
About the author:
Oliver Childs is Health Information Director of Anatomy Health, a consultancy dedicated to improving accessibility to patient information through better design. The company focuses on patient engagement programmes, tools and services for pharma and other health organisations.
Read more on this topic: