Eye on ASCO Day 3 - Pricey combos cause panic
Views & Analysis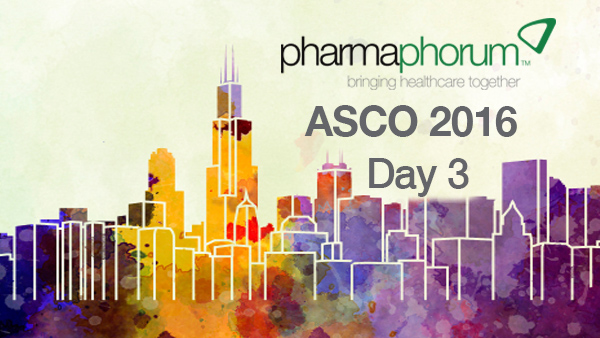 Sunday at ASCO is always a big day and this year was much the same. Although the plenary sessions were perhaps not the most exciting, a couple did stand out. First up, data presented by Paul Goss of Harvard Medical School found that postmenopausal women who had been treated for early breast cancer substantially benefited from extending therapy with the aromatase inhibitor (AI) letrozole from five to 10 years. Indeed, women who received the drug for an additional five years after the initial gold standard treatment period had a 34% lower risk of recurrence than those on placebo.
Dr Goss told reporters he believes the findings should change practice, adding that AIs are now available around the world and will improve outcomes for tens of thousands of women.
Another session that caused a right old stir was centred around Phase III data presented by Antonio Palumbo from the University of Turin. It showed that Johnson & Johnson's Darzalex (daratumumab) for multiple myeloma, when added to a standard two-drug regimen of Velcade (bortezomib) plus dexamethasone, reduced the risk of cancer progression by a hugely significant 70%.

Dr Palumbo went on to say the results are "unprecedented" and claims "it's clear now that we'll be moving to a three-drug regimen with daratumumab as the standard of care". However, a number of people are not convinced, not because of efficacy but because of cash; the Darzalex combo (before discounts and rebates) could top $180,000 a year.
Indeed, cost has reared its ugly head at ASCO quite a bit over the past couple of days. Immunotherapy combinations are being touted as the way forward, but the figures are frightening. And although some observers are playing the big fat greedy pharma card, here in the USA such a view is far from unanimous.
Some patient groups are placing the blame firmly at the door of insurance companies and pharmacy benefit management (PBM) firms. At an off-site meeting, Bob Goldberg, vice president of the Center for Medicine in the Public Interest told pharmaphorum that it is the insurers and PBMs who are forcing drugmakers into offering discounts and rebates, then pocketing billions of dollars and not passing the savings onto patients - in fact they are putting their premiums up significantly.
There is a lot of mileage left in that debate but back to ASCO and in the spotlight was data from a first-in-human trial of AbbVie's antibody drug conjugate rovalpituzumab tesirine (Rova-T) for small cell lung cancer (SCLC). The firm got hold of Rova-T when it paid $5.8 billion upfront in April to buy Stemcentrx, plus a potential $4 billion more based on various milestones. The data, presented by Charles Rudin of Memorial Sloan Kettering Cancer Centre showed that the drug, which combines a novel anti-DLL3 antibody with a powerful anticancer agent, pyrrolobenzodiazepine dimer, halted tumour growth in 89% of patients with refractory or recurrent SCLC identified by high levels of DLL3.
However, some observers might be concerned that a 5.8 month median survival rate looks to be extremely modest when compared to the 4.7 month historical average, as pointed out at a press briefing by Forbes writer Matthew Herper. Dr Rudin noted the data were preliminary and should be treated with caution but said that, given the repeated disappointments for SCLC treatments, any news is good news.
So day four and the US vice president Joe Biden is coming to talk to us about the Obama administration's National Cancer Moonshot Initiative. Might put a tie on.
Kevin Grogan is on site at ASCO and reporting each day for pharmaphorum – to view our full coverage generated throughout the conference click here.