Addressing the growing need for better Multiple Sclerosis care
Despite pharmaceutical breakthroughs in multiple sclerosis (MS), a lot still needs to be done to improve care for patients with all forms of the disease. Jo Sopala, Director of Development at the MS Trust, describes the work her organisation is doing to push for improvement in the field.
MS care in the UK is in a paradoxical position. There are now more disease-modifying treatments than ever (12 currently licensed in the UK) – and more in the pipeline. However, these drugs are creating problems of equity in MS services.
All the currently licensed treatments are for people with relapsing remitting MS (RRMS). However, they constitute about half of the 100,000 people living with MS in the UK and there are no disease-modifying treatments for those with progressive forms of the disease.
In addition, there aren't enough MS specialist nurses in the UK, and many of the ones we do have manage caseloads far in excess of the recommended number. Increasingly their time is devoted to administering and monitoring people on treatment. This means that many people with progressive MS – who may have severe, debilitating symptoms – are at risk of missing out on the specialist care they need.
At the same time, the NHS is having to deal with an increasing number of emergency admissions related to MS. In 2013/14, there were just under 24,000. In 2015/16, the number rose to almost 27,000, costing around £46 million.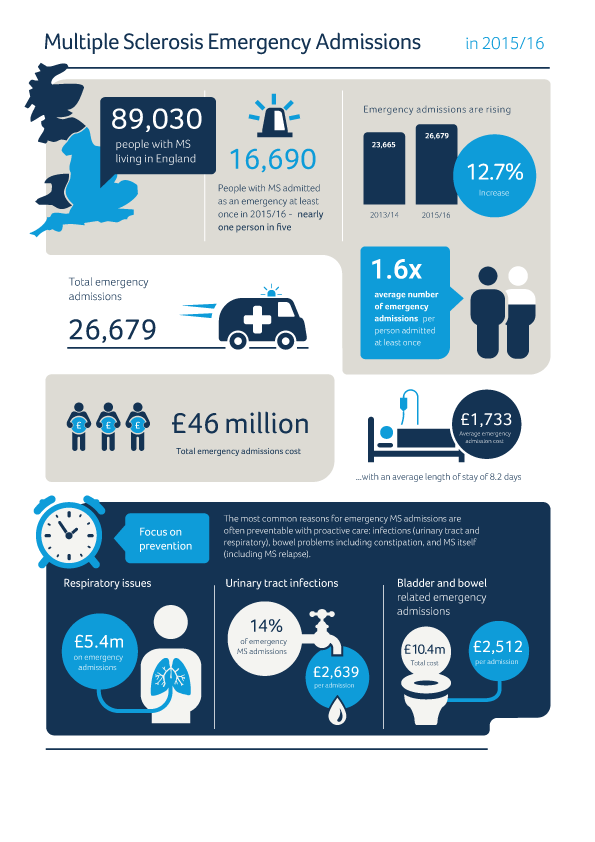 Training more specialists
People with MS must have specialist care. Because it's a complex and unpredictable disease, their needs can change over time, as can the priority of specific aspects of care.
Therefore the condition requires trained specialist nurses and allied health professionals who can understand this evolving disease and adapt care accordingly. However, the MS Trust estimates that the UK currently has too few MS specialist nurses and allied health professionals to support the estimated 107,000 MS patients in the country.
As a result of this shortage, the average patient caseload per MS nurse has reached over 1,000 per nurse in some areas.
This shortage is one of the biggest issues in MS care today, but with the help of organisations like the MS Trust, more specialists are being provided.
For over 20 years, the MS Trust has been the primary provider of training and professional development for MS specialists. In 2016, it launched a programme to specifically fund MS nurses in areas of greatest need.
The other big issue is the fact that people with advanced MS are missing out on vital care. In response, the MS Trust has launched the Advanced MS Champions project. This project will, over the next three years, deploy advanced MS specialists in six areas across the UK who will be dedicated to improving specific aspects of care, like symptom management, care pathway efficiency, and care coordination.
Getting proactive
Another important aspect of the Trust's work is to encourage proactive care and share best practice.
Because of its unpredictable nature, MS can leave patients in desperate need of specific care services, like physiotherapy, if they relapse.
But the UK health system is reactive. The additional specialists will provide a more proactive service, which will reduce the number of emergency hospital admissions. These result in huge amounts of money being spent on things like urinary infections and bowel issues, which could have been avoided with proper proactive care.
The move towards proactive care has to be underpinned by data about what's needed – something the Trust has been heavily involved in with the flagship programme GEMSS – Generating Evidence in MS Services programme.
One of the key recommendations of the programme's 2015 Evidence for MS Specialists report was to, at the very least, ensure consistent updating of caseload management and to review protocols about how people will be reviewed and kept informed about the services available. This information has since been shared with the NHS to help improve MS care nationwide.
As a small organisation, we're dedicated to gathering the right information to create a case for specialists and the difference they could make. With sufficient specialists, better caseload management and a better care coordination system, we can start to address the alarming number of emergency admissions caused by MS, and its financial burden, and, most importantly, help those people with MS who are slipping through the net and not receiving adequate care.
Read more about MS: Multiple Sclerosis: A patient's perspective
Jo Sopala will be one of the judges for this year's QuDoS in MS – Recognising Quality in the Delivery of Services in MS – programme. Visit the QuDoS in MS website to find out more: www.qudos-ms.com.