Unleashing the healing powers of health data
Views & Analysis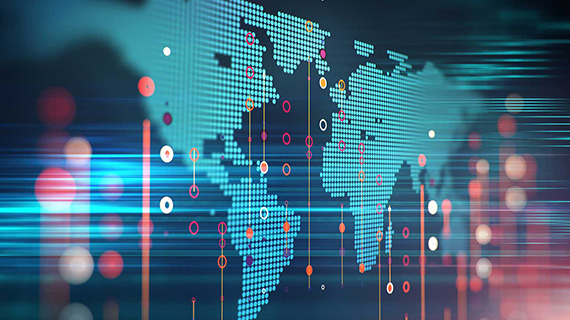 The benefits of digital health are countless, but ever-present concerns over data security threaten to engulf its potential. On World Data Protection Day (28 January) we talk to digital health experts PulsePoint who believe higher standards of transparency will allow us to make the connections we need to build a healthier world.
Next generation health technology, from artificial intelligence-powered diagnosis to virtual reality pain management, has the potential to revolutionise the sector.
Thanks to wearables and smartphones, apps and programmes can collect information anytime, anywhere to build a 360° picture of an individual's health and lifestyle.
The possibilities of this kind of digital health are endless, says Sloan Gaon, CEO of PulsePoint, a leader in the field of programmatic health technology.
"The next evolution in health tech will be the ability to address the needs of each target customer as if they were right in front of you – as if you had time to get to know who they are, their specific challenges and how they're feeling," he said.
"We'll be able to activate data, segmentation and insights in real time to organically drive targeting, customisation and distribution. We will be able to use the right intelligence to create a self-fulfilling and continuously more precise feedback loop."
This "radical health personalisation" will allow health messaging and solutions to be delivered to the right person at the right time, driving positive outcomes, he adds.
But trust and transparency are needed if the public is to grant companies the permission they need to turn their devices into hubs of health and medical data.
Data privacy rights
World Data Protection Day, or World Data Privacy Day outside of Europe, was launched by the Council of Europe in 2006. Held on 28 January each year, it's designed to help citizens gain a better understanding of their rights in terms of data collection and processing.
"People´s personal data are being processed every second – at work, in their relations with public authorities, in the health field, when they buy goods or services, travel or surf the internet," said the Council.
"Individuals are generally unfamiliar with the risks related to the protection of their personal data and of their rights."
This unfamiliarity can result in an unwillingness to share data, but informed consent can break this gridlock, Sloan argues.
"The issue is really about data control versus data privacy. Consumers want to know how their data is being used and have control over who benefits from it. This is true for every industry, but especially in healthcare, because nothing is more personal than one's health," he said.
Last year, PulsePoint commissioned a survey of 1,000 north Americans to find out what they thought about personalised health advertisements.
It found that 79% were open to receiving targeted medical and health advertising, provided they considered the information relevant.
He said: "Consumers view healthcare advertising as a resource, and based on this belief, they are willing to engage on a personal level."
Trust through transparency
The potentials of digital health and the need to protect private information are not fundamentally opposed, but they do need to be balanced.
"Patient privacy and safety are, and always have been, cornerstones of healthcare," says Sloan, adding that an individual's ownership of their own data "is a fundamental right".
General Data Protection Regulation (GDPR) in the European Union and recent US legislation at State level in the same vein have been helpful.
More comprehensive federal regulations and frameworks, at least in America, are needed to rebuild trust, Sloan believes. But companies could benefit massively from leading the conversation themselves.
Most industries, including healthcare, have their own regulations, so the trick is to merge these with digital advertising regulations, he says.
"There's an opportunity for the industry to lead the evolution of how consumer data will be treated moving forward." He adds that PulsePoint was actively looking at ways to give "consumers the content they want with the control they deserve".
Endless possibilities
Creating a new open standard for data ownership would allow existing technologies, such as programmatic marketing and the blockchain, to be put to work creating better health outcomes.
Robust clinical trial cohorts could be created by combining consented health and other real-world evidence from online behavioural data, for example.
"This will enable consumers to participate in clinical research on their terms, and at the same time begin to resolve the biggest pain point in drug development today: patient recruitment for trials. It could help save millions of lives each year," said Sloan.
With so much data available, healthcare companies and providers would be able to utilise combinations of behavioural, clinical and contextual data to micro-target their digital messaging.
A programmatic technology approach that works like the Amazon recommendation engine would deliver the right message to the right people at the right time – possibly even before they've entered the system and started a treatment pathway.
All this depends on transparency around data collection, trust in how it is processed and value in how it is used.
About the interviewee

Sloan Gaon is the CEO of PulsePoint, leading the company's vision and mission to deliver integrated, value-based digital marketing solutions for advertisers and publishers.