Revolutionary thinking
Views & Analysis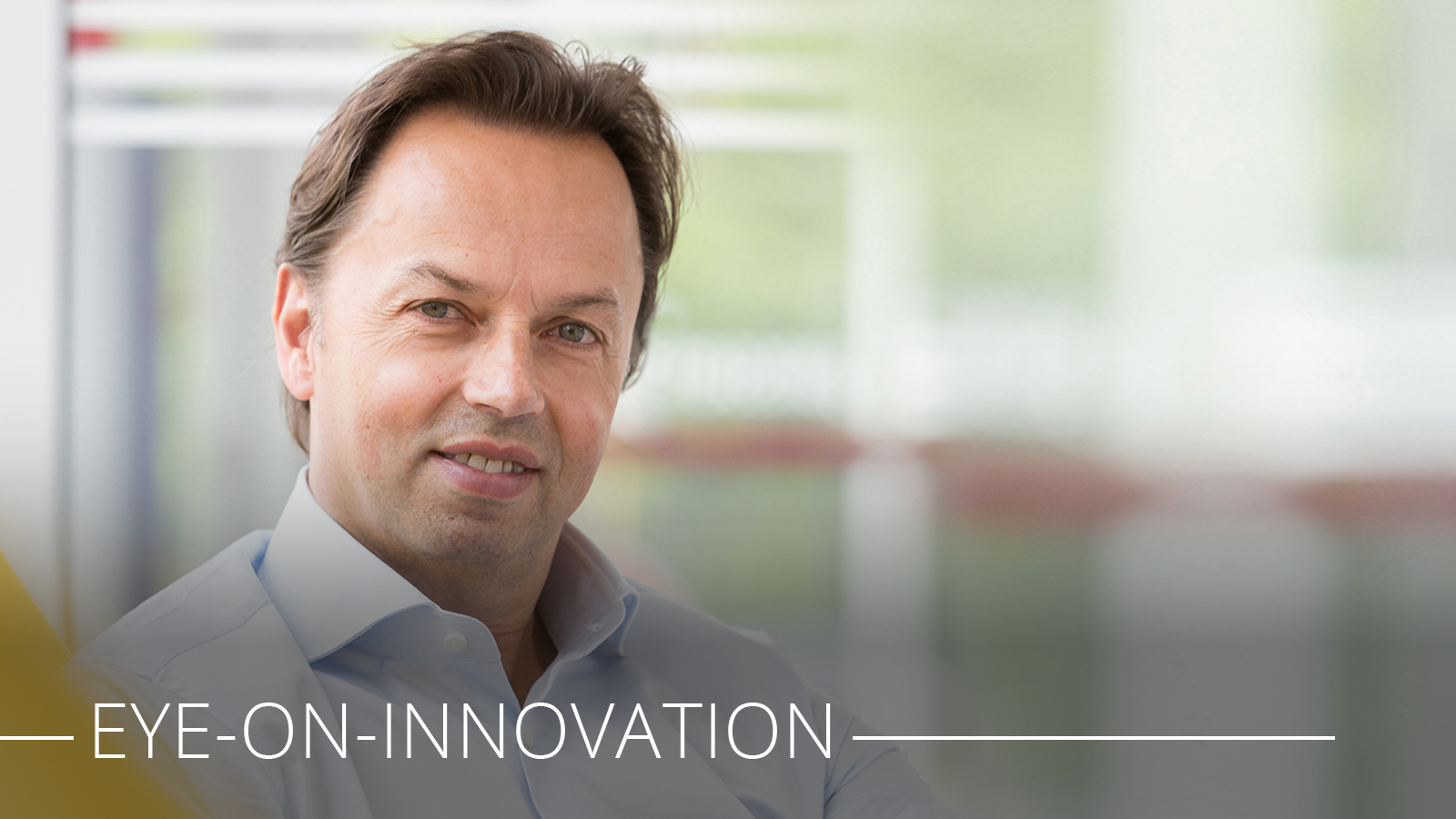 "Adapt or become irrelevant" is the stark message that Janssen's Company Group Chairman for Europe, Middle East and Africa (EMEA), Kris Sterkens, has for pharma companies that fail to embrace the digital revolution. pharmaphorum's Richard Staines caught up with Sterkens as part of its eye-on-innovation series of interviews.
A raft of new digital companies is entering the healthcare market, with Amazon the most feared of all after its disruptive influence in retail.
The online retail giant has formed a joint venture with Berkshire Hathaway and JP Morgan Chase, aiming to find a more efficient way to provide healthcare in the US.
It was one of the most significant events in healthcare in 2018 – and markets and commentators are waiting to see what the not-for-profit joint venture's strategy will be.
Janssen's EMEA chief Kris Sterkens said that newcomers like this pose a potential threat to the established old guard, which have a vast amount of experience, but can find themselves bogged down in regulations and established ways of operating.
In an interview with pharmaphorum, Sterkens explained that pharma should be on the look-out for new companies such as Google, IBM Watson, or one of the many young energetic start-ups that are starting to appear in the space, which could find novel and effective ways to communicate with a new generation of digitally-aware doctors.
While in the past doctors and pharma were happy to have meetings, more newly-qualified physicians would rather communicate over digital media, potentially giving these healthcare upstarts an advantage over big pharma and what it sees as a tried-and-trusted approach to communication with customers.
Doctors are increasingly willing to engage using other media through hand-held devices – with what Sterkens terms "omni channel" technology coming to the fore.
"There is a lot of time pressure and having face-to-face meetings is not how they want to interact with pharmaceutical companies," said Sterkens.
"It is similar to what happened in other industries that got disrupted by technology," observed Sterkens, citing the music industry as an example.
In the nineties, the music industry was in a comfortable position, and was able to extract profits from sales of CDs once it had rights to recordings. As a high-barrier entry industry that required a significant amount of investment capital to build the production, logistics and distribution needed to succeed, the main players felt quite secure in the competitive environment. In many ways this is much like the pharma industry.
But then came the likes of Napster, and after that Spotify, with an entirely new medium that allowed customers to access a vast amount of music for much lower prices. These new entrants to the market brought an alternative value proposition to the table that challenged the security high-barrier entry had provided for so long.
"The digital space changed that business model almost overnight," said Sterkens, who said that similar events may unfold in the healthcare and pharma industry.
"I can see new players coming. I think that we need to be conscious that they might disrupt the whole model, as patients are expecting more, and better, services."
Artificial intelligence and blockchain
Two of the technologies that pharma companies are already adopting are artificial intelligence (AI) and blockchain – and Sterkens says this is where they could have a real advantage.
He advocates working with digital health companies to implement this kind of technology, which could have a transformative effect on the notoriously costly and often admin-heavy drug R&D process.
Pharma companies such as Novartis and Pfizer are already looking into the potential of blockchain technology to store the vast amounts of data generated by clinical trials.
Because the data in a blockchain ledger is stored across several servers or nodes, it is highly secure and less vulnerable to hacking or corruption.
The advances this allows in terms of access to data, improved data quality, as well as security could translate into new advances in medicine, Sterkens said.
Pharma R&D will gain better insights using blockchain technology, which will lead to improved medicines further down the line, but it will be AI that really moves the needles in Sterkens' opinion.
"We can take these insights and translate them into medicines for the future," said Sterkens.
"If we can improve data we can go into areas such as precision medicine, we can make sure that patients' needs get met," he added.
The improved data could also mean the move towards predictive medicine, and early diagnosis of diseases such as depression and atrial fibrillation.
Leave behind the "SOY"
But all this will need a culture change in big pharma companies, according to Sterkens, who urged them to follow the advice shared by technology entrepreneur, Peter Hinssen. According to Hinssen's book The Day After Tomorrow, in order to succeed, we must leave behind what he terms the "shit of yesterday", or "SOY".
Reliance on outmoded operating procedures, outdated infrastructure and ways of working is one of the biggest threats facing pharma companies, he argued.
The business model many pharma companies employ was developed decades ago and has already been superseded.
"'SOY' is everything we carry along because we only do it that way," said Sterkens.
Digital start-ups don't carry this "SOY" and immediately have an advantage as a result. "They are starting from a blank page so are able to creatively think outside the box and don't hold on to anything that could limit their thinking – that agility makes them unique," he said.
Open innovation
Sterkens said that Janssen is attempting to overcome this problem with "SOY" by fostering innovation and original thinking through collaboration.
At the heart of this are its innovation centres in the major science hot-bed cities across the world and  its JLABS programme.
Viewing the world as their laboratory, Sterkens reflected on the fact that it would be naïve for a company to believe they have all the answers in their own pipeline. That's why the programmes Janssen has in place are designed to tap into innovation wherever it may be.
Their innovation centres are set up to build early-development business relationships with life science entrepreneurs, giving them support to develop their ideas, while at the same time allowing them space to make sure their creativity is not hindered. These are collaborative contractual partnerships that foster the ideals of open innovation.
JLABS, in contrast, requires no long-term commitment and is built on a "no strings attached" principle. "We give them the opportunity to work on projects and provide them with lab space and access to specific science know-how, and then hope that when they stumble upon the next big thing, they come to us first. But we don't force that upon them," said Sterkens. In this way JLABS is regarded as an enabler.
Pharma's reputation
Some of the "SOY" issues Sterkens identifies relate to the previous challenges that the pharma industry has faced in recent years with regards to reputation.
Without being specific, Sterkens said that this has made it challenging for all the necessary stakeholders, such as governments and payers, to sit around a table together and collaborate.
Sterkens said Janssen is working hard to prove that it can see beyond its quarterly results and is able to put the needs of society before profits.
Janssen's business, he says, runs much deeper than its commercial model, and pharma innovation sits at the core of this matrix. For example, the company is working towards treatments and cures for diseases such as Ebola and tuberculosis, even though they will not be based on a profit model as they will mainly be used in poor countries.
In these instances, Sterkens said, the company is focused on creating access to address areas of high unmet need in often devastating disease. It is driven by a higher ethical calling that he feels the company has a responsibility to meet.
Across the world, Janssen aims to become even more proactive and, along with its parent company, work to create a "world without disease".
The approach is based on early diagnosis and screening, to catch diseases such as cancer in their very early stages when they are more treatable.
This shift could be revolutionary for patients but will require pharma companies like Janssen to rethink the way they operate.
"What is really going to make a difference is if we can start moving the business model from treating disease to intercepting disease," said Sterkens.
Sterkens' vision of a brave new world is certainly compelling – but his comments could make uncomfortable reading for many in pharma.
To achieve his vision, many in the industry may have to embrace the changes, or risk falling by the wayside.
About the interviewee
Kris Sterkens joined Janssen almost 30 years ago with a background in finance, working his way up to Vice President, Finance and Ch

ief Finance Officer for Janssen EMEA. In 2007, he got the opportunity to transition into General Management, giving him the chance to work with teams across Europe, Asia Pacific, and the United States.
In June 2017, he started his latest role as the Company Group Chairman of Janssen EMEA, responsible for the business across the entire region.